Harvey Weinstein accusers reach tentative $25 million settlement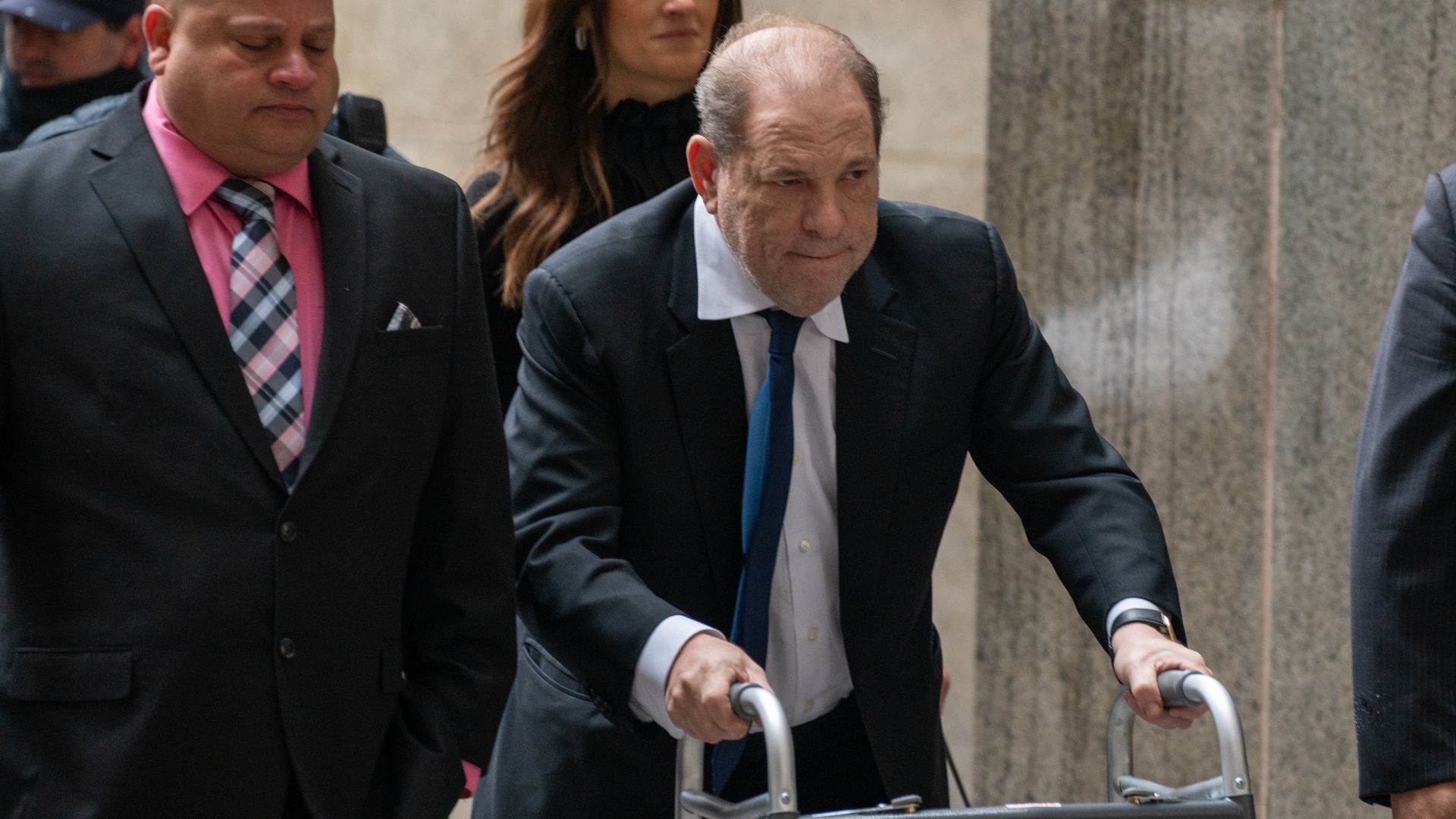 Dozens of Harvey Weinstein's accusers have reached a tentative $25 million payout deal with the movie mogul and his studio board as part of a larger $47 million settlement, the New York Times reports.
The big picture: The overall settlement — meant to close out the Weinstein Company's obligations as it works through bankruptcy proceedings — would reportedly bring to an end nearly all sexual harassment and rape lawsuits against Weinstein, per the NYT.
The tentative deal reportedly does not require Weinstein "to admit wrongdoing or pay anything to his accusers himself, according to lawyers involved in the negotiations," per the Times.
The settlement would be paid by insurance companies representing the Weinstein Company, the Times reports.
More than $12 million of the proposed deal would cover legal costs for Weinstein and his brother, as well as other ex-members of the Weinstein Company's board, lawyers told the Times.
Where it stands: Weinstein's trial is scheduled for Jan. 6, 2020, according to New York City court documents. He was charged in 2018 with first- and third-degree rape in one case, per the NYT, and first-degree criminal sex act in another 2013 incident.
Two of Weinstein's accusers reportedly wanted out of the overall settlement in July, per the Wall Street Journal, which described the deal as worth $44 million at the time.
What they're saying: Elizabeth Fegan, lead attorney in the class action lawsuit against Weinstein, emphasized on Wednesday that the proposed settlement still needs court approval. "No matter what amount of money the survivors ultimately receive, the civil settlement will do little to reverse the damage Weinstein caused to so many," she said.
"It is shameful that $12 million of the settlement is going to the lawyers for the directors who we alleged enabled Harvey Weinstein and it is even more outrageous that the proposed settlement will seek to bind non participating members by providing a release to the insurance companies and the directors of the Weinstein Company itself," attorneys Douglas H. Wigdor and Kevin Mintzer, who represent two of Weinstein's accusers, said on Wednesday.
Wigdor told Axios in an additional statement he is "not confirming the NYT story and facts contained therein."
Go deeper: Global #MeToo movement has resulted in 6 convictions, 5 charges of influential figures
Go deeper