New Zealand volcanic eruption: What you need to know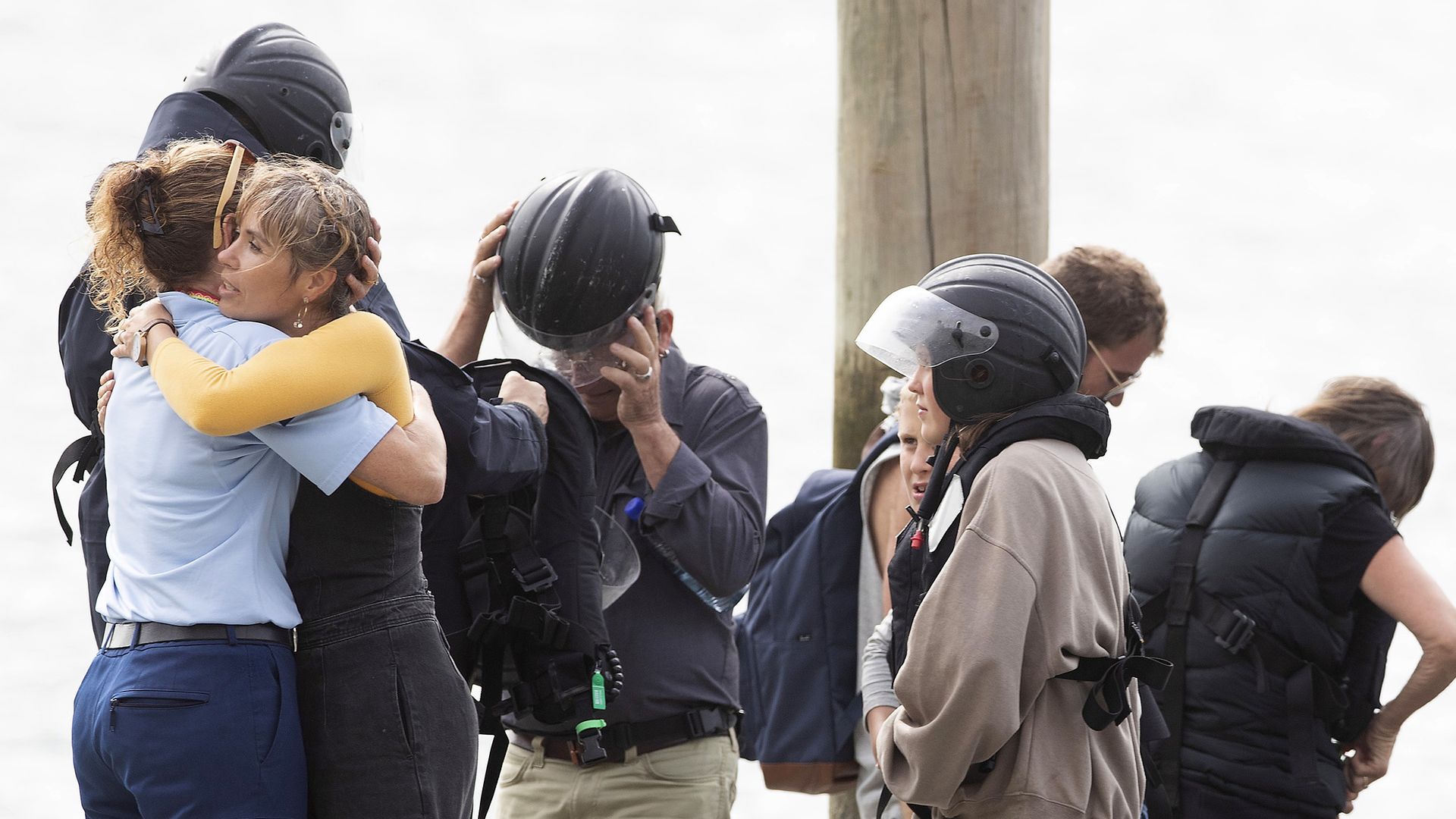 The death toll from New Zealand's Whakaari/White Island volcanic eruption has risen to 21. American man Pratap "Paul" Singh, 49, died of his injuries in an Auckland hospital, police confirmed in a statement Thursday.
The latest: Singh sustained burns to 55% of his body in the Dec. 9 eruption, his family said in a statement released by police. He was on the island with his American wife, Pratap "Mary" Singh, who suffered burns to 72% of her body and who died of her injuries Dec. 22. They're survived by an 11-year-old son and 6-year-old twin daughters.
What they're saying: "Paul was an Indian-American entrepreneur — a dynamic leader, genuinely kind-hearted, very spiritual individual with a charismatic personality well-known in the metro-Atlanta (U.S.) community for his philanthropic and social service activities," the family's statement reads.
"Mary will be remembered as a beloved member of the American-Indian community, a true supermom, a responsible guardian, an ambitious professional, and an endearing friend who enjoyed sharing her culinary expertise and delicious homemade meals. I'm sure that anyone who enjoyed any of her meticulously prepared handmade meals (Indian, American, Italian or Mexican) can certainly vouch for her. She was one of a kind"
— Family statement released by police
The big picture: Deputy Commissioner John Tims said there were 47 people on the island when it erupted — including a group of tourists from a Royal Caribbean cruise ship. Of those on the island: 24 people were from Australia, nine from the U.S., five from New Zealand, four from Germany, two from the U.K. and China, respectively, and one from Malaysia.
The victims: Two people whose bodies have never been found were identified by the chief coroner as the 19th and 20th victims of the disaster, police said on Jan. 23. An earlier statement confirmed that most of those killed were Australian — among them were Richard Elzer, 32; Julie Richards, 47; Jessica Richards, 20; Krystal Browitt, 21; Zoe Hosking, 15; Gavin Dallow, 53; Karla Mathews, 32; Jason Griffiths, 33; Kristine Langford, 45; and Anthony Langford, 51.
Australian Martin Hollander, 48, died alongside his American wife, Barbara Hollander, 49, and their U.S.-born sons, Berend Hollander, 16, and Matthew Robert Hollander, 13.
New Zealander Tipene Maangi, 24, was also confirmed to have died.
Police identified the two people who are missing, presumed dead, as Australian Winona Langford, 17, and Hayden Bryan Marshall-Inman, 40, a tour guide from Whakatāne, the town on New Zealand's North Island from which tour boats to Whakaari would leave. His family said last week he had died in the tragedy.
The 17th victim was later named as Mayuri Singh.
The 18th victim died of their injuries in the new year, according to Newshub.
The wounded: Authorities ordered nearly 1,300 square feet of human skin from the U.S. to help treat patients severely burned in the eruption, a top health official said.
What they're saying: New Zealand Prime Minister Jacinda Ardern told a Dec. 16 news conference that anyone who broke the law over the eruption could face penalties, but it may take up to a year for investigations to be completed.
Ardern said the penalties could include a maximum prison sentence of five years and fines of up to nearly US$2 million. She made the comments after observing a nationwide minute's silence honoring the victims of last Monday's disaster.
WorkSafe, the primary workplace regulator which has prosecutorial powers, has opened a health and safety investigation and the coroner is also conducting an inquiry, said Ardern, who didn't rule out supporting probes if needed in the future.
Go deeper: Every volcano that has erupted since Krakatoa
Editor's note: This article has been updated with new details, including on the death toll, comment from Ardern and the police.
Go deeper