Over 140,000, mostly children, died from measles in 2018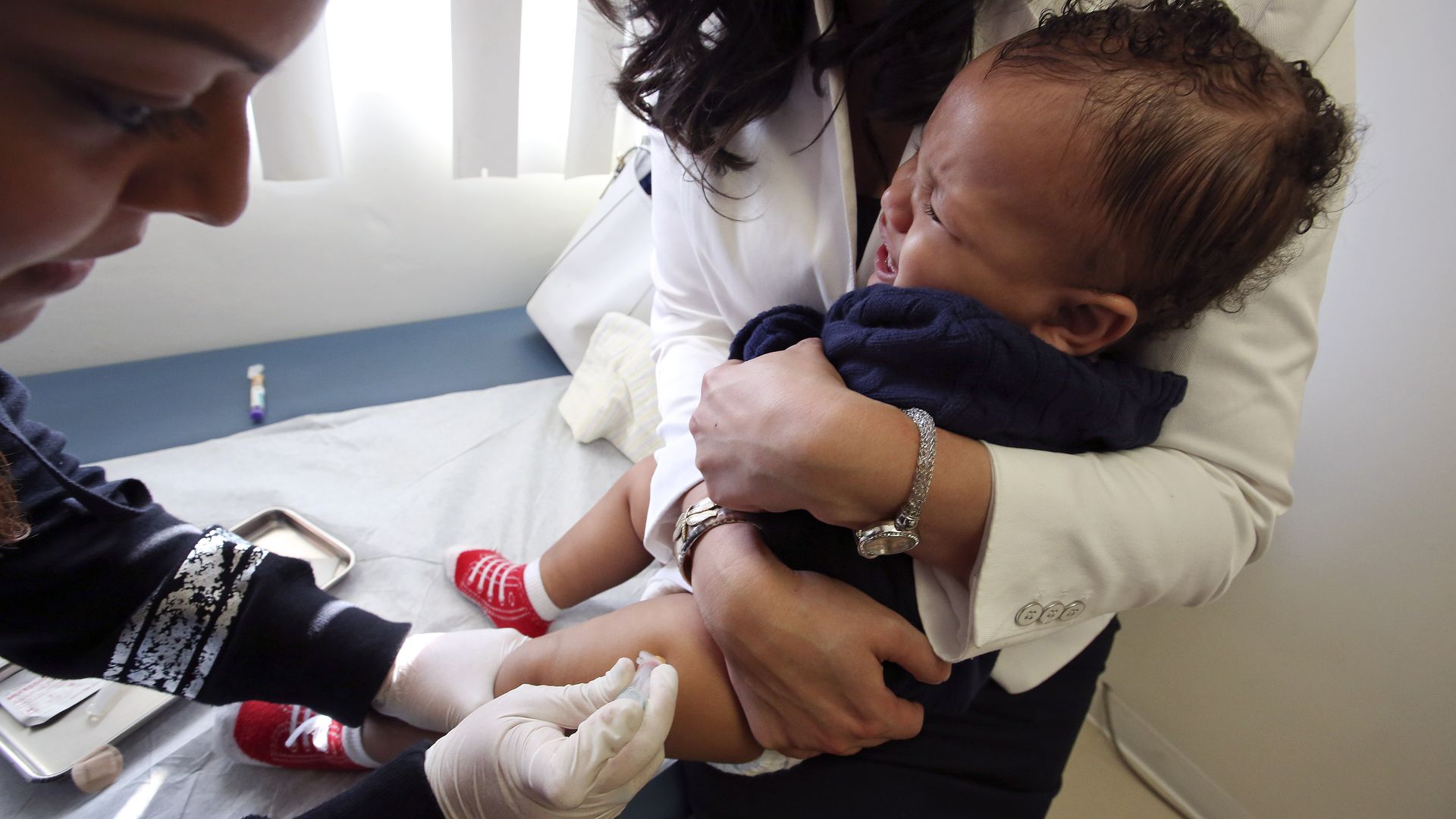 142,300 people — mostly children under 5 years old — died from measles in 2018, the World Health Organization said on Thursday.
The big picture: Cases of the vaccine-preventable infection continue to spike around the world. Ukraine, the Democratic Republic of the Congo (DRC), Madagascar, Liberia and Somalia had the highest incidence rates of the infection in 2018.
By the numbers: In 2019 so far...
5,110 measles-related deaths have been reported in the DRC in 250,270 suspected cases as of Nov. 17 — an increase of more than 8,000 cases compared to the previous week. The DRC has also been battling outbreaks of Ebola and malaria.
Madagascar and Nigeria are two countries with ongoing outbreaks, with new cases reported weekly, WHO stated on Nov. 27. Ukraine has reported 56,802 cases of measles this year through Nov. 5.
The Samoa Ministry of Health confirmed a total of 2,437 cases and 32 associated deaths as of Nov. 26. The WHO said on Nov. 27 that 243 of those new cases had been reported within 24 hours.
The U.S. measles outbreak this year broke a 27-year record, reaching a total of 1,276 cases in 31 states as of Dec. 5, per the CDC. There have been no reported fatalities in the U.S., and cases have dropped since spiking in April. But it only takes one unvaccinated group for the extremely contagious virus to establish a new foothold, Axios' Eileen Drage O'Reilly reports.
Where it stands: Roughly 16,000 more deaths related to measles occurred globally in 2018 than in 2017. 124,000 estimated measles-related deaths were reported in 2017, according to WHO.
The CDC recommends getting the MMR vaccine to protect against measles, mumps and rubella. Children should receive two doses of the vaccine — first at 12–15 months of age, then again at 4–6 years of age.
To achieve a herd immunity threshold for measles, WHO recommends a community vaccination rate of 93%–95%.
Go deeper ... WHO: Measles outbreaks spike globally
Go deeper