The economics of a Thanksgiving meal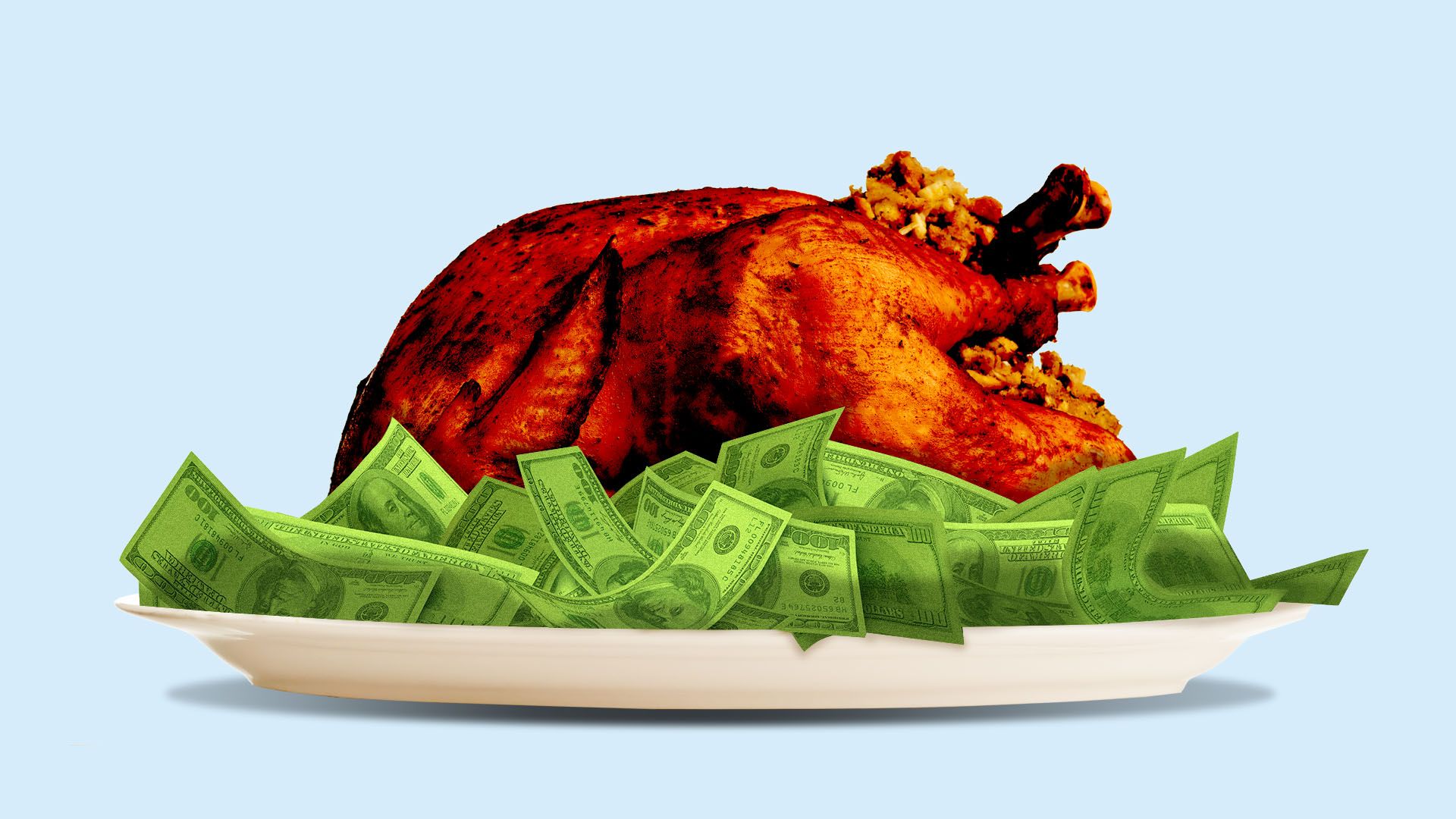 The holidays are often a pricey time for families. But new numbers show that the cost of an average Thanksgiving meal remained steady this year — with certain staples actually seeing a cut.
Where it stands: The average cost of a Thanksgiving dinner for 10 is up only one cent — to $48.91 — from last year's total, the American Farm Bureau Federation reports. A 16-pound bird costs about $20.80 — or about $1.30 per pound — down 4% from last year.
The total price includes "turkey, stuffing, sweet potatoes, rolls with butter, peas, cranberries, a veggie tray, pumpkin pie with whipped cream, coffee and milk."
According to the survey, "retail turkey prices are the lowest since 2010."
Between the lines: Concerns about U.S. trade disputes have centered on costs rising for consumers, NBC News notes. But things have worked in consumers' favor when it comes to Thanksgiving, a holiday that — not surprisingly, given its presumed origin as a harvest celebration in Plymouth, Mass. — favors homegrown products.
An oversupply of some domestic goods, possibly fueled by tariffs on imports, has brought down some costs.
A 4-pound ham is set to be about $2 cheaper due to effects from trade conflicts with China and Mexico. (The Federation survey reports that 49% of its 2,200 respondents serve ham and turkey at Thanksgiving.)
Canned pumpkin pie filling and cubed bread stuffing will also cost less this year.
But, but, but... While lower prices are great for consumers, the agriculture industry is struggling. Farmers receive only 8 cents for every $1 of food sold, per the Federation.
Nearly 13,000 farms went out of business in 2018, NBC reports, citing the USDA.
"Low commodity prices over the past five years have been a key factor, exacerbated when agricultural exports to China were curtailed last year," according to NBC.
"That put further pressure on farms operating on thin margins."
The other side: Some imported delicacies will likely become more expensive — like certain cheeses and alcoholic beverages.
By year's end, a 25% tariff on $7.5 billion of European Union goods could hike the price of English cheddar and Italian Parmesan.
French wines and Scotch whiskey would also face the tariff.
Go deeper