Miami Herald, El Nuevo Herald continue streak of local newsroom unionization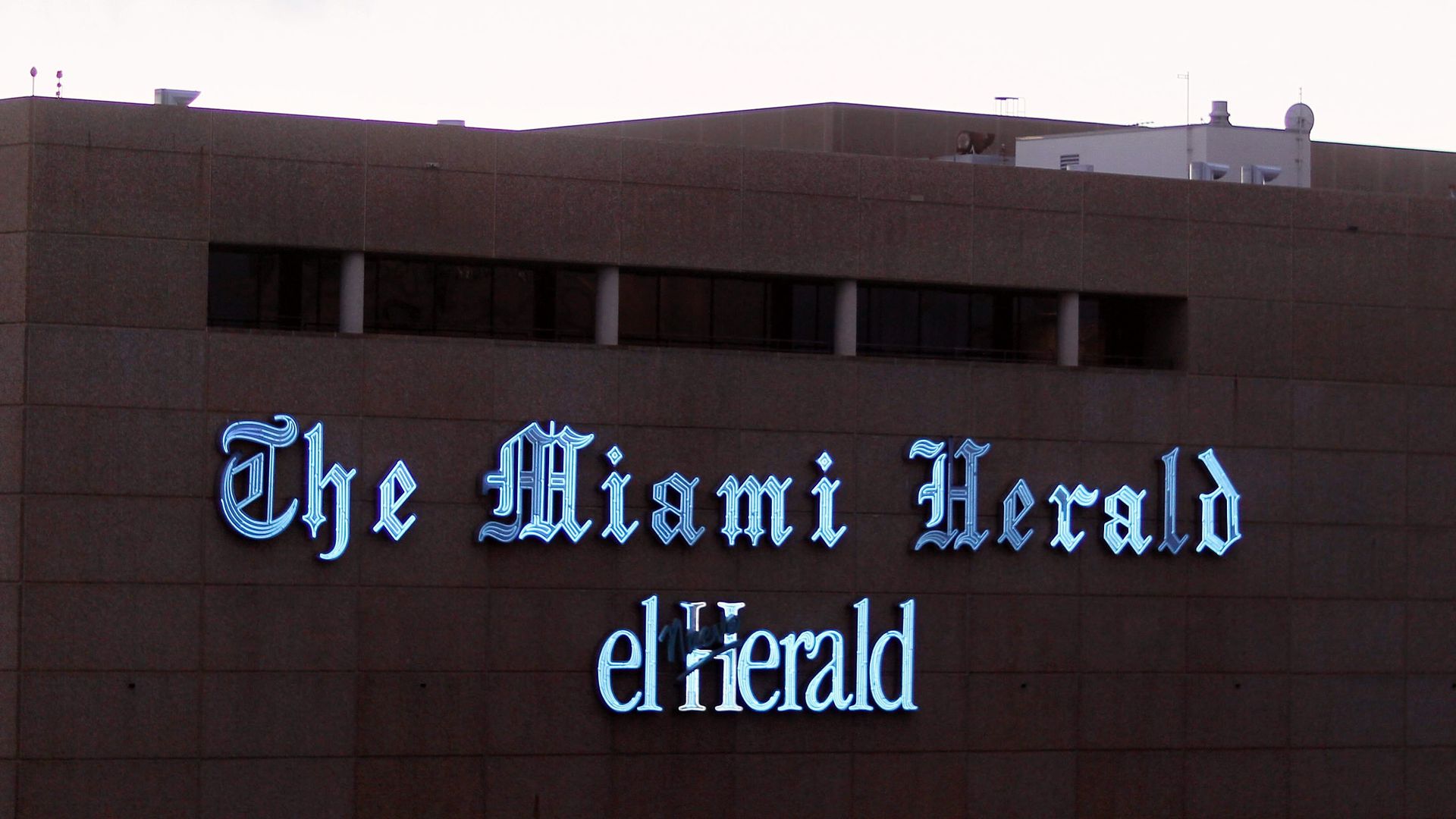 U.S. media conglomerates are trying to hold on in struggling newspaper markets, while their reporters, editors and photographers are unionizing to protect their rights.
Driving the news: McClatchy, a major newspaper publisher, saw two of its papers forge ahead with plans to unionize in October. Staff at the Miami Herald and El Nuevo Herald, the paper's Spanish-language outlet, cited concerns over pay, leave, hiring and decision-making. A count on Wednesday declared the union drive a success by a 66-24 vote.
"Over the past decade, under the direction of the McClatchy Corporation, the newsroom of Miami Herald, El Nuevo Herald and Miami.com has removed hundreds of people from its payroll, cutting costs by shrinking staff through buyouts, layoffs and consolidation. These changes have had a direct impact on the ability of journalists to do their jobs, but they were often made with no input and little warning. The union intends to change this approach."
— a statement from One Herald Guild
The Herald will be McClatchy's fifth paper to unionize. With that comes increased corporate accountability and access for journalists to weigh in on decisions that affect their roles, especially in local markets.
Between the lines: The Herald's unionization comes just months after reports revealed that McClatchy's CEO Craig Forman received a nearly $1 million bonus and a $35,000 monthly housing stipend, despite newsroom cuts and layoffs, per the Columbia Journalism Review.
The big picture: McClatchy is not alone. As reported by Axios' Marisa Fernandez and Sara Fischer in April, media outlets have been unionizing at a striking pace in recent years.
The Arizona Republic, owned by the publisher Gannet, moved to unionize in September ahead of a merger with GateHouse Media.
Crosscut and KCTS 9, Seattle's PBS affiliate, voted unanimously to unionize in July, citing "skyrocketing living costs and what [employees] say are unsatisfying wages as well as a desire for a stronger hand in shaping their workplace."
KCRW, the public radio station in Santa Monica, voted to unionize in June, saying employees hope to improve the overall work environment.
What they're saying: McClatchy responded on Wednesday, saying: "The results of the recent National Labor Relations Board election have been tallied and the majority of voters voted in favor of union representation. We welcome the news and look forward to beginning our discussions with the bargaining unit. We respect the process and the result of that vote and will not challenge it ... We remain committed to open dialogue and transparency and will provide updates on that bargaining effort as it progresses. Meanwhile, we are confident that all members of the Miami Herald and el Nuevo Herald teams are focused on delivering local news in the public interest."
The bottom line via Neiman Reports: "Today's wave of media unionization comes as the industry is in crisis. Many legacy newspapers, especially local ones, face a severe financial squeeze. The digital media are in the middle of a shakeout, with too many websites chasing too few advertising dollars, as Facebook and Google gobble up much of that revenue."
Go deeper: Unions shrink fast in swing states
Go deeper