Netanyahu rival Gantz fails to form a government in Israel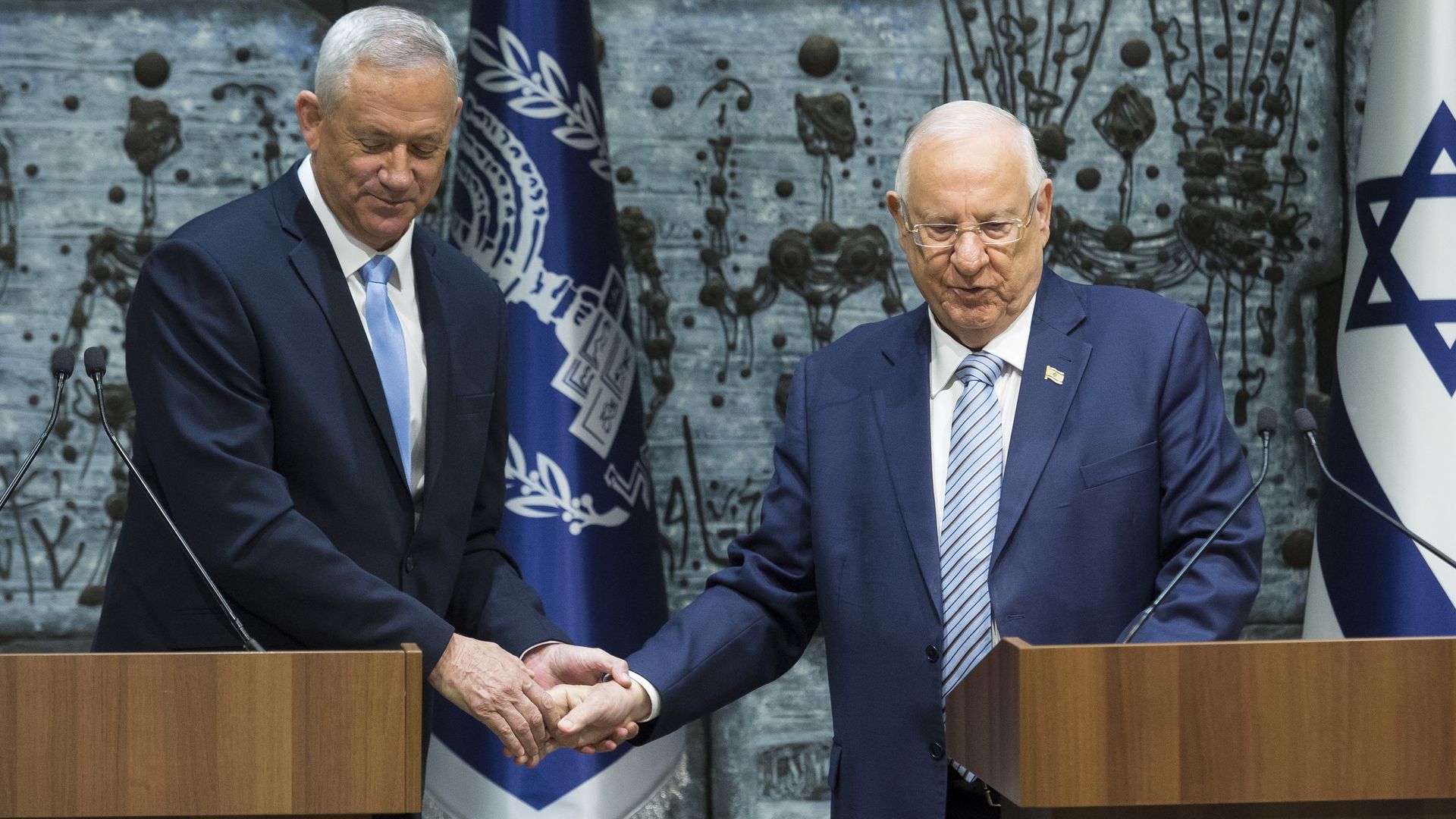 Benny Gantz, leader of the centrist Blue and White party, has notified Israeli President Reuven Rivlin that he has failed to form a coalition government ahead of tonight's deadline.
Why it matters: Gantz's failure comes 28 days after Prime Minister Benjamin Netanyahu himself failed to form a government following September's deadlocked elections. Never before have both leading candidates failed to form a government. Israel could soon be headed for its third elections in less than a year.
What's next: In the next 21 days, Rivlin will continue his consultations with Israel's various parties.
The mandate to form a government will by law go to any member of the Knesset, Israel's parliament, who can gain the support of a majority, meaning 61 members.
If no one manages to gain 61 signatures within 21 days, the Knesset will dissolve and Israel will head for elections once again.
What they're saying: At a press conference, Gantz said he tried to form a national unity government but Netanyahu refused to negotiate in good faith.
Gantz said Netanyahu was holding the country hostage due to his personal and political interests.
Gantz also attacked Netanyahu for engaging in "an incitement campaign" against him and against parts of the Israeli society.
"The hate campaign you are fueling has already caused a disaster in the past. We will not allow you to ignite a civil war," Gantz said, referring to the incitement against former Prime Minister Yitzhak Rabin prior to his murder in 1995.  
Driving the news: Israeli politics have been deadlocked as a result of three looming corruption indictments against Netanyahu.
The attorney general is expected to announce his final decision on three cases of bribery, fraud and breach of trust as soon as tomorrow.
That decision could have a big influence on the political calculations of all the key players over the next 21 days — especially if Netanyahu is indicted for bribery.
Go deeper