Morales leaves for Mexico amid unrest on Bolivia's streets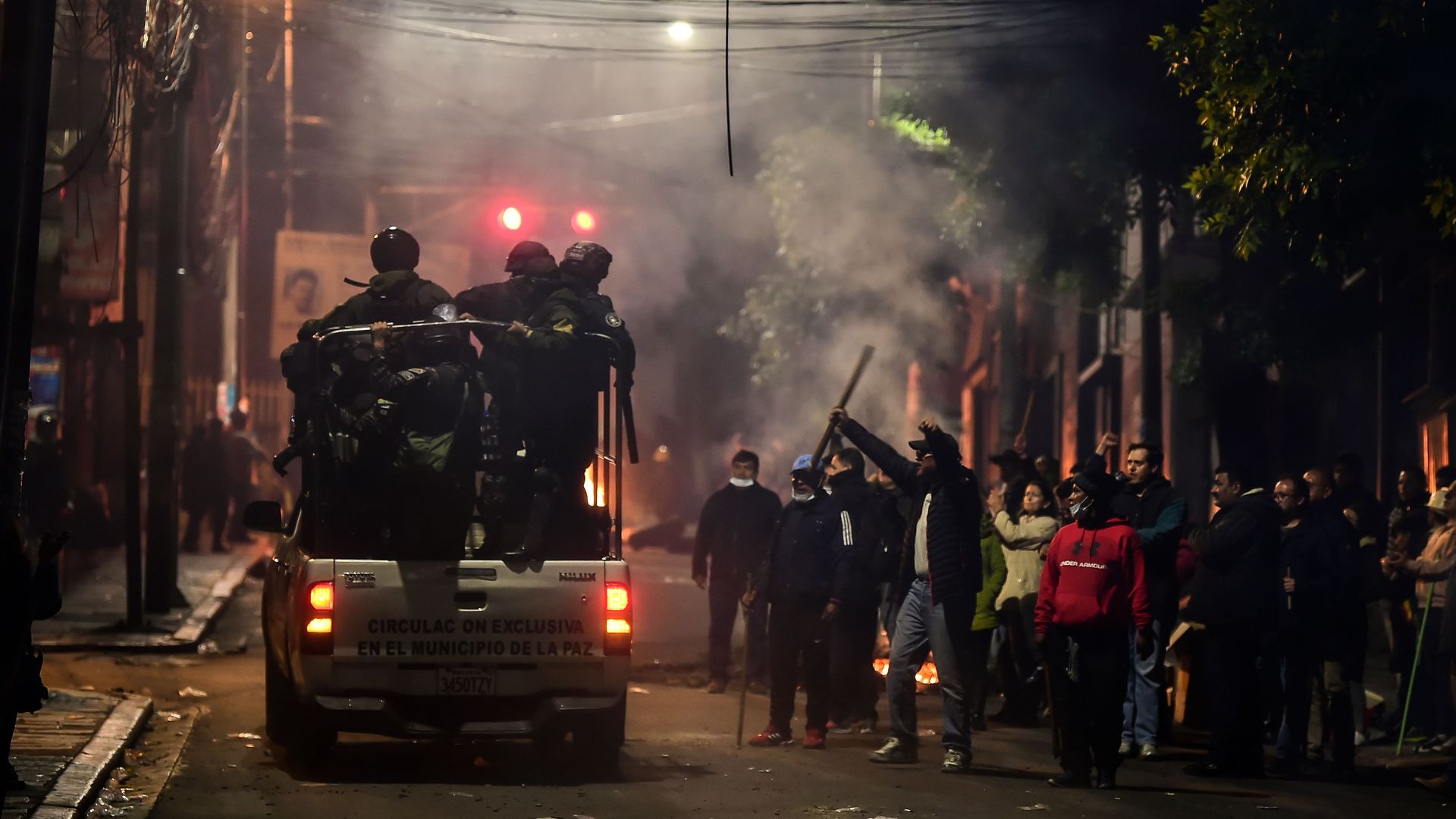 Evo Morales, who's stepped down as Bolivia's president, departed for Mexico Monday night after tweeting that he had accepted the country's offer of political asylum amid violent clashes between pro- and anti-Morales groups, Reuters reports.
Why it matters: Bolivia is now in a "political vacuum" and facing its "worst unrest in decades," per AP, which reports Morales loyalists set barricades alight to "block some roads leading to the country's main airport" as anti-Morales protesters obstructed the majority of streets near the front of the presidential palace and congressional building over Monday night.
What's happening: Morales left on a Mexican government plane from the town of Chimore in central Bolivia, "a stronghold of his supporters where he retreated over the weekend after weeks of protests" over his disputed election victory, per Reuters, which notes the military and police were on the streets of La Paz amid unrest over Morales.
AP reports that opposition leader Opposition candidate Carlos Mesa has "laid out a possible path toward new elections."
What they're saying: "I am leaving for Mexico, grateful for the openness of these brothers who offered us asylum to protect our life," the country's first indigenous leader said in the tweet, translated by AP.
"It hurts me to leave the country, for political reasons, but I will always be concerned. I will return soon, with more strength and energy."
Mexican Foreign Minister Marcelo Ebrard tweeted a photo of Morales aboard the plane to say that the former leader had left Bolivia and was safe.
Background: Deadly violence erupted after last month's election, which was plagued by allegations of voter fraud. Mesa rejected the results and urged Bolivians to protest in the streets, while Morales accused him of mounting a coup. On Sunday, the Bolivian military asked Morales to resign.
Go deeper: Mexico grants asylum to Evo Morales, Bolivia's outgoing president
Editor's note: This article has been updated with new details throughout.
Go deeper