Alabama and LSU's matchup is hyped as the "Game of the Century"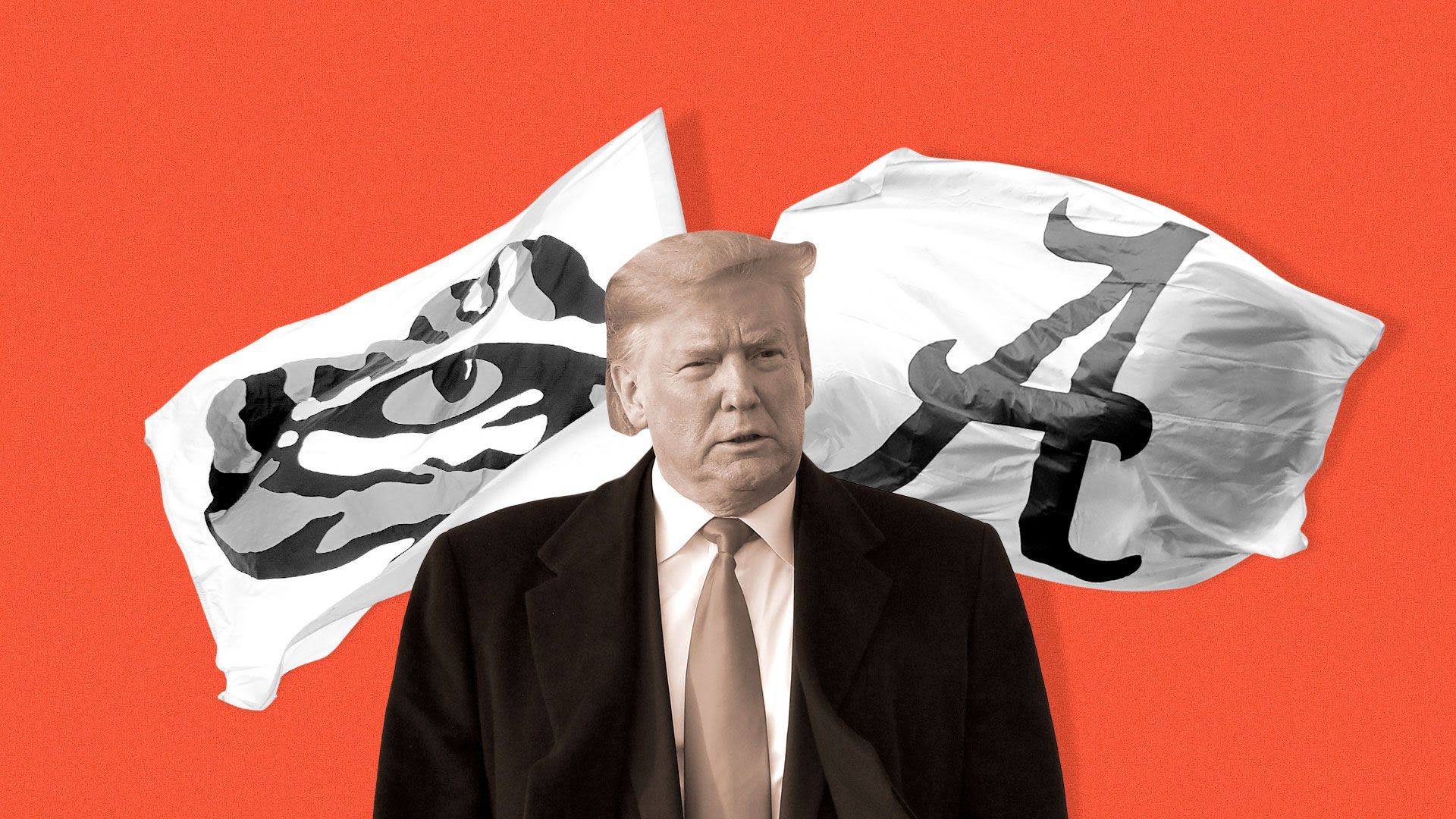 The LSU Tigers visit the Alabama Crimson Tide on Saturday in the first regular-season AP No. 1 vs. No. 2 meeting since their game eight years ago.
Why it matters: Interestingly enough, the very thing they helped birth — a system where humans, not computers, rank the nation's best teams — has LSU and Alabama at No. 2 and No. 3, respectively, in the playoff rankings.
The backdrop:
On Nov. 5, 2011, No. 1 LSU and No. 2 Alabama met in Tuscaloosa in what was billed as college football's "Game of the Century." The Tigers prevailed, 9-6 in OT, in a game that featured 49 future NFL players.
Two months later, Alabama beat LSU, 21-0, in the BCS National Championship Game — a controversial rematch that led to the demise of the BCS and the birth of the College Football Playoff.
The stakes: If Alabama loses, they'll almost certainly miss the playoff for the first time since its 2014 inception. If LSU wins, they'll be in the driver's seat the rest of the way.
Betting info:
Spread: ALA -6.0
Over/Under: 63
Moneyline: LSU + 185 (bet $100, win $185); ALA -220 (bet $220, win $100)
Alabama:
Will Tua play? Alabama QB Tua Tagovailoa (ankle) remains a game-time decision. "We'll continue to monitor him and see how he progresses, but we're pleased with where he is," coach Nick Saban told ESPN yesterday.
Home field advantage: The Tide have won 31 straight home games, and they've lost just four regular-season home games since 2008 (78-4 record in that span).
LSU:
New look Tigers: LSU has forever been known for hard-nosed, ground-and-pound football. Now they're competing statistically with Mike Leach's Air Raid. "I'd like to play just one game with that playbook. Heck, just one quarter," said former QB Tommy Hodson.
Heisman watch: QB Joe Burrow has completed 78.8% of his passes this season, which would be the best single-season completion percentage of all-time. Hence why he's the current Heisman favorite (though Tagovailoa isn't far behind).
Go deeper: Ohio State tops the first CFP rankings
Go deeper