The GOP's war over naming the Ukraine whistleblower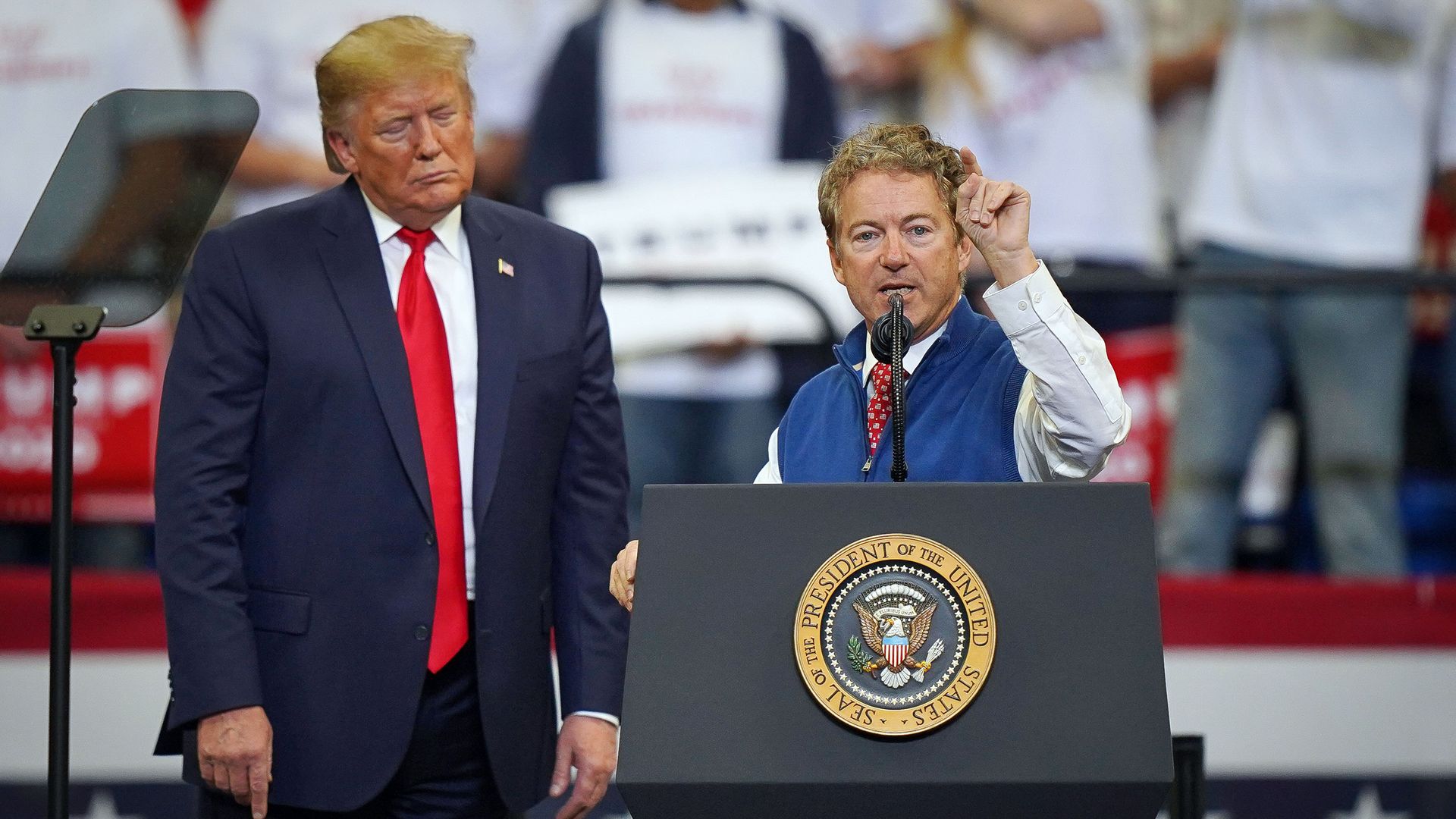 Sen. Rand Paul (R-Ky.) continued his controversial threats to name the Ukraine whistleblower on Tuesday, telling Fox News' Bret Baier that he "probably will" do so — days after calling on the media to print his name at a rally alongside President Trump.
The state of play: Paul's comments ignited a split within the Republican Party. Some Senate Republicans rebuked his comments, while some Trump allies — including the president's own son, Donald Trump Jr. — have publicly stated the whistleblower's alleged identity, which has been promoted among right-wing media.
The whistleblower's lawyers responded to Trump Jr.'s statement, saying they would "not confirm or deny any name that is published or promoted by supporters of the president," adding "that publication or promotion of a name shows the desperation to deflect from the substance of the whistleblower complaint."
The White House told journalist Yashar Ali that neither "the president nor any senior administration official was aware in advance that the president's eldest son was going to tweet out the name of the alleged whistleblower."
Trump Jr. told Ali: "The outrage on this is BS. And those pretending that I would coordinate with The White House to send out a Breitbart link haven't been watching my feed for a long time."
The other side: A group of Senate Republicans told Politico that they did not support naming the whistleblower over fears that doing so might break the law.
Sen. Chuck Grassley (Iowa): "All I can say is I expect whistleblowers to be protected according to what the law gives them."
Sen. Lamar Alexander (Tenn.): "We should follow the law. And I believe the law protects whistleblowers."
Senate Majority Whip John Thune (S.D.): "The whistleblower statute is there for a reason. And I think we need to respect the law where whistleblowers are concerned. Eventually that person may decide to come forward voluntarily."
Sen. Mitt Romney (Utah): "Whistleblowers should be entitled to confidentially and privacy, because they play a vital function in our democracy."
The bottom line: Trump remains a wild card in this saga, as he has tweeted dozens of times since September about the whistleblower — and stood alongside Paul during his call to the media to print his name.
Go deeper ... Trump-Ukraine scandal: The key players, dates and documents
Go deeper