Exclusive: Veterans face underemployment in many major cities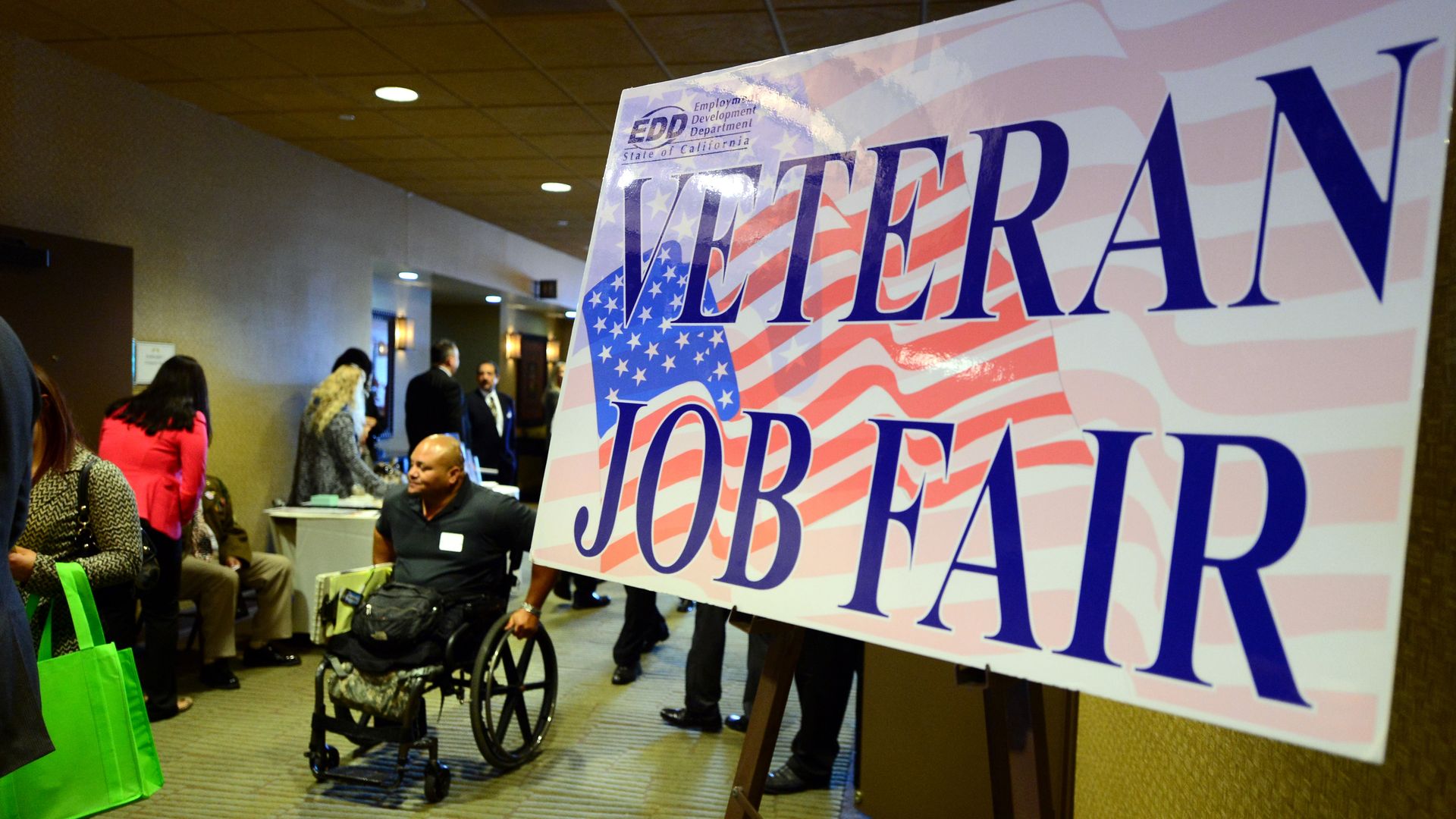 Retired service members are overall having better luck finding jobs, but they are still likely to be underemployed in several of the cities with the largest veteran populations, LinkedIn data shows.
The big picture: Sarah Roberts, head of military and veteran programs at LinkedIn, says underemployment is "when a person is engaged in work that does not make full use of their skills and abilities." Corporate responsibility programs and hiring incentives have largely driven down veteran unemployment rates, but underemployment remains rampant.
Veterans are consistently taking jobs below their pay grade, with one-third of veterans with college degrees working in jobs that don't require their full education.
Veterans are also 70% more likely to have to take a step back in seniority to get a job, and are 36% less likely to move up in a new role.
Hiring rates differ significantly in the 10 cities with the largest populations of veterans.
In Washington, D.C., Dallas, Los Angeles, Seattle, Houston and San Diego, veterans are more likely to be hired for jobs they apply for.
But in New York City, Atlanta, Chicago and San Francisco, they are less likely to be hired for jobs they apply for.

And when rejection letters start rolling in, veterans are more likely to turn to roles that would otherwise be beneath their skillsets.
Between the lines: Some social and economic factors influence the disparities.
Veterans, like most citizens, make use of their network to find employment. Veteran networks in some cities are simply stronger than others.
Veterans also tend to gravitate towards certain industries that allow easier transitions for their skillsets, such as operations or consulting. If a city does not have a wide array of opportunities in those industries, veterans may be left to turn to roles that do not maximize their potential.
The bottom line: Roberts says employers can combat this issue by rethinking how veterans fit into a company.
"Shift your focus. Think more holistically about 'what does workforce development look like," she said.
Go deeper:
Go deeper