Elizabeth Warren's "Medicare for All" requires another $20.5 trillion of federal spending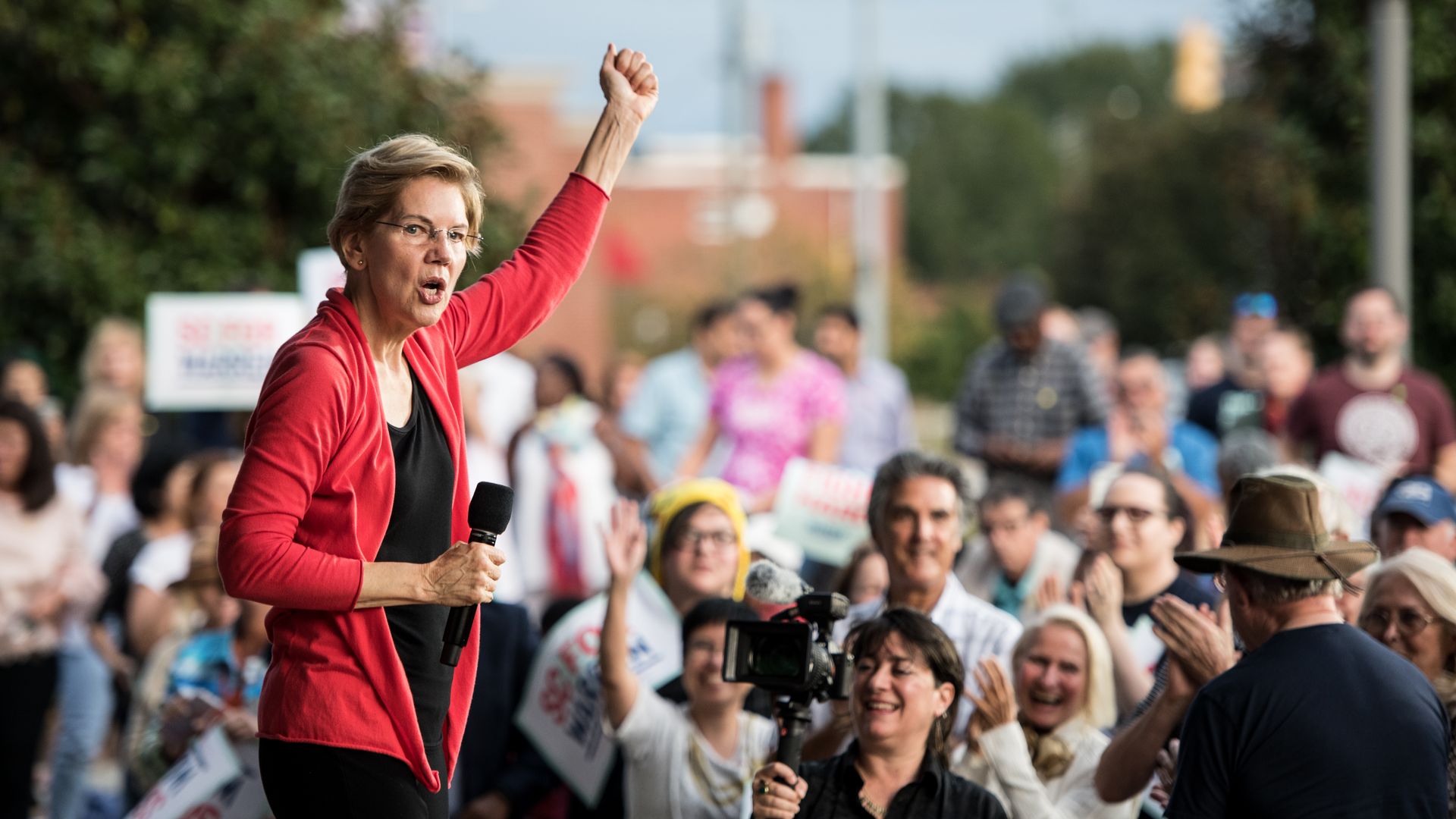 Sen. Elizabeth Warren has released her long-awaited plan to pay for "Medicare for All," which she says will put the $11 trillion that would be spent out-of-pocket on health care over 10 years "back in the pockets of American families."
The bottom line: This will be paid for "with targeted spending cuts, new taxes on giant corporations and the richest 1% of Americans, and by cracking down on tax evasion and fraud. Not one penny in middle-class tax increases," the plan states.
The big picture: When combined with aggressive cost control measures and the redirection of current state spending into the "Medicare for All" system, Warren says her plan requires an additional $20.5 trillion of federal spending over 10 years.
She argues the same parties that pay for the health care system under current law — the federal government, state governments and employers — will continue to do so under her plan, but individuals would pay "practically zero."
How she'd do it: Warren would create a formula for employer contributions to "Medicare for All" based on their health care spending, but argues it would save them $200 billion over the next 10 years compared to what they're projected to spend.
"Instead of these companies sending those payments to private insurance companies, they would send payments to the federal government for Medicare," she says.
This would cover almost half of the needed additional revenue.
The rest would be mostly funded by cracking down on tax fraud and evasion, new taxes on the financial sector, large corporations and the top 1% of earners, and reduced defense spending.
This includes a 0.1% tax on the sale of bonds, stocks, or derivatives, a new fee on big banks, a new country-by-country minimum tax of 35% on foreign earnings and $3 trillion in new taxes on the top 1%.
What they're saying ...
Former Vice President Joe Biden: "The mathematical gymnastics in this plan are all geared towards hiding a simple truth from voters: it's impossible to pay for Medicare for All without middle class tax increases. To accomplish this sleight of hand, her proposal dramatically understates its cost, overstates its savings, inflates the revenue, and pretends that an employer payroll tax increase is something else."
Sen. Michael Bennet (D-Colo.): "Voters are sick and tired of politicians promising them things that they know they can't deliver. Warren's new numbers are simply not believable, and have been contradicted by experts. Regardless of whether it's $21 trillion or $31 trillion, this isn't going to happen, and the American people need health care. 
Go deeper