Washington Nationals close in on Astros with back-to-back wins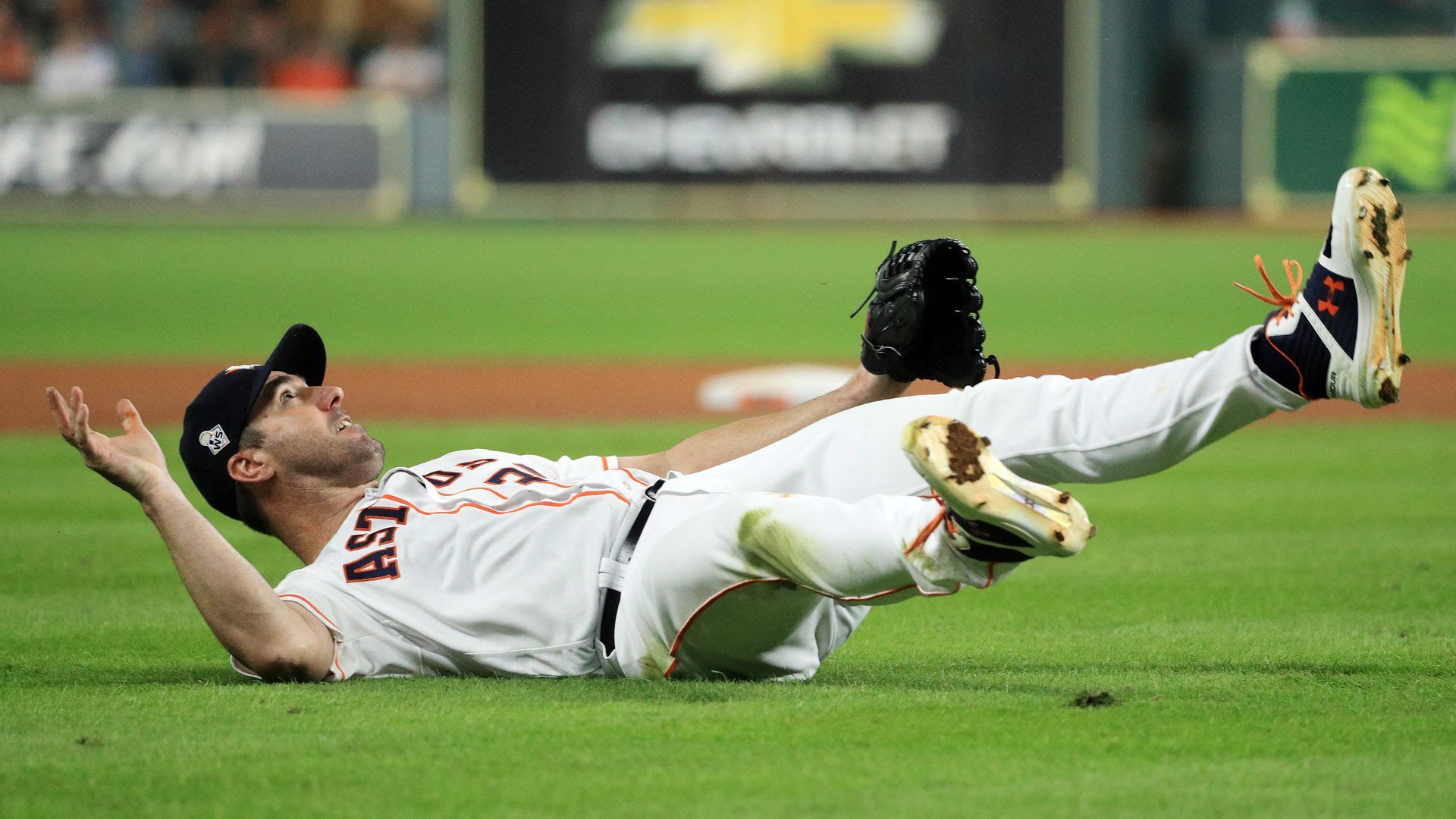 The Washington Nationals beat the Houston Astros 12-3 on Wednesday, getting the underdogs a pair of wins in the World Series, The Ringer's Ben Lindbergh reports.
Why it matters: This is the first time all season that Houston aces Gerrit Cole and Justin Verlander have taken the loss in back-t0-back games.
"In World Series Game 2, a bullpen imploded, but it was not the Nationals'. A lineup produced a double-digit run total, but it was not the Astros'," Lindbergh writes.
Game notes:
The 7th inning: The Nats scored six runs in a wacky inning that saw Kurt Suzuki (1-for-23 in October entering the night) blast a no-doubter off Verlander and the Astros issue their very first intentional walk of the year (Juan Soto).
Fun fact: Last night was the first time in MLB history that a No. 1 overall pick started a World Series game for the team that drafted him — and Stephen Strasburg delivered.
Uh-oh, Houston: Only three teams have lost the first two games of the World Series at home and gone on to win the title (1985 Royals, 1986 Mets, 1996 Yankees).
What's next: Game 3 is on Friday in D.C. Anibal Sanchez vs. Zack Greinke.
Inside the clubhouse: "When the Nationals left for Houston on Monday, there were 101 game balls stretching from March 31 to Oct. 15. They formed a mural of team success," write WashPost's Jesse Dougherty and Sam Fortier.
"Players often stand in the hallway to look, remembering the most random days of an eight-month sprint."
"Now [manager Davey] Martinez will leave here with a fresh pair to shelve [Soto from Game 1, Strasburg from Game 2]. And the Nationals need just two more."
Meanwhile, behind the scenes ... The Astros whiffed on multiple chances to correctly handle the fallout from Brandon Taubman. Now it's MLB's turn and harsh discipline could be coming.
Go deeper