Conservative leaders to send White House letter in support of Mulvaney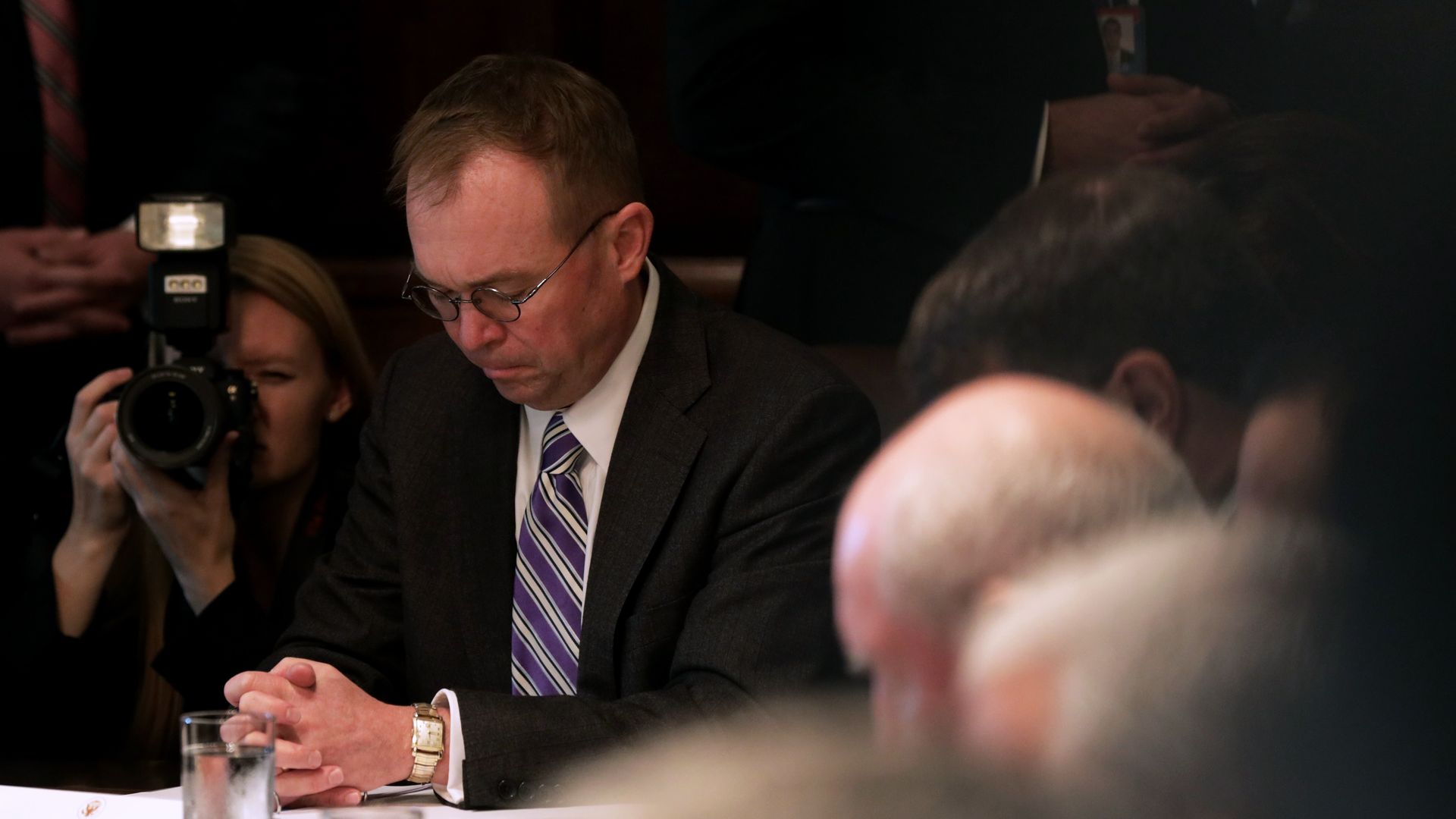 A group of conservative leaders plan to send a letter to the White House and Capitol Hill on Thursday expressing support for acting White House Chief of Staff Mick Mulvaney, who has come under fire in the wake of a chaotic press conference last week, according to a source who shared the draft letter with Axios.
Why it matters: Mulvaney's friends and allies have recently grown worried about his job security. They've been hearing reports that he's being cut out of some decisions and deprived of information by White House counsel Pat Cipollone. Mulvaney's mishap of a press conference last week — in which he conceded, then retracted, that there was a politically motivated "quid pro quo" involved in Ukrainian aid — armed his internal critics with additional weapons.
Yes, but: You can't replace something with nothing. And right now, a senior White House official said he has no reason to think Trump will fire Mulvaney, who is still well-liked by many in the building. When pressed, two sources close to Trump said they believe the most likely eventual alternative to Mulvaney is Cipollone.
What they're saying:
Mulvaney has been a trusted ally of the conservative movement since his days in the South Carolina state legislature, and in the U.S. Congress. He is a proven leader, and an outspoken advocate of conservative principles and policies. He worked to craft the president's budgets which called for cutting more wasteful spending than any president in history. Mulvaney also worked alongside President Trump in the White House on efforts to rebuild the military, cut taxes for working families, cut regulatory red tape, and unleash American energy.
He has worked diligently on all of these issues on behalf of President Trump's agenda, which has led to unprecedented job and economic growth, and he's done so in the face of opposition from the liberal media, Democrats and even from within the administration. ... We believe the president should make him permanent in the Chief of Staff role.
At least 47 conservative leaders have signed the statement so far, including:
David McIntosh, president of Club for Growth
Tony Perkins, president of Family Research Council
Lisa Nelson, CEO of American Legislative Exchange Counsel
Tim Chapman, executive director of Heritage Action
Jenny Beth Martin, co-founder of Tea Party Patriots
Tom McCluskey, vice president of government affairs of March for Life Action
Go deeper: Mulvaney attempts to clean up comments on Ukraine quid pro quo
Go deeper