Israel's Netanyahu fails to form government for 2nd time in 6 months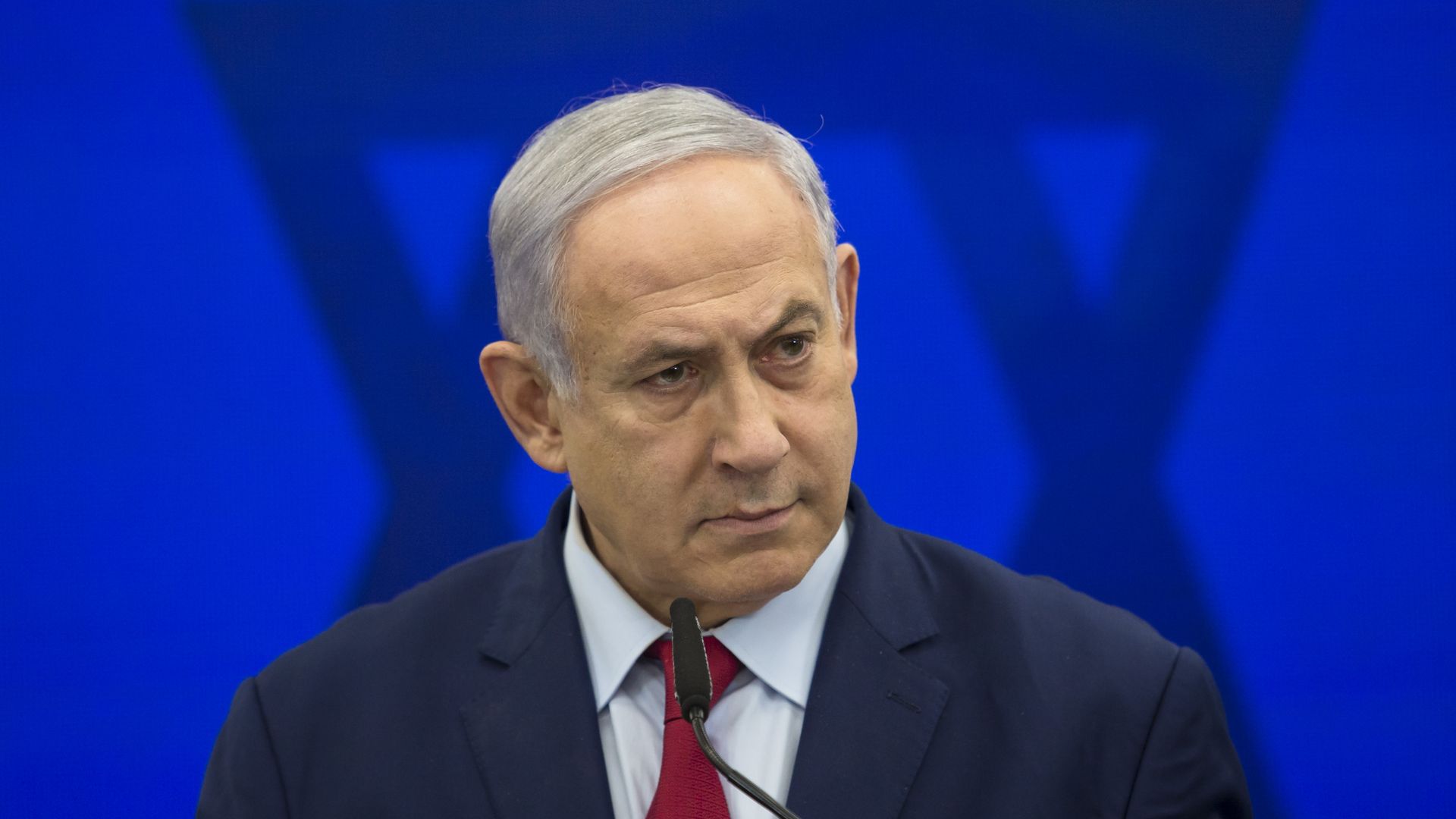 Israeli Prime Minister Benjamin Netanyahu returned the mandate for forming a government to President Reuven Rivlin on Monday after failing to cobble together enough support for a coalition within the 28-day timeframe that Rivlin had granted.
Why it matters: This is the second time in six months that Netanyahu has failed to form a government after an election. Benny Gantz, leader of the center-left Blue and White party, will now get an opportunity to form a coalition, but he's also unlikely to succeed. The chances are growing that Israel will be forced to hold a third election this year.
Context: After Israel's Sept. 27 election ended in a near tie, both Netanyahu and Gantz were pushed to the negotiating table by Rivlin, who proposed a unity government in which the job of prime minister would rotate.
Gantz demanded to be prime minister first because he'd vowed not to serve under Netanyahu while the prime minister faced looming corruption indictments.
Netanyahu refused to be second as prime minister due to those indictments. According to the law, Netanyahu would have to resign when indicted if he held a lower post.
What they're saying: In a statement he published after returning the mandate to Rivlin, Netanyahu blamed Gantz for not agreeing to form a unity government. Netanyahu stressed that if Gantz tries to form a minority government with the support of the Arab-Israeli parties, he will fight against him as leader of the opposition.
Gantz issued a statement in response calling Netanyahu's accusations "spin." Gantz said that once he gets the mandate from Rivlin — which will likely happen at the end of the week — he will immediately start negotiating with the different parties to form "a liberal unity government."
The big picture: This is the first time this has happened since October 2008, when Tzipi Livni, then the chairman of the Kadima party, failed to form a coalition and had to return the mandate to then-President Shimon Peres. Since then, Netanyahu has been the only politician to receive the mandate.
Netanyahu received the mandate to form a government six times in his long political career. Four times, including in his first term in 1996, he successfully managed to form a government.
The main significance of the mandate moving to Gantz is psychological. It breaks the concept that has taken root in the Israeli political system that Netanyahu is a political magician, invincible coalition builder and forever prime minister.
Yes, but: Gantz doesn't have a 61-member majority in the Knesset yet and will have difficulties forming a coalition. It's likely that in 28 days, Gantz will give the mandate back to Rivlin, who will then have another 21 days to consult with the different factions to try to find a solution. If no solution is reached, Israel will have its third election of the year.
This is breaking news. Please check back for updates.
Go deeper