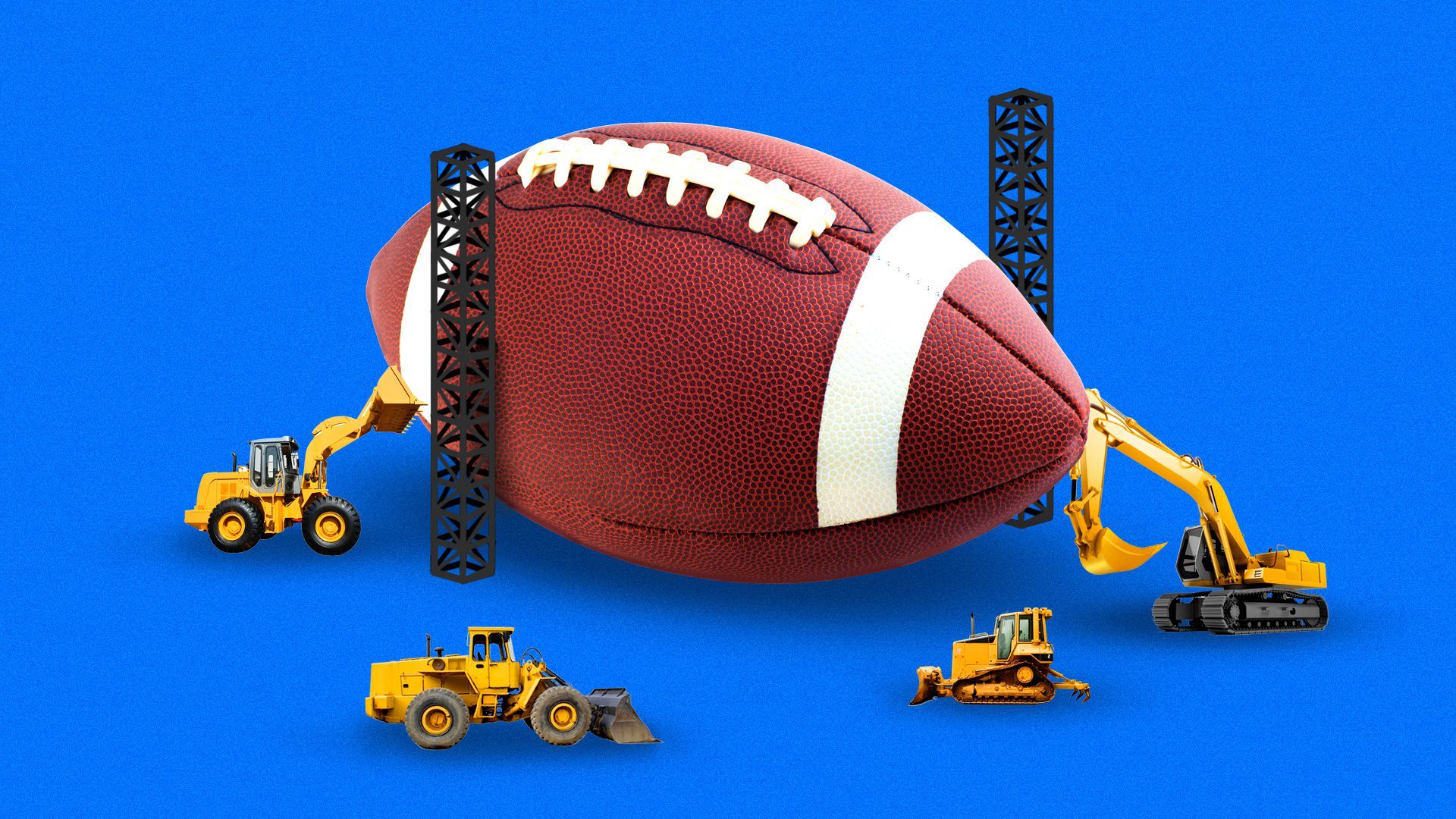 The 2-day XFL draft concluded yesterday, with each of the league's 8 teams having put together their initial rosters.
How it worked: Before the actual draft, teams ranked which "Tier One" QB they wanted via a blind-bidding system, then those 8 players were assigned accordingly.
Once the draft began, players were picked in this order: skill positions, offensive linemen, defensive front seven and defensive backfield. Then there was an "open" portion, where teams could draft any player they wanted.
The broadcast of the draft was … kind of sad. Instead of a studio show, it was literally a video conference call with a stopwatch in the bottom right corner of the screen that someone had to manually reset with a mouse after every pick.
Dallas Renegades
Coach: Oklahoma legend Bob Stoops.
QB: Landry Jones, who played for Stoops in college and spent 5 seasons (2013-17) as Ben Roethlisberger's backup in Pittsburgh.
Guy you might know: WR Tommylee Lewis, who was the intended receiver on the infamous Saints-Rams no-call in last year's NFC Championship Game.
DC Defenders
Coach: Former Colts and Michigan OC Pep Hamilton.
QB: Cardale Jones, the strong-armed former Buckeye who was drafted by the Bills in the 4th round of the 2016 NFL draft.
Guy you might know: Safety Rahim Moore, who started for the Broncos for a few years.
Houston Roughnecks
Coach: Former Hawaii and SMU head coach June Jones.
QB: Connor Cook, who starred at Michigan State and started a playoff game for the Raiders in 2017.
Guy you might know: RB Andre Williams, who starred at Boston College and had a breakout rookie campaign for the Giants in 2014.
Los Angeles Wildcats
Coach: Former Packers associate head coach Winston Moss.
QB: Luis Perez, who won the Harlon Hill Trophy in 2017 as the best player in D-II football and spent some time with the Eagles and Lions after playing well for the AAF's Birmingham Iron.
Guy you might know: Kicker Nick Novak, who kicked for 6 different NFL teams and ranks 94th on the league's all-time scoring list.
New York Guardians
Coach: Longtime Giants OC Kevin Gilbride.
QB: Former Penn State star Matt McGloin, who notched 7 NFL starts as a Raider.
Guy you might know: QB Marquise Williams, who put up huge passing and rushing numbers at North Carolina before spending time in the NFL, CFL and AAF.
Seattle Dragons
Coach: Former Seahawks QB and Redskins head coach Jim Zorn.
QB: Brandon Silvers, who threw for more than 10,000 yards during his college career at Troy and spent time on this Jets' roster this past spring.
Guy you might know: QB/WR Keenan Reynolds, who ran Navy's option attack to great success in college and was one of the Seahawks' final cuts in September (as a WR).
St. Louis BattleHawks
Coach: Former Bengals TE coach Jonathan Hayes.
QB: Former Ole Miss starter Jordan Ta'amu, who led the SEC in passing last season and signed a contract with the Texans before being released in August.
Guy you might know: RB Christine Michael, who was supposed to be a fantasy star for the Seahawks but never really panned out.
Tampa Bay Vipers
Coach: Former Bears head coach Marc Trestman.
QB: Former Georgia star Aaron Murray, who still sits atop the SEC's career TD list and spent a few seasons bouncing around the NFL.
Guy you might know: RB De'Veon Smith, who enjoyed a decent career at Michigan.'
Go deeper