Trump in letter to Erdoğan: "Don't be a tough guy"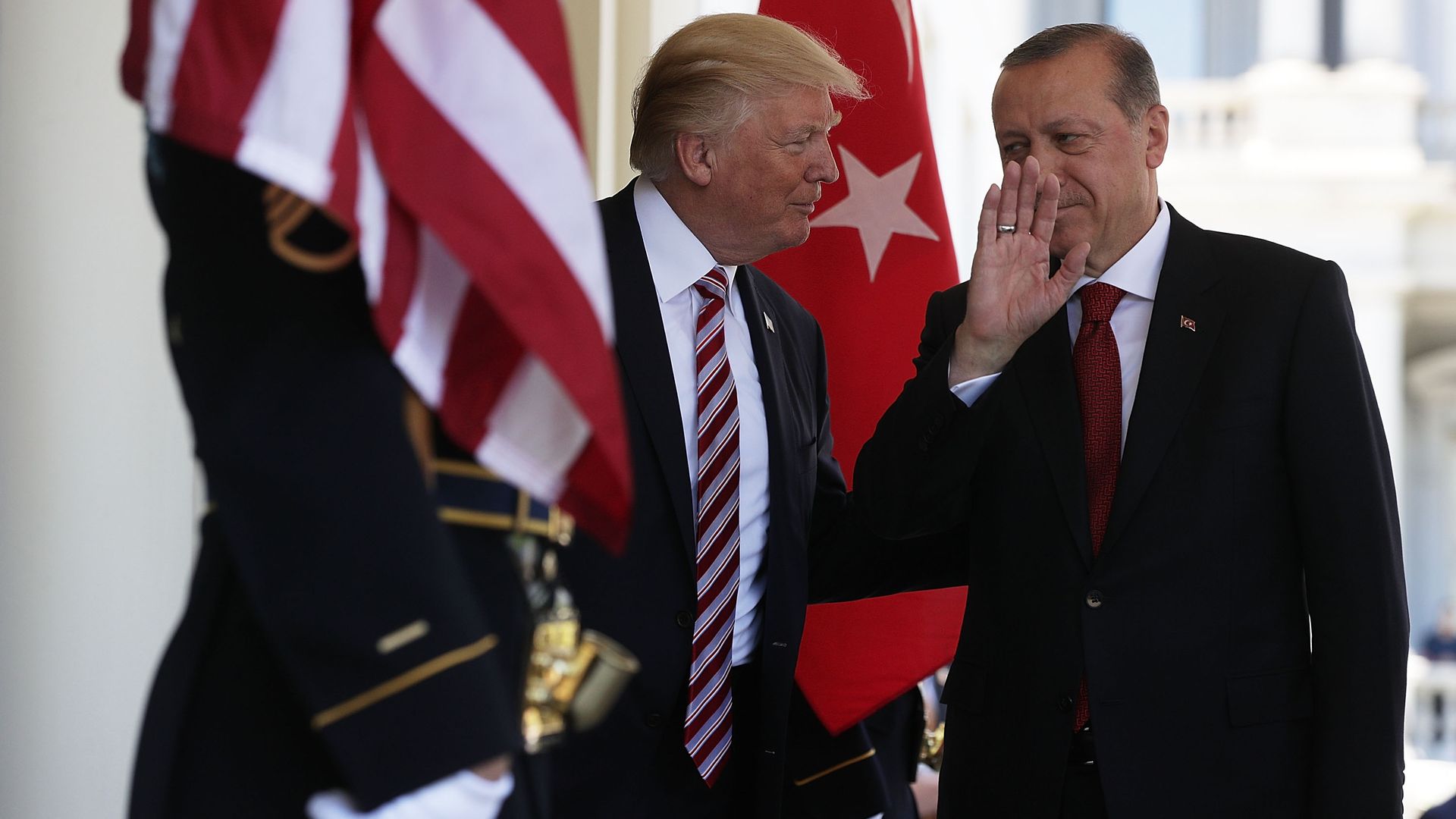 President Trump attempted to convince Turkish President Recep Tayyip Erdoğan on Oct. 9 to make a deal with the U.S. to end Turkey's military offensive into northern Syria, according to a letter first reported by Fox Business' Trish Regan.
The big picture: The letter, dated the same day as Erdoğan's formal announcement of Turkey's military operation, appears to be one of Trump's first diplomatic responses to a situation that has left U.S.-allied Kurdish forces vulnerable to attack and stoked fears that ISIS militants could escape Kurdish-run prisons. It came three days after the White House announced that the U.S. would withdraw troops from the area, a move that many have condemned as Trump giving Erdoğan a "green light" to launch an attack.
Dear Mr. President:
Let's work out a good deal! You don't want to be responsible for slaughtering thousands of people, and I don't want to be responsible for destroying the Turkish economy — and I will. I've already given you a little sample with respect to Pastor Brunson.
I have worked hard to solve some of your problems. Don't let the world down. You can make a great deal. General Mazloum is willing to negotiate with you, and he is willing to make concessions that they would never have made in the past. I am confidentially enclosing a copy of his letter to me, just received.
History will look upon you favorable if you get this done the right and humane way. It will look upon you forever as the devil if good things don't happen. Don't be a tough guy. Don't be a fool!
I will call you later.
Where it stands: Trump confirmed that nearly all U.S. troops in Syria will be leaving the country on Monday — while warning Turkey of repercussions for its offensive against Kurdish forces —  and authorized sanctions on current and former Turkish officials.
Background: Trump slapped sanctions on Turkey prior to American pastor Andrew Brunson's 2018 release from Turkish custody after being held on terrorism charges. Trump insisted there was "no deal" made for Brunson's release, and that the economic pressure was sufficient to force Turkey's hand.
Go deeper: Behind the scenes of the Trump bluff that kicked off Turkey's invasion
Go deeper