2020 Democrats pile on Warren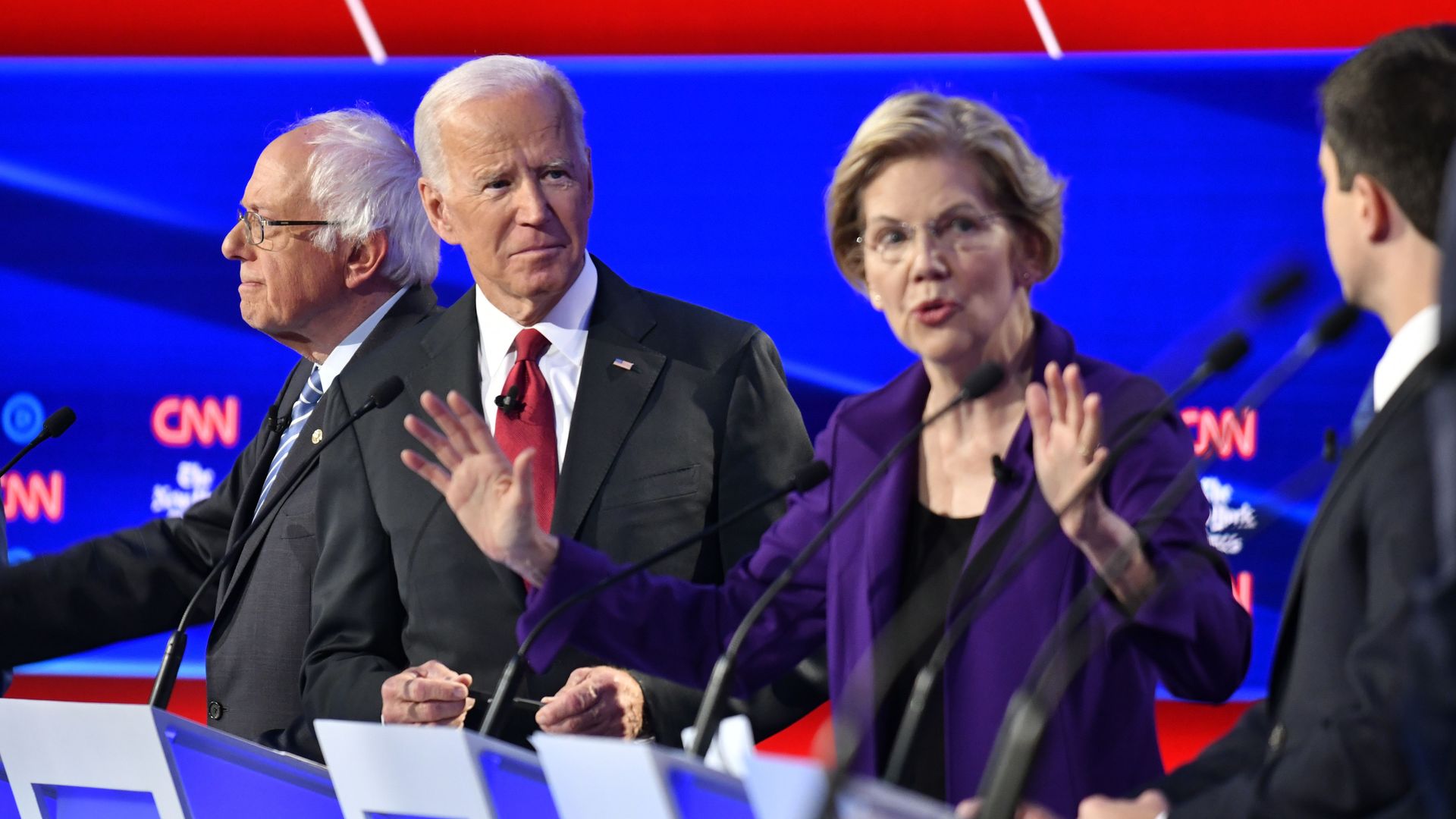 The rest of the field clearly thinks that Elizabeth Warren has passed Joe Biden as the Democrats' 2020 frontrunner, and the attacks rained in on her at last night's 12-pack debate outside Columbus, Ohio.
The state of play: Even Biden piled on Warren, over Medicare for All. Every conversation about whether taxes would go up under Medicare for All, and every dodge, threatened to eat away at Warren's image as a truth-teller.
As Axios' Alexi McCammond notes from the debate at Otterbein University, in Westerville, Ohio: What's a plan if you don't clearly articulate the specifics of what that means for Americans?
Warren racked up the most speaking time out of any candidate, a byproduct of the onslaught.
Other takeaways from the Axios politics team:
Biden is trying to use the Obama years — and one Senate accomplishment, the assault weapons ban — to pitch himself as the one who can get big things done. But he seemed to get flustered easily.
Biden's best moment was a fiery exchange over Medicare for All, where he was the moderate and Warren was the leftist activist. This yielded fodder to help the Trump campaign label Warren as a socialist. Republican officials tell us that's their most resonant message against her.
Bernie's back! After his heart attack and major surgery, he exuded his usual passion. He said he's feeling great, thanked his supporters and then moved on and didn't dwell on his health.
Part of the reason Pete Buttigieg, who had his most aggressive night so far, swung at everyone: More fodder for fundraising emails.
Cory Booker thinks his ticket to longevity in the race is to be the peacemaker.
Joe Biden on Hunter Biden:
"Look, my son did nothing wrong. I did nothing wrong. I carried out the policy of the United States government in rooting out corruption in Ukraine. And that's what we should be focusing on. ... My son's statement speaks for itself."
Go deeper: 5 takeaways from the debate
Go deeper