NYT: Bolton told Trump aide to alert White House lawyers on Ukraine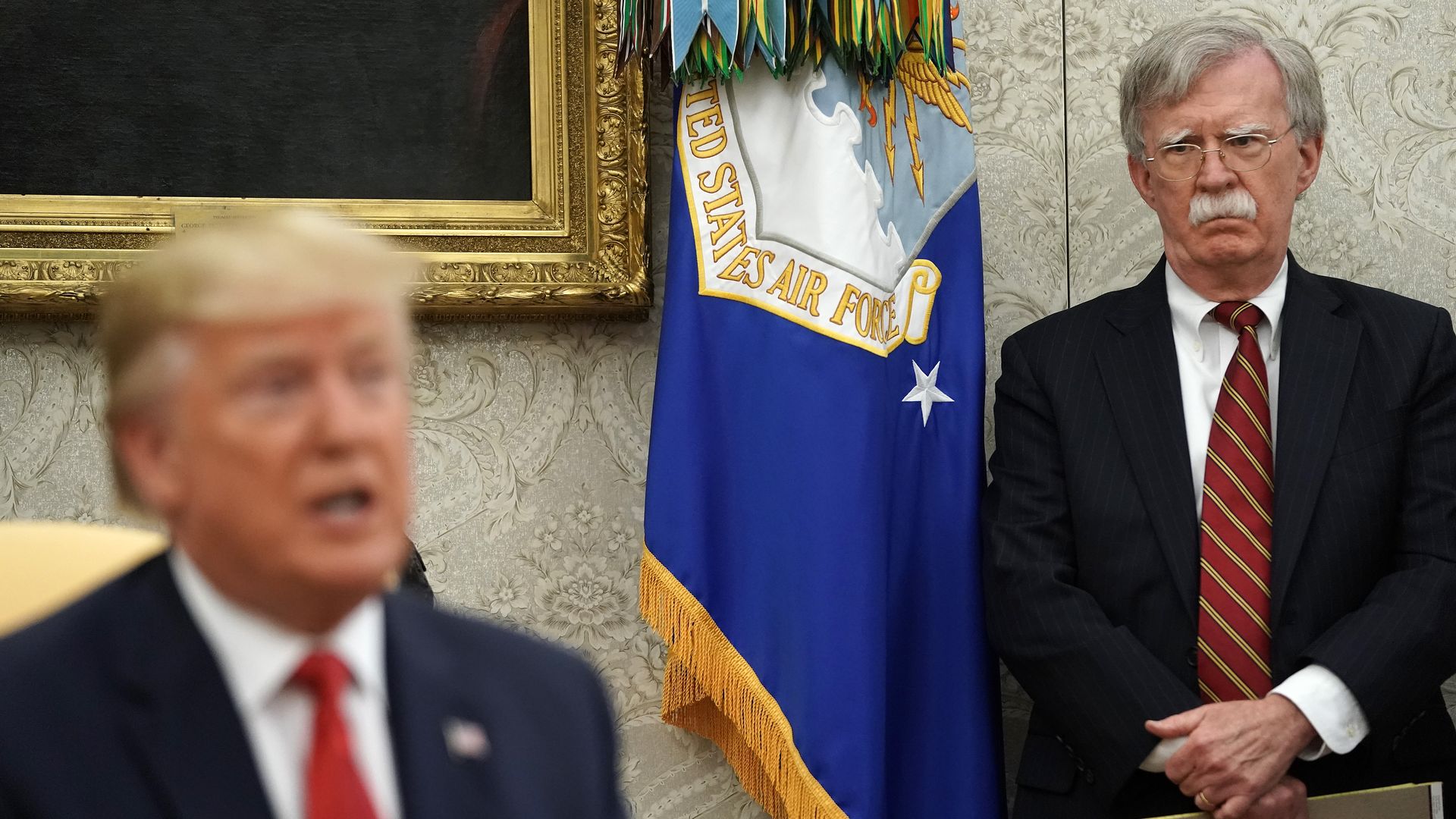 Former national security adviser John Bolton told a top aide on Russia to notify White House lawyers about a campaign to press Ukraine to investigate President Trump's rivals, Congress was told Monday, the New York Times first reported.
What they're saying: Trump's former Russia adviser Fiona Hill testified for 10 hours in the House's Ukraine investigation. Per the NYT, she said Bolton told her to alert the chief National Security Council lawyer that Trump's personal lawyer Rudy Giuliani was "cooking up" a "rogue operation" with legal implications with acting White House Chief of Staff Mick Mulvaney and Gordon Sondland, the ambassador to the EU.
"'I am not part of whatever drug deal Sondland and Mulvaney are cooking up,' Mr. Bolton, a Yale-trained lawyer, told Ms. Hill to tell White House lawyers, according to two people at the deposition."
"It was not the first time Mr. Bolton expressed grave concerns to Ms. Hill about the campaign being run by Mr. Giuliani. 'Giuliani's a hand grenade who's going to blow everybody up,' Ms. Hill quoted Mr. Bolton as saying during an earlier conversation."
— New York Times report of Fiona Hill's testimony
The big picture: Other outlets, including NBC and Fox News, also reported on Hill's account on Bolton's lawyer notification advice. Hill left her role as Trump's top Russia aide in August.
She testified behind closed doors under a subpoena from the Democratic-led committees leading the impeachment inquiry.
AP reports that Hill also testified that she "strongly and repeatedly objected to the ouster earlier this year of former Ambassador to Ukraine Marie Yovanovitch."
Yovanovitch testified before the 3 House committees investigating Trump and Ukraine Friday. She said the president pressured a top State Department official to oust her.
Go deeper:
Editor's note: This article has been updated with more details on Hill's reported testimony and and it has been corrected to show that Bolton cited Sondland in his "drug deal" quote (not Giuliani), per NYT.
Go deeper