Trump authorizes sanctions on Turkish officials for Syria invasion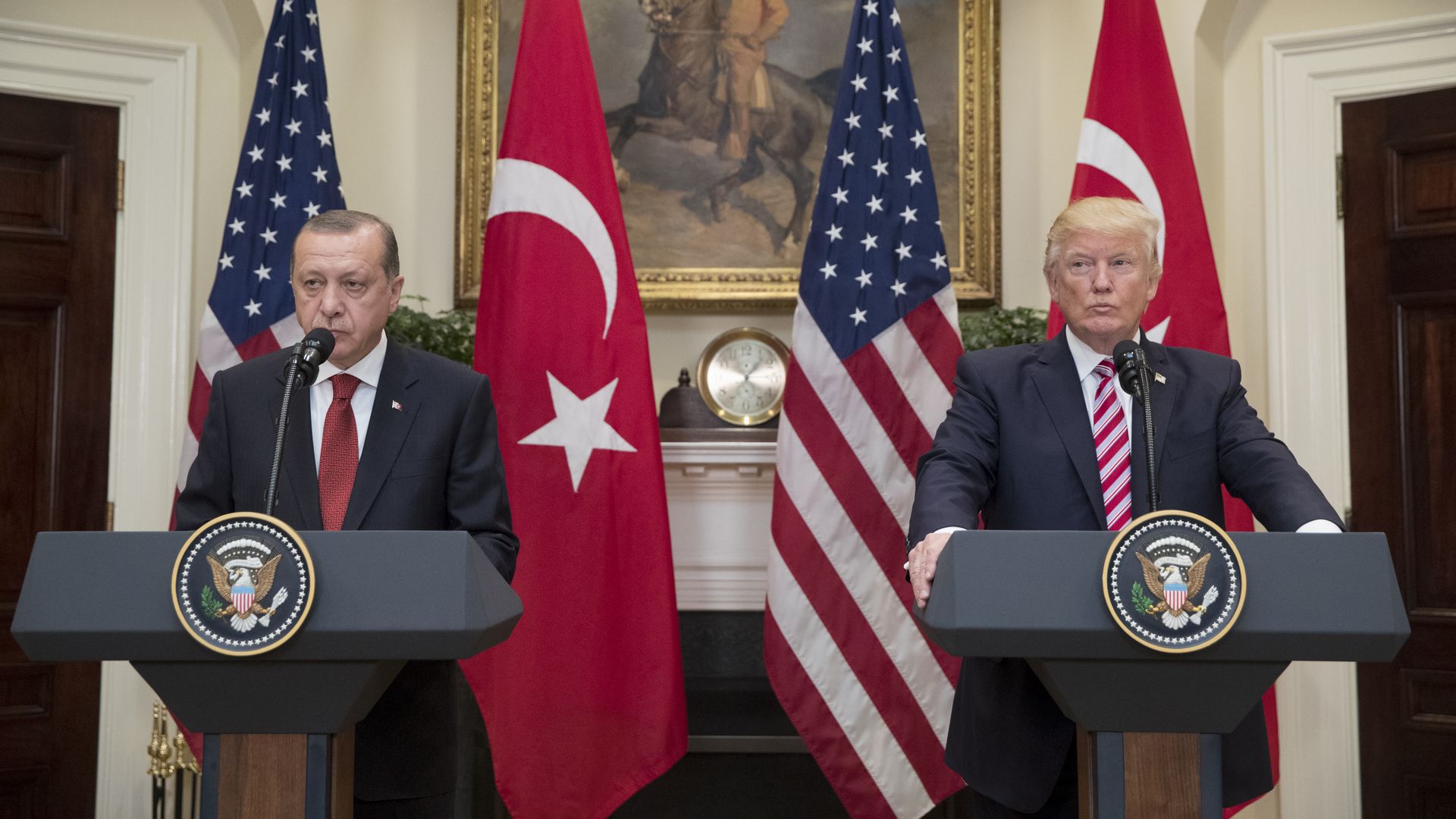 President Trump signed an executive order on Monday authorizing the imposition of sanctions on current and former Turkish officials, senior administration officials told reporters Monday.
Why it matters: Trump's removal of nearly all U.S. troops from Syria created bipartisan backlash on Capitol Hill, prompting members of Congress to immediately prepare sanctions bills of their own in retaliation. As Axios' Dave Lawler notes, Trump is now preempting those looming sanctions with steps of his own.
However, some Democratic lawmakers have already said that sanctions on Turkey alone are not enough.  
Senate Minority Leader Chuck Schumer (D-N.Y.), Senate Foreign Relations Committee Ranking Member Bob Menendez (D-N.J.) and Senate Armed Services Committee Ranking Member Jack Reed (D-R.I.) said as much in a Monday statement, arguing that Trump must "correct course" and reverse the troop withdrawal.
The White House is pressing for a cease-fire in the region. Trump directed a senior level delegation to depart for Ankara, Turkey, as quickly as possible, the officials said, adding that he would not send a high level delegation on such short notice unless he was pretty confident there was a chance at making a deal to stop the Turkish invasion.
The officials said the conflict is Turkish President Recep Tayyip Erdogan's fault, not Trump's.
"Moving a few men around in northern Syria" was not going to change much, one official said, adding that Erdogan was going to move ahead with the invasion regardless of whether the U.S. had troops on the ground.
The administration also announced a suspension of trade talks with Turkey and increased steel tariffs to 50%.
The officials would not say whether ISIS fighters have escaped imprisonment as a result of the fighting.
Editor's note: This post has been corrected to show that the U.S. delegation was sent to Ankara, Turkey (not to Africa).
Go deeper