House Democrats' impeachment roadmap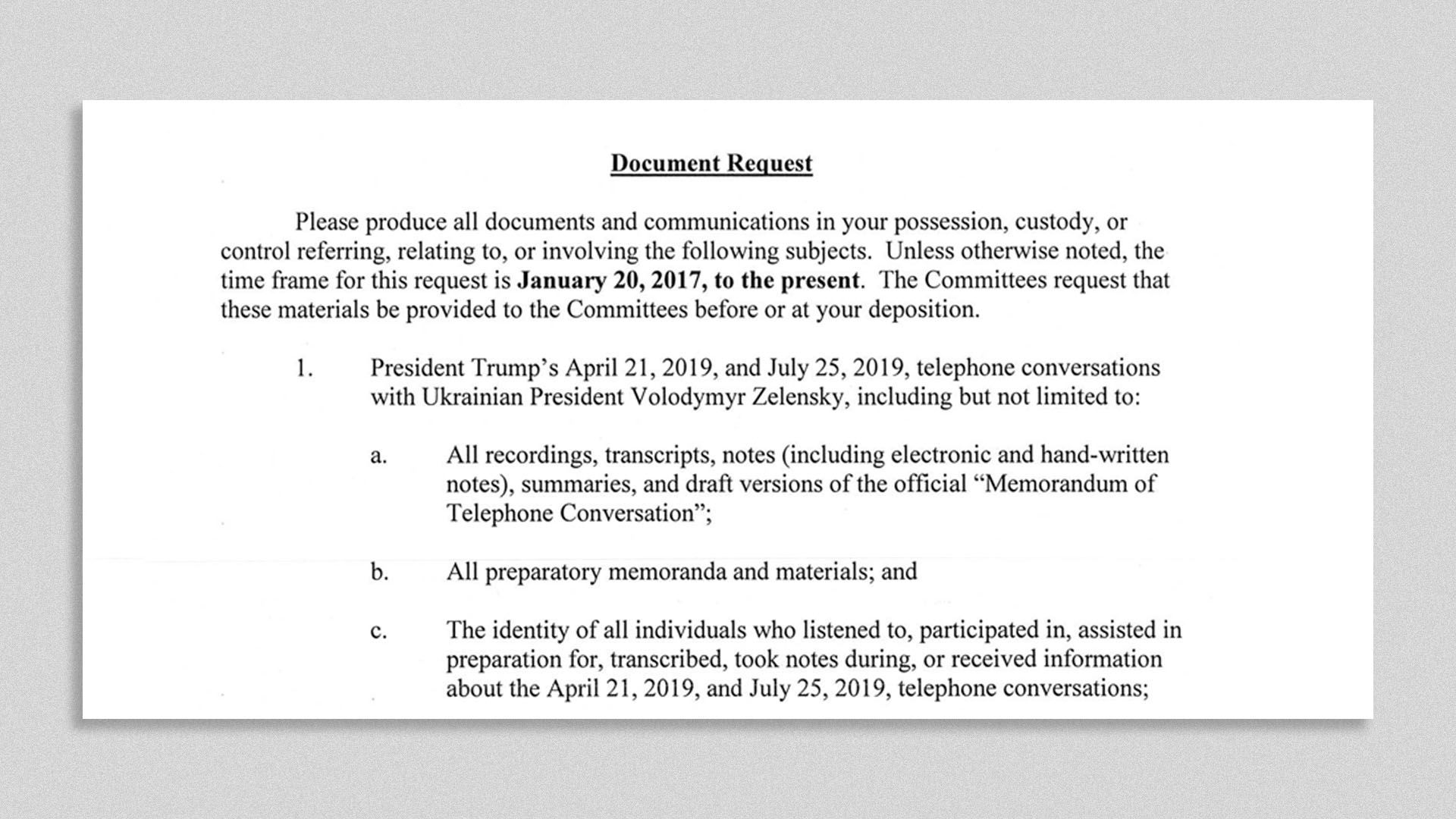 Ahead of this week's subpoenas and depositions, new documents obtained by Axios show how Democrats are taking the impeachment inquiry in two tightly focused directions: Ukraine and obstruction of justice.
Why it matters: There are new temptations for Democrats to broaden the scope of their inquiry after developments last week including President Trump's gift to Turkey, new questions about coordination with the Chinese over Hunter Biden, and the dramatic airport arrests of two of Rudy Giuliani's associates with Eastern European backgrounds and their indictments on campaign finance violations.
But for now, House Speaker Nancy Pelosi appears to be sticking with her instincts to keep the probe tight and as simple as possible for Americans to understand.
Driving the news: If the document request for Trump's former Russia adviser Fiona Hill, reviewed by Axios, is a road map for what Dems plan to ask Trump administration officials this week — and committee sources tell me that it is — then the inquiry remains focused on Ukraine and has not yet branched out into other countries.
Below are some of the key areas of interest to the committees, as outlined in their Oct. 9 letter to Hill:
All transcripts, notes, recordings, summaries, prep sessions and communications around Trump's April and July calls with Ukraine President Volodymyr Zelensky.
Efforts to restrict access to or limit distribution of documents referring to calls with foreign leaders; policies surrounding the practice of moving politically damaging documents to a special electronic system.
Interagency meetings relating to foreign assistance of any kind.
A meeting on or around May 21 in Kiev, Ukraine, with Energy Secretary Rick Perry, U.S. ambassador to the European Union Gordon Sondland, former special envoy to Ukraine Kurt Volker, Ukrainian officials and representatives of the Ukrainian energy sector.
A White House meeting on or around May 23 involving Trump, Volker, Perry or Sondland.
A dinner in Brussels on or around June 4 involving Jared Kushner, Zelensky, Sondland and Perry.
A White House meeting on or around July 10 with Ukrainian officials and former national security advisor John Bolton, Volker, Perry, Sondland — and possibly Trump and Vice President Mike Pence.
Efforts by Rudy Giuliani or associates to pressure Ukrainian government officials to investigate Joe Biden and his son Hunter, Paul Manafort, the DNC, Hillary Clinton and former U.S. ambassador to Ukraine Marie Yovanovitch.
Potential attempts by Trump administration officials to influence Ukraine's state gas company Naftogaz.
Ukraine's acquisition of Javelin missiles from the U.S. and the decision to stop investigating Manafort and cease cooperation with former special counsel Robert Mueller's Russia investigation.
Efforts by Trump administration officials to retaliate against the whistleblower or dispose of documents relating to the Ukraine investigation.
Go deeper