The Nationals stay in the fight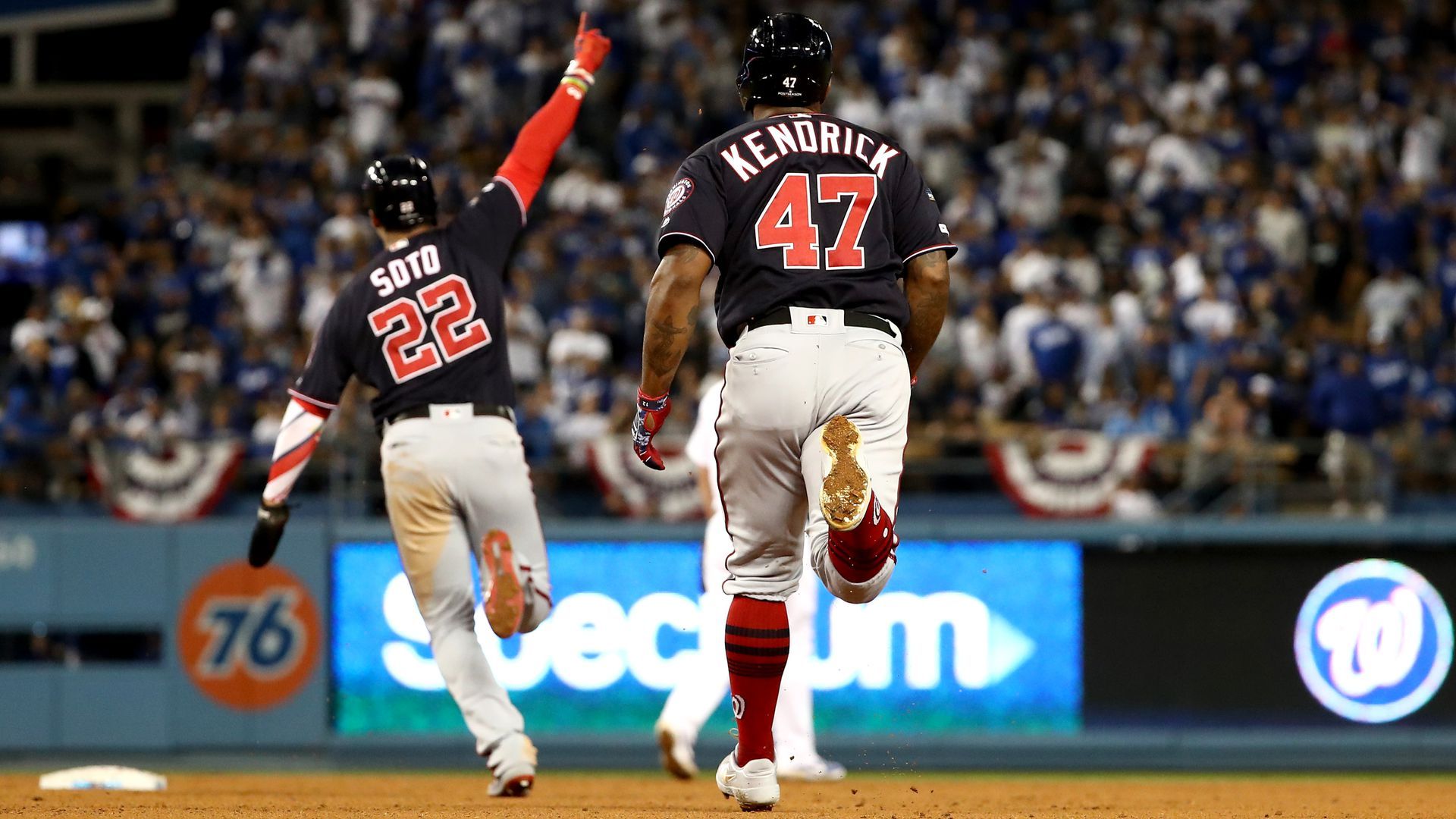 For the first time since their move to D.C. in 2005, the Washington Nationals have won a playoff series. Final score: Nationals 7, Dodgers 3.
The odds: The Dodgers cruised through 7 innings at home against the Nationals last night. Then Dave Roberts handed the ball to generational left-hander — and noted postseason choke artist — Clayton Kershaw.
Trailing 3-1 in the 8th, Nationals studs Anthony Rendon and Juan Soto homered on consecutive pitches from Kershaw, knotting the game at 3.
Then, in the 10th, Howie Kendrick came to the plate against Joe Kelly and hit a grand slam over the wall in dead center. Biggest hit in franchise history.
Game notes:
The comeback kids: The Nationals are the first team in MLB history to rally from 3 or more runs down twice in elimination games during the same postseason.
The hero: "You couldn't dream of something like that," said Kendrick. "It was electric. Probably the best moment of my career. We never gave up. The city had faith in us. The fans had faith in us. We believed in ourselves, everybody came through."
The manager: "I don't even know what day it is right now," said Davey Martinez.
P.S. ... Kershaw is taking a beating, which comes with the territory.
"Two hours after the greatest pitcher of his generation again cost his team a chance at a championship, the only pitching coach he has ever known found him," writes SI's Stephanie Apstein.
"'I love you,' said Rick Honeycutt, who has guided Kershaw since he debuted at 20 in 2008. 'You always give everything you've got. Sometimes it don't work out.'"
"Kershaw burst into tears. He carries each of his playoff failures with him, a sharp pain that occasionally catches him off-guard on the golf course or in the weight room."
Go deeper:
Go deeper