The basketball tweet that set off a geopolitical firestorm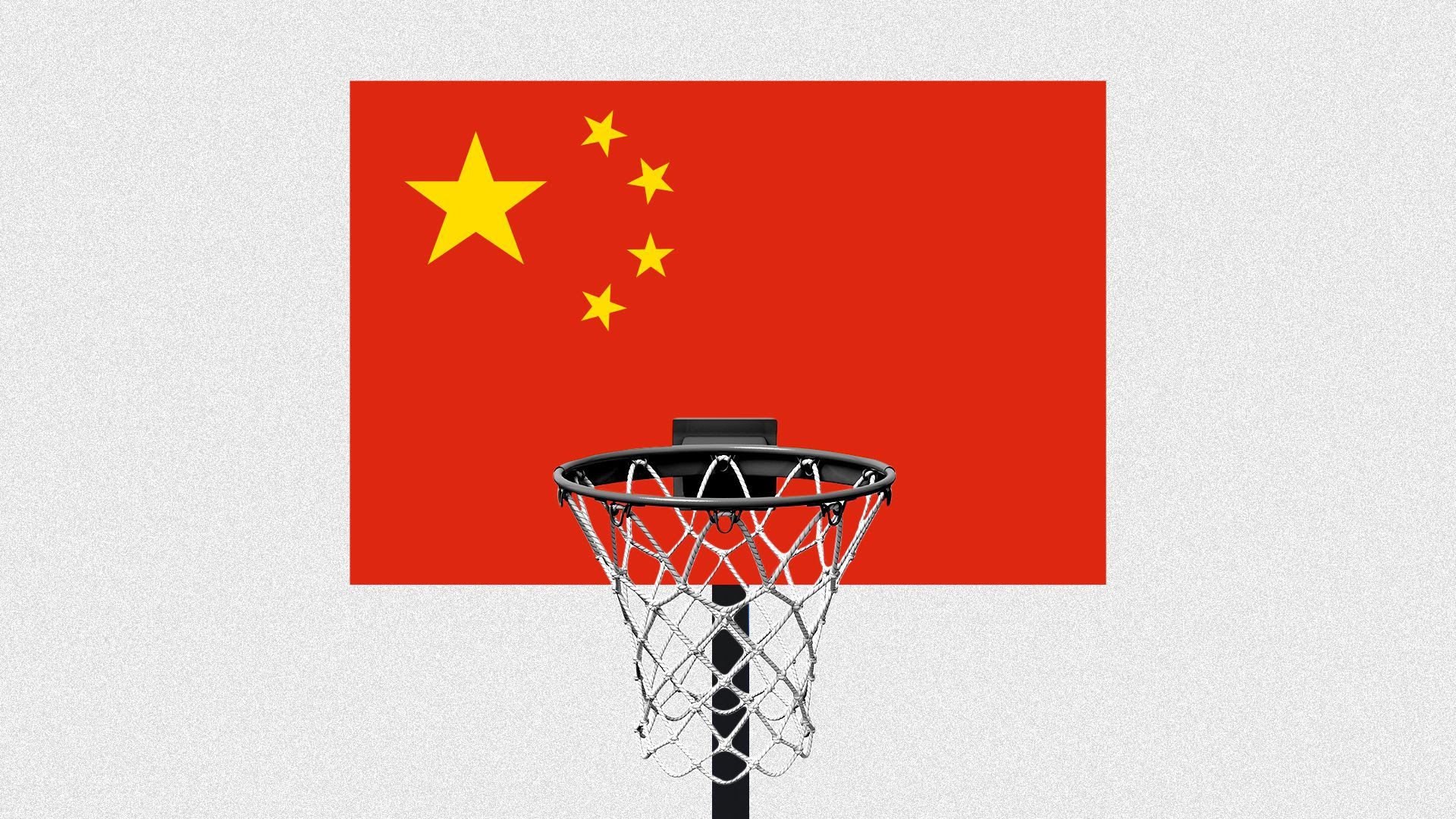 Every so often, a sports story breaks into the mainstream, and sportswriters begin to salivate at the chance to write about a topic that's "bigger than sports." The NBA-China story is something else entirely.
The big picture: This is a high-stakes political battle between the world's most populous country and one of America's most visible entities, with its 2 newest owners, Tilman Fertitta and Joe Tsai, playing major roles.
Meanwhile, LeBron James — the face of the NBA and one of the most outspoken athletes in all of sports — is literally in China as we speak, preparing to play a set of preseason games (if they don't get canceled).
Why it matters: For years, journalists and politicians have been trying to alert the U.S. public to the China threat. In the end, it may have been a since-deleted tweet from an NBA general manager that finally woke Americans up.
"Coverage of [Morey's tweet], and the response to it from China and the NBA, has already earned more attention than dozens of other stories in recent years documenting similar questionable relationships between U.S.-based companies and Beijing," writes CNBC's Jake Novak.
The latest: The Chinese government has canceled the Nets and Lakers fan events, and their 2 preseason games — scheduled for Thursday in Shanghai and Saturday in Shenzhen — could be next, with fans calling for a boycott.
"I would be shocked if these Lakers-Nets games happen in China. There's a growing fear of protests and drawing police presence. And I don't see what the upside is for the NBA, at this point," tweets ESPN's Pablo Torre.
What they're saying:
On NBA critics: "It's more than a little ludicrous for everyone from Ted Cruz to Beto O'Rourke to suddenly hand the NBA and the Rockets the tab for American toadying to authoritarians in Beijing. ... Yes, the NBA has made a mutually beneficial commercial accommodation with China. … You have a problem with that or consider it gutless? Then you have a problem with literally hundreds of American companies." (Sally Jenkins, WashPost)
On Adam Silver: "The long honeymoon between Silver and the media is officially over. ... For sportswriters, it's almost a relief. We can start covering Silver like a sports commissioner, not like our pal." (Bryan Curtis, The Ringer)
On Silver's upcoming meetings: "[I]t is wonderful that he is due to be hobnobbing with powerbrokers in Shanghai and Shenzhen over the next few days. This is the equivalent of your warring relatives all sitting down together at the same wedding. Get a little water under the bridge, you know? They need each other and couldn't break up if they tried." (Henry Abbott, TrueHoop)
Go deeper:
Go deeper