German synagogue shooting streamed on Amazon's Twitch, leaves 2 dead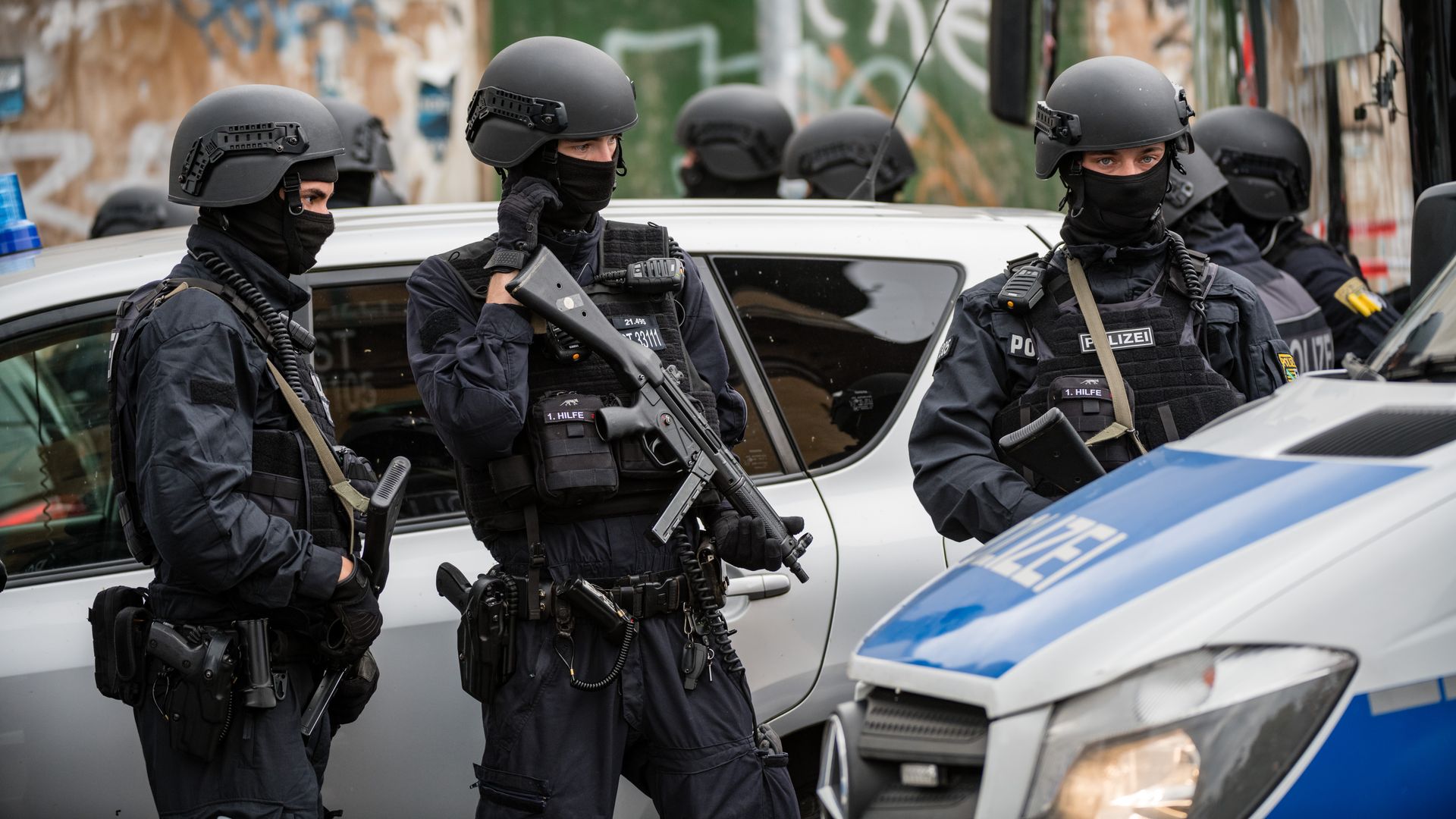 The alleged shooter who killed 2 people outside a synagogue in Halle, Germany, on Wednesday morning used the platform Twitch to livestream the attack, Amazon confirmed to CNBC.
Why it matters: 2,200 people viewed the recording of the killings, and the video was accessible on the platform for 30 minutes before Twitch flagged and removed it, according to the New York Times.
The big picture: Twitch was designed for video gamers to livestream their activity while chatting with an audience. Livestream services like Twitch and Facebook have had to grapple with several mass shootings worldwide that have been broadcast by perpetrators to amplify the evil acts. In March, a massacre at a mosque in New Zealand was circulated on Facebook
What we know: The Halle attack occurred on Yom Kippur, the holiest day on the Jewish calendar. At the time of the shooting, 70 to 80 people were inside the synagogue. Shots were also fired at a nearby kebab shop, AP notes.
The German Federal Criminal Office said there were at least 2, and possibly 3, perpetrators. However, the video only showed 1 assailant, and it remains unclear whether police are searching for other suspects, according to the Washington Post.
"The root of all these problems is the Jew," the alleged shooter said in a clip shared by the International Center for the Study of Radicalization. The video runs more than half an hour, per the Post, and the footage of the attacker has not yet been confirmed by German authorities.
The broadcast depicts the alleged suspect, a white male, driving alone and referring to himself as "Anon" — a name that 4chan and 8chan users often use. He tells the camera in English: "I think the Holocaust never happened," Vice reports.
What they're saying:
"We can not just tolerate hatred on the internet — hatred has nothing to do with freedom of expression."
— Federal Minister of the Interior of Germany Horst Seehofer said in a statement
"We are shocked and saddened by the tragedy that took place in Germany today, and our deepest condolences go out to all those affected. Twitch has a zero-tolerance policy against hateful conduct, and any act of violence is taken extremely seriously. We are working with urgency to remove this content and permanently suspend any accounts found to be posting or reposting content of this abhorrent act."
— a Twitch spokesperson told CNBC
"Whether this case had an anti-Semitic motive still has to be determined. We do not exclude any possibility."
— spokeswoman for Germany's federal prosecutor Carolin Urban
Go deeper:
Editor's note: This story has been updated to include the number of people who saw the video and the length of time the shooting was streamed.
Go deeper