NCAA coaches react to California law allowing student-athletes to be paid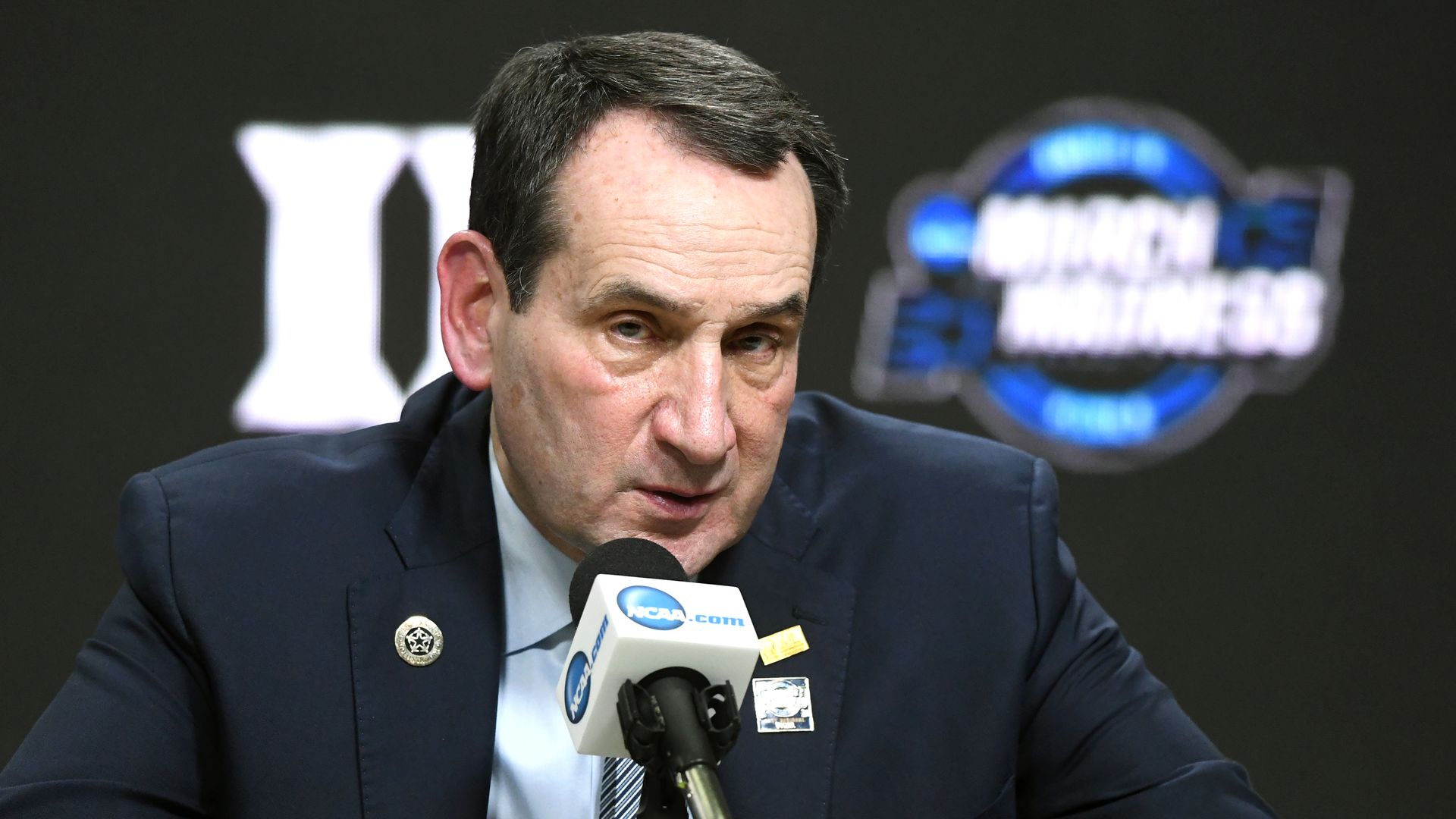 While the NCAA stands firm against the new California law allowing college athletes to accept endorsement money, college coaches have mixed views about the legislation and what it means.
What they're saying: Some coaches, like Duke's Mike Krzyzewski, believe the law is simply a sign of changing times. Others are waiting to see how the new change will play out in California, where it's likely to face legal challenges ahead of its implementation in 2023, before making a judgment call.
Basketball coaches, per ESPN:
Duke coach Mike Krzyzewski: "I don't -- and won't -- pretend to understand all the complexities of such a change. However, it is a sign of the times that we in college athletics must continually adapt, albeit in a sensible manner."
Lousiville coach Chris Mack: "Four or five years ago I might've sung a different tune, but a lot has changed. The money, the TV contracts, every conference has its own network now. I don't know what it looks like. I'm not an economist. And I think the NCAA has gotten a bad rap for not doing anything for student-athletes. But I am on the side that thinks student-athletes should be able to capitalize on their name, image and likeness."
Notre Dame coach Mike Brey: "I think it's much ado about nothing right now. What's really the marketability of some of these guys? How many jerseys are they really going to sell? It's a great panic thing right now. I just think we can work this out and the market's not going to be as deep for everybody as we think."
Football coaches, per Sports Illustrated:
Texas A&M coach Jimbo Fisher: "It's really going to change how things are done, that's for sure. I'm anxious to see what the next step the NCAA takes, and then we'll have to make the accountable adjustments of what goes on. But that is definitely a game-changer, and I'm going to have to sit back and think through that. I'm glad it happened on an off week for the future of what's going to happen."
Notre Dame coach Brian Kelly said, "For me, I stay in the present and don't get too far ahead of myself, and [the bill takes effect] four years down the road. So I think if it was next year, I'd probably have some more formulated opinion on it. Four years allow for a lot of maneuvering, if you will, relative to negotiations and talking back and forth amongst the NCAA and universities. So I think there's plenty of time for dialogue. I don't need to comment on something that is that far down the line."
Texas coach Tom Herman: "I have been on record as saying I do believe that we need to find a way to get student-athletes more for their name, image and likeness, but I don't know the specifics of all that's going on in California."
LSU coach Ed Orgeron: "I believe the players should get as much as they possibly can. Am I for paying the players? No. But if there's a system where we can get these guys what they deserve without getting salaries… I'm all for that."
Go deeper: The NCAA makes rules, not laws
Go deeper