NBA commissioner to China: "We are not willing to compromise" on freedom of expression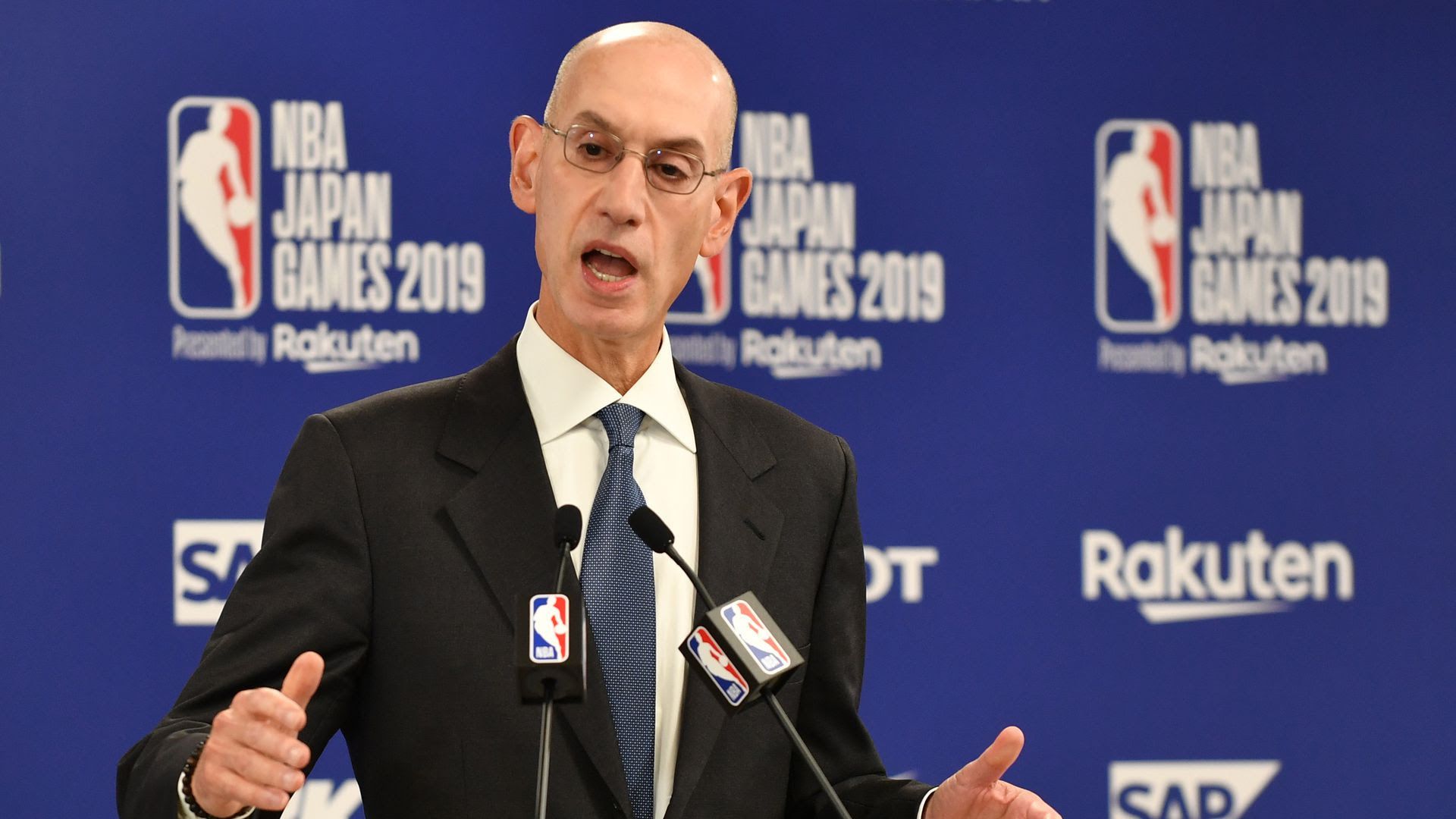 NBA commissioner Adam Silver just wrapped up a live press conference in Japan, where he took a much stronger stance than in an earlier statement.
The big picture: Silver stood behind Houston Rockets general manager Daryl Morey and his tweet, stating that freedom of expression is a long-held NBA value that is not up for compromise.
"The long-held values of the NBA are to support freedom of expression. ... And in this case, Daryl Morey, as general manager of the Houston Rockets, enjoys that right as one of our employees.
"I understand that there are consequences from that exercise of, in essence, [Daryl's] freedom of speech and we will have to live with those consequences.
"But as a league, we are not willing to compromise those values. And, again, I'm sympathetic to our interests here and to our partners who are upset. I don't think it's inconsistent, on one hand, to be sympathetic to them, and at the same time, stand by our principles."
In a press release, Silver said:
"I recognize our initial statement left people angered, confused or unclear on who we are or what the NBA stands for. Let me be more clear.
"Over the last three decades, the NBA has developed a great affinity for the people of China. ... At the same time, we recognize that our two countries have different political systems and beliefs.
"But for those who question our motivation, this is about far more than growing our business. Values of equality, respect and freedom of expression have long defined the NBA — and will continue to do so.
"It is inevitable that people around the world — including from America and China — will have different viewpoints over different issues. It is not the role of the NBA to adjudicate those differences.
"However, the NBA will not put itself in a position of regulating what players, employees and team owners say or will not say on these issues. We simply could not operate that way.
"Basketball runs deep in the hearts and minds of our two peoples. At a time when divides between nations grow deeper and wider, we believe sports can be a unifying force."
More quotes:
On American values: "I don't come here, either as the commissioner of the NBA or as an American, to tell others how they should run their governments. At the end of the day, though, I am an American and these are values that are deeply rooted in the DNA of the NBA."
On Yao Ming: "Our office has communicated directly with Yao Ming and he is extremely upset. I'm not sure he quite accepts how we are operating our business right now. And again, I accept that we have a difference of opinion. … He is extremely hot at the moment and I understand it."
What's next: Silver plans to travel to Shanghai tomorrow to attend the Lakers-Nets preseason game, which won't be shown in China after state broadcaster CCTV announced that it was suspending the broadcast.
Go deeper:
Go deeper