Sanders' last public questions before his procedure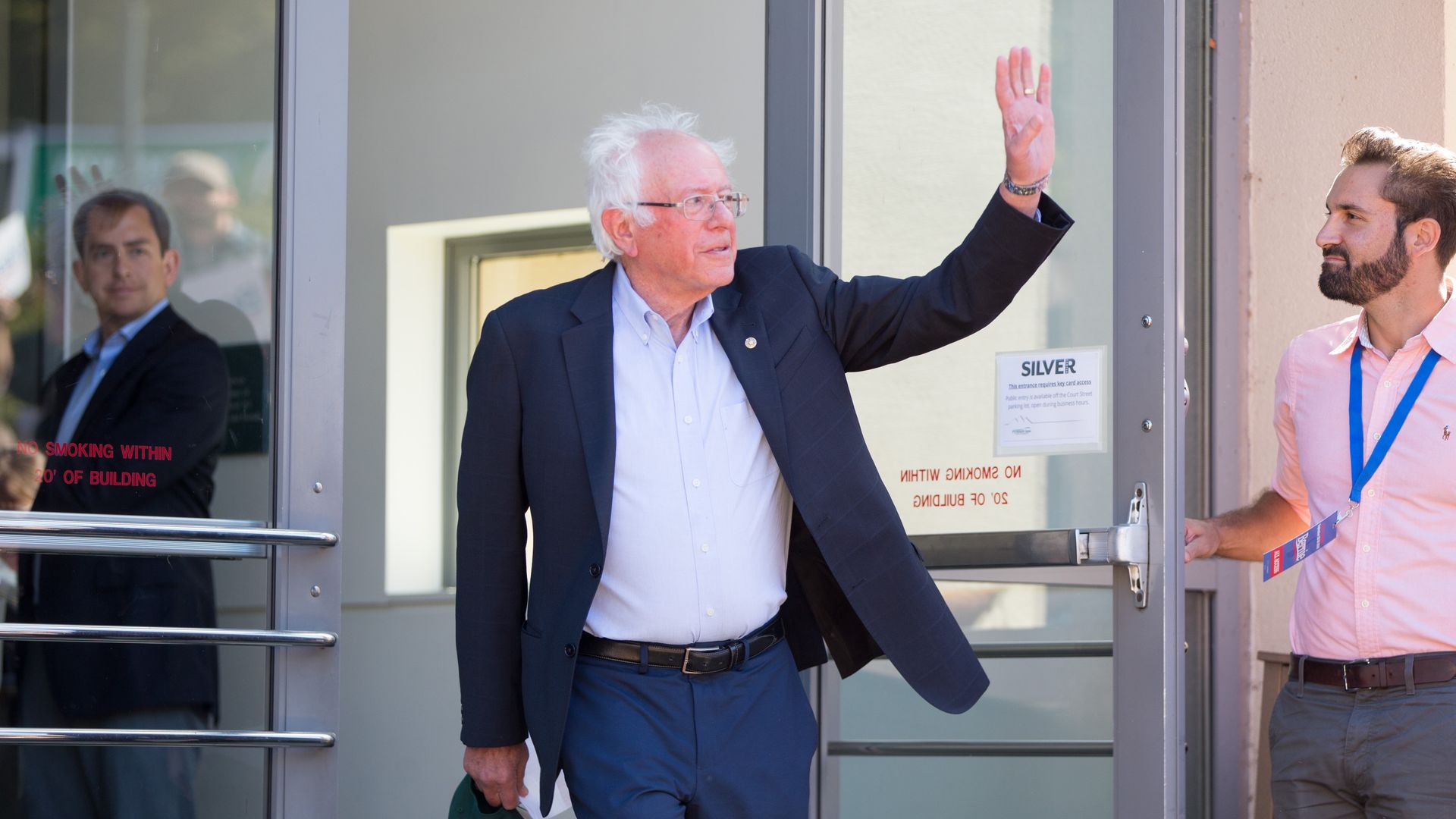 LAS VEGAS, Nev. — Just before his medical procedure, Bernie Sanders told supporters at a Muslims for Bernie event that whoever the Democratic nominee is, every candidate — including himself if he doesn't come out on top — "will support the winner and do everything that we can" to defeat Donald Trump.
Why it matters: Sanders' statements on the future of the race will get more scrutiny now that he's been sidelined by his procedure. He was hospitalized after the event with a blocked artery, had 2 stents put in and has canceled all events until further notice.
Some Democrats have questioned whether Sanders — with his substantial campaign war chest and a loyal base that never quite warmed enough to Hillary Clinton in 2016 — will stay in the race through the Democratic contest even if Elizabeth Warren emerges as the clear preference among liberals.
Details: More than 100 people gathered in Vegas at a local Indian restaurant to hear from Sanders about the state of his 2020 campaign. He took 5 questions on everything from Saudi Arabia to Democrats' ability to unite around the eventual nominee.
On Democrats' rallying around their eventual 2020 nominee: "The answer is, and I can speak with absolute certainty, that every candidate up there will support the winner and do everything that we can. And I certainly hope I'm the winner, but we will, I know, we will support each other and we will defeat the worst president and the most dangerous president in American history."
On the U.S.-Saudi relationship: "MBS is a murderer. And it's not only his murder of [Jamal] Khashoggi. He murders many people. He treats women as third class citizens and he runs a regime which is fiercely opposed to Democracy. So this is not a country which should be our ally. We're going to change our relationship with dictatorships all over the world, and as we move to sustainable energy, we are not going to be needing their oil any longer."
On Kashmir: "I was very disturbed by what India did in Kashmir. They broke a long-standing agreement. It is disturbing that the president of the United States has not called them out on that, but I will."
On how plans like Medicare for All and free college will be paid for: "The answer is we pay for everything we propose."
Between the lines: He stood behind a podium on a small stage during his remarks, which he usually does during the Q&A, too — but this time he asked his staff for a chair to sit in on stage while attendees asked their questions.
He didn't stick around after to chat with supporters, and he said something about having to make some calls before leaving the event.
When chatting with people after the senator's remarks, a number of them commented that he appeared more tired than normal, that the event was shorter than anticipated, or that he seemed to be getting older — though most chalked it up to the grind of running a presidential campaign.
Editor's note: This story has been updated to clarify that Sanders underwent a medical procedure (not surgery).
Go deeper