Forever 21 files for bankruptcy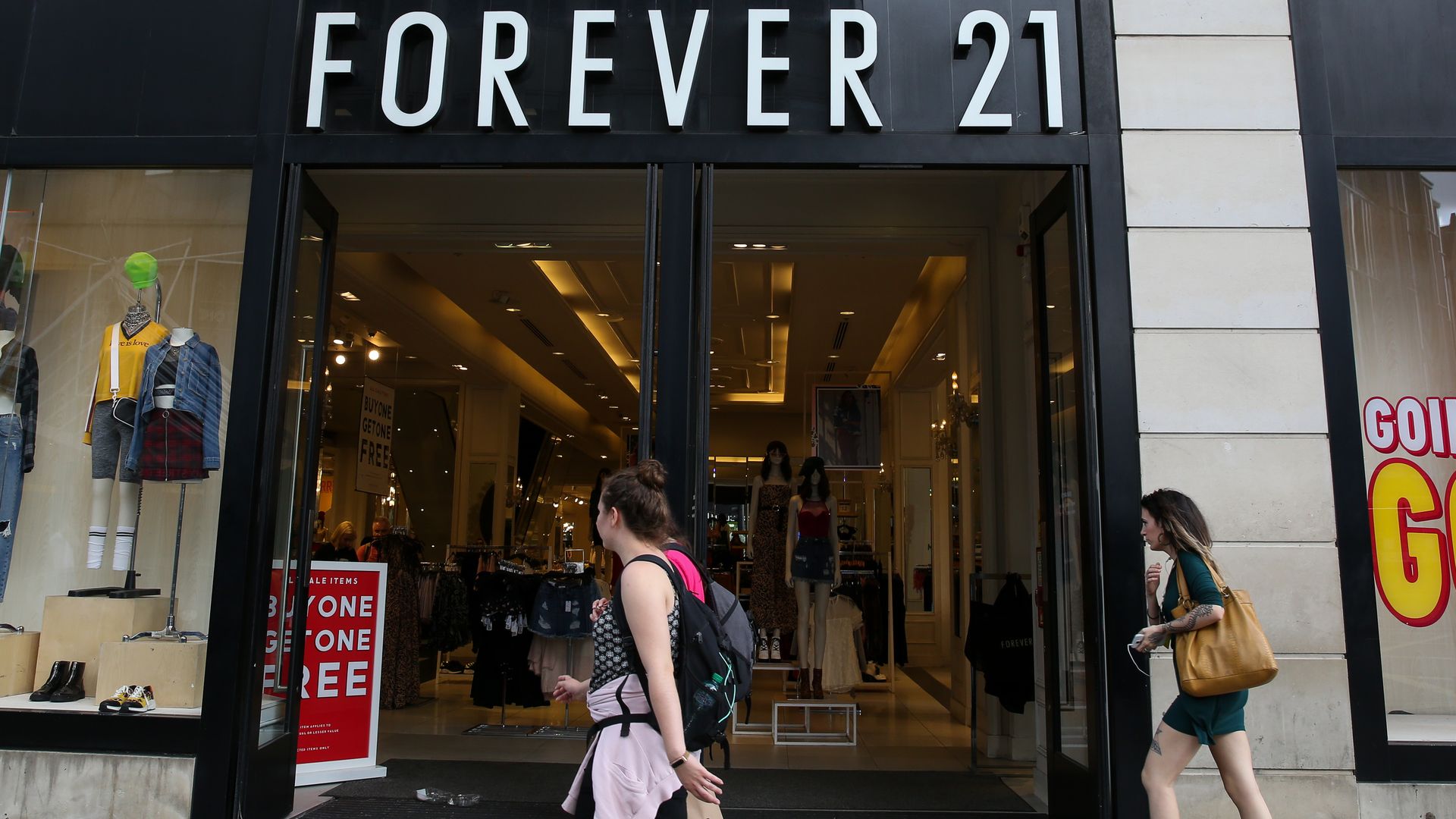 Forever 21 said in a statement Sunday night it had filed for Chapter 11 bankruptcy protection and would close a number of stores in the U.S. and across the world. Most stores in Asia and Europe will close, but it would continue operations in Mexico and Latin America.
Why it matters: The Los Angeles-based "helped popularize fast fashion in the United States with its bustling stores and $5 tops," the New York Times notes. Per Axios' Future reporter Erica Pandey, the trend is increasingly coming under fire because it's creating uncurbed waste and exacerbating retail's environmental harm.
Our thought bubble, from Axios chief financial correspondent Felix Salmon: Forever 21 remains a force to be reckoned with in the U.S. and across the Americas. It expanded too fast, especially internationally, and it will now operate fewer stores in fewer countries. But the fact that it just raised $350 million in new money proves that it's far from dead.
The big picture: Per AP, the Los Angeles-based firm operates about 800 stores across the world, including over 500 in the U.S. The retailer expects to close up to 178 stores in the U.S. and up to 350 overall, according to the Times.
There had months of speculation about the fashion retailer's restructuring, as the fashion retailer's cash dwindled and turnaround options looked scarce.
What they're saying: Jon Goulding, an executive at the consultancy Alvarez & Marsal who will be Forever 21's chief restructuring officer during the proceedings, told the NYT he believes the retailer could renegotiate many of the U.S. stores' leases.
Forever 21 executive vice president Linda Chang said in a statement, "This was an important and necessary step to secure the future of our Company, which will enable us to reorganize our business and reposition Forever 21."
Go deeper: Faster and cheaper online shopping means a steeper climate cost
Go deeper