CDC confirms 2,807 hospital cases of lung injury linked to vaping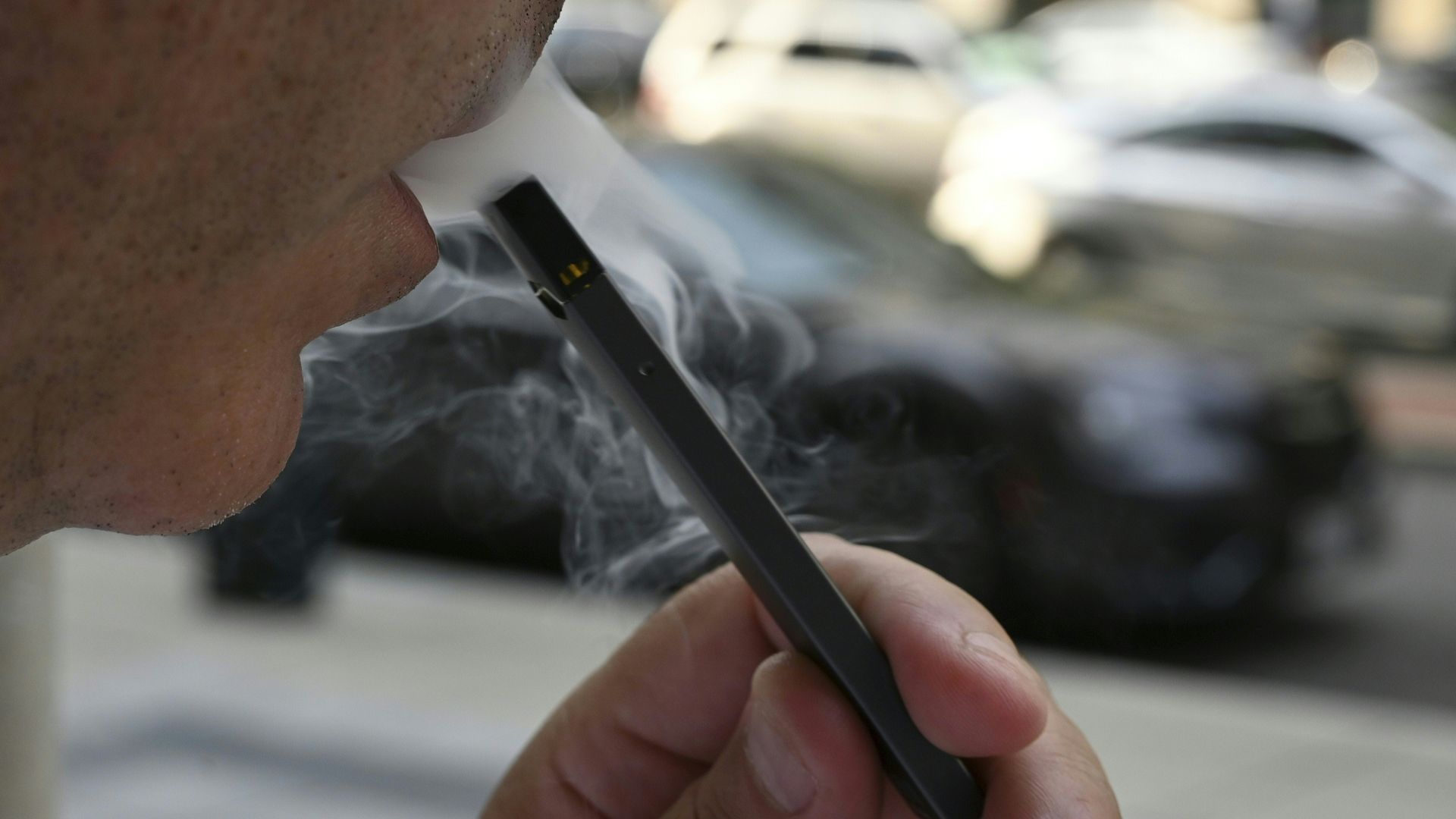 There are 2,807 confirmed hospital cases of lung injury associated with vaping in all 50 states, Washington, D.C. and two U.S. territories, the Centers for Disease Control and Prevention reports as of Feb 18.
What's new: Because of the consistent declines in new EVALI cases since Sept. 2019, as well as the identification of vitamin E acetate as a primary cause of EVALI, Tuesday's report will be the final CDC update on the number of hospitalized EVALI cases and deaths nationally.
By the numbers: The CDC confirmed the death toll has reached 68 people in 29 states and D.C., as of Feb. 18.
The influx of cases has slowed considerably since August. But the agency said the decline was due in part to a reporting lag in early December.
The impact: CDC explains the steady drop in cases as likely multifactorial and possibly related to...
Public awareness of the risk associated with THC-containing e-cigarettes, vaping and product use.
The elimination of vitamin E acetate from some products.
Law enforcement response related to illicit products.
Details: CDC, FDA and individual state health officials "have made progress in identifying the cause of EVALI," CDC reports.
Nationally, most vaping-related patients with data on how they sourced products reported obtaining THC-containing products from "informal sources," per the CDC. The agency recommends users should consider no longer vaping THC products, rather than its original claim to refrain from e-cigarettes.
Vitamin E acetate has been found in product samples tested by FDA and state labs and patient lung fluid samples tested by CDC across the country.
Vitamin E acetate is not present in the lung fluid of those who do not have EVALI.
Based on several studies, federal health officials found in late 2019 vitamin E acetate in a sample of illicit products in select states and the additive also caused lung fluid in 48 patients out of 51 diagnosed with the vaping illness.
Additional lab tests for 1,782 hospitalized patients took place relating to a variety of vape products used, per CDC figures as of Dec. 17. Based on data released Dec. 3, the majority of people with the pulmonary illness (EVALI) are young males:
78% are under the age of 35, and 67% are males.
About 80% reported using products containing THC, 35% reported exclusive use of THC-containing products and 54% reported use of products with nicotine.
Go deeper:
Editor's note: This story has been updated to reflect the latest details. Check back for more.
Go deeper