Universities' construction overhaul is ballooning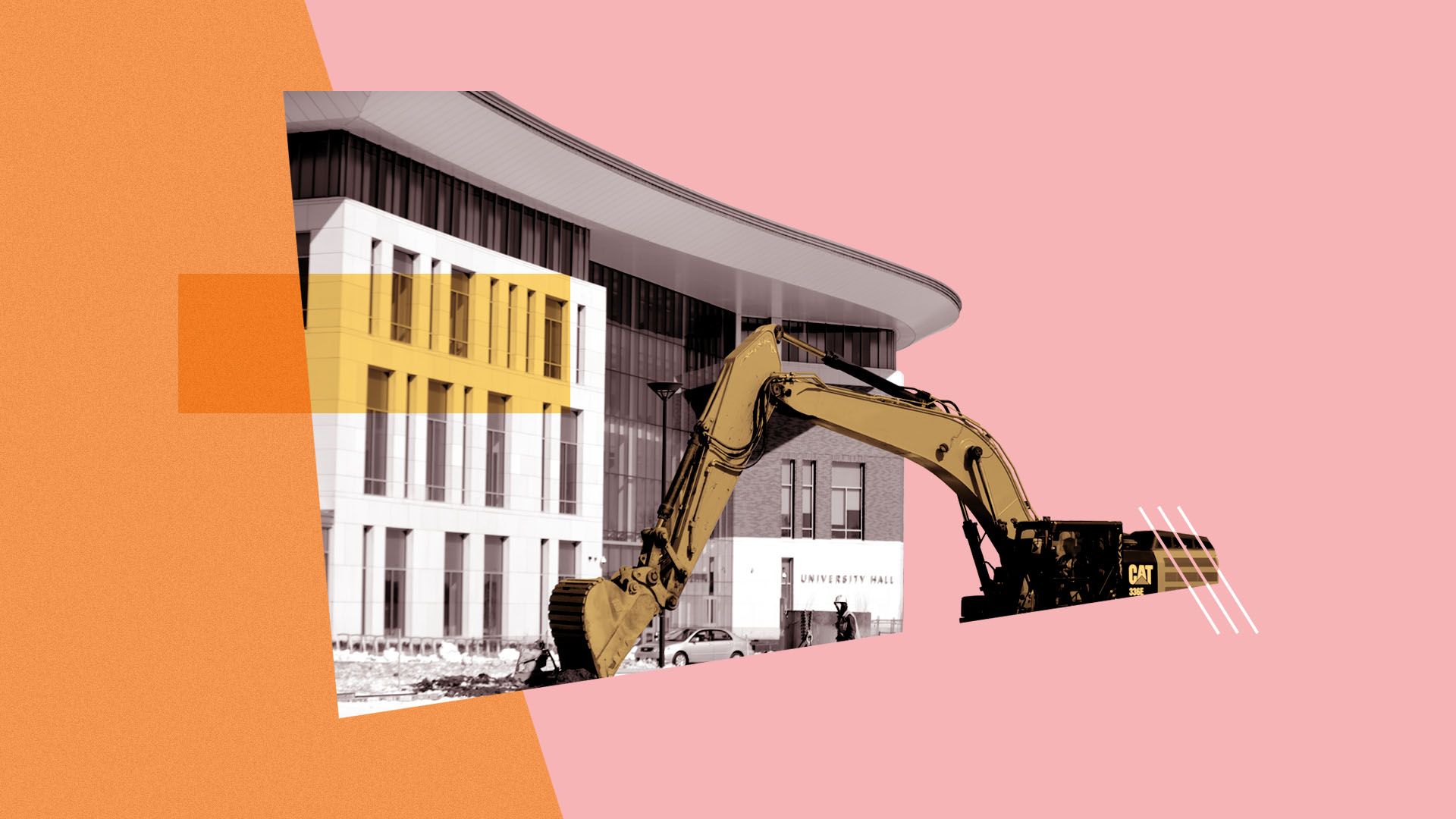 Universities and colleges in the U.S. have been renovating and building up their aging campuses in hopes of wooing a dwindling number of students to enroll.
The big picture: Higher education institutions are banking on returns on these investments, but student enrollment has been trending downward for 8 consecutive semesters, shuttering 11 universities this year. "25 more are anticipating either closing or consolidating in the next four years," Education Dive reports.
What's happening: Investment in existing higher education facilities was at an 11-year high in 2018, according to a report last year by Sightlines that pulled data from 360 campuses.
Driven by ultra-low interest rates in recent years, colleges and universities borrowed a record $41.3 billion through municipal bonds (their principal source of debt funding).
That's up from $28.7 billion a decade ago.
But the traditional revenue model of enrolling more students isn't supporting the new investments because of broader trends in the U.S.
Booming economy: Adults haven't felt the need to go back to college to get re-skilled because the economy and jobs market have been thriving so far, according to Mikyung Ryu, director of research publications at National Student Clearinghouse Research Center, citing 2019 enrollment data.
Low birth rate: There is a cyclical decline in the overall pipeline of 18-24-year-olds in the U.S.
International student slump: Universities increasingly don't have the resources to help international students comply with Trump administration immigration changes, and are missing out on their out-of-state tuition dollars, per The Atlantic.
Online education: There's a reduced demand for the space lecture halls and other facilities provide.
"You'll find this on almost every public university campus — we have aging laboratories, aging classrooms, aging of infrastructure of all kinds there that we can't afford to keep current."
— Daniel M. Johnson, author of "The Uncertain Future of American Higher Public Education: Student-Centered Strategies for Sustainability"
What they're doing:
The University of Denver Daniels College of Business created an "Angels in Residence" program where it offers angel investors an opportunity to have work space at the college in exchange for mentoring a student entrepreneurship team, per Stephen Haag, director of the entrepreneurship program.
Some state universities are heavily recruiting students who would have to pay higher out-of-state tuition, according to a 2019 study from the researchers at the University of California Los Angeles and the University of Arizona.
Large university systems — like the University of Wisconsin and the University of Georgia — are consolidating to cover costs. That could produce long-term returns if schools are proactive about mergers and they are not used as a last-ditch effort, according to a Teacher Insurance and Annuity Association of America report.
The bottom line: "The problem is there's no plan B," says Daniel Johnson, president emeritus of the University of Toledo.
"We're still working plan A and trying to milk plan A, which is the traditional model, when that tradition is undergoing serious stresses and strains and actually changing right now."
Go deeper:
Go deeper