Pentagon spent at least $184,000 on Trump Turnberry Resort stopovers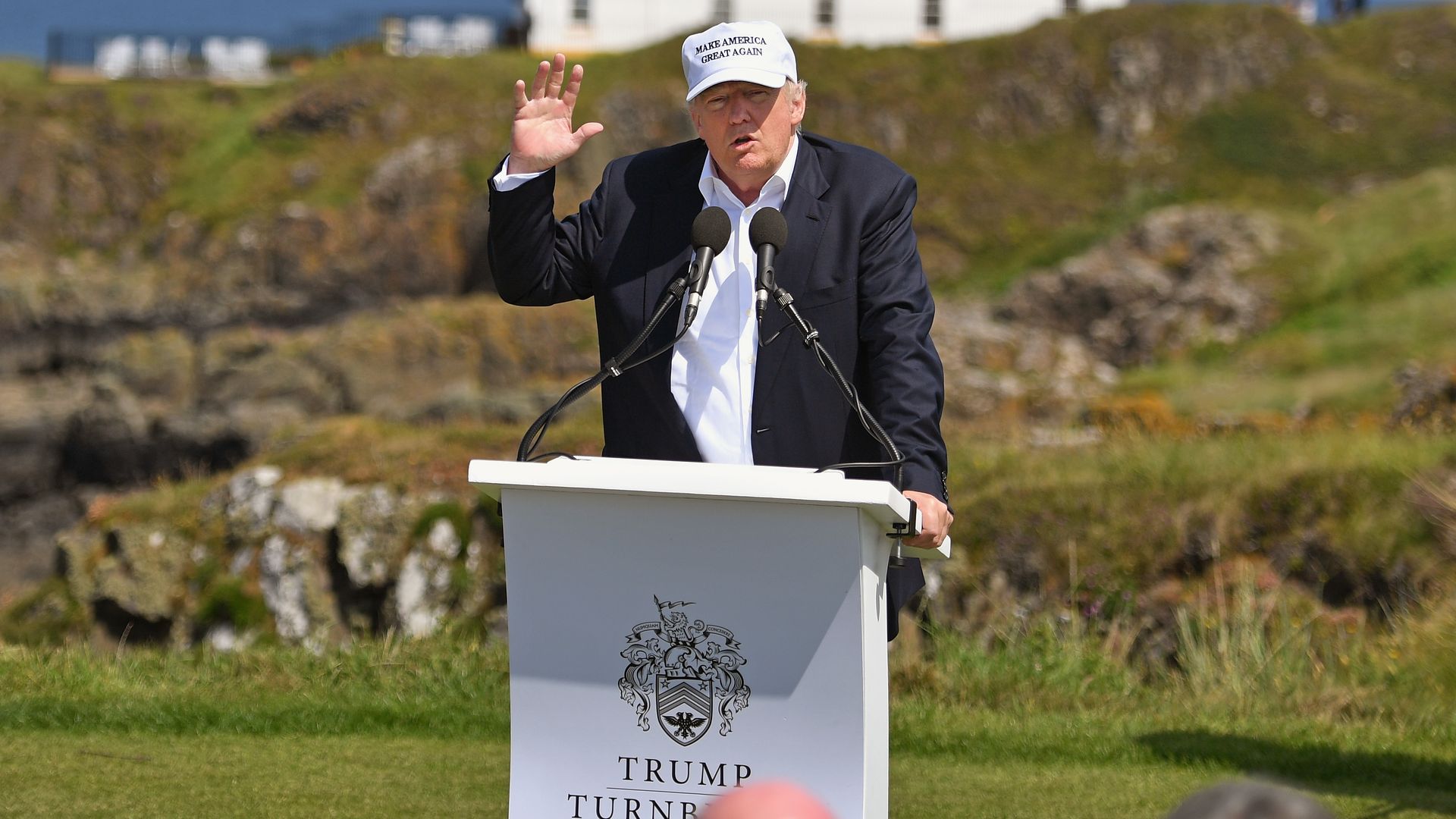 According to a letter from the House Oversight Committee, the Department of Defense spent at least $184,000 on stopovers at President Trump's Turnberry golf resort in Scotland.
What they're saying: "Although initial press accounts reported only a single instance of a military crew staying at Trump Turnberry this spring, the data provided by the Department now indicates that U.S. taxpayer funds have been used to pay for more than three dozen separate stays involving hundreds of nights of rooms—all after the President was sworn into office," the letter says, suggesting the spending was an apparent violation of the domestic emoluments clause of the Constitution.
Last week, the Air Force reported crews stayed at Turnberry Resort roughly 6% of the time flights were grounded overnight since 2015, per the New York Times.
Trump insists he was unaware of a March stopover, tweeting earlier this month: "I know nothing about an Air Force plane landing at an airport (which I do not own and have nothing to do with) near Turnberry Resort (which I do own) in Scotland, and filling up with fuel, with the crew staying overnight at Turnberry (they have good taste!). NOTHING TO DO WITH ME"
Where it stands: The letter sent by Rep. Elijah Cummings (D-Md.) and Rep. Jamie Raskin (D-Md.) on Wednesday is the Committee's third attempt at demanding documents related to the requests for information on U.S. taxpayer funds spent at the golf resort.
Per the release, DOD has only produced 21 pages of information to date, half of which included publicly available materials. DOD has also declined to provide invoices and travel records detailing spending at Trump Turnberry or Glasgow Prestwick Airport.
"Without the requested invoices and other documents, the Committee cannot assess the full extent of payments in violation of the Emoluments Clause," the letter reads.
What to watch: Cummings and Raskin are demanding all documents be delivered by Sept. 27, following previous deadlines of June 21 and Sept. 10.
Last week, Sen. Gary Peters (D-Mich.) also introduced legislation along with 33 other Democrats and 1 independent to forbid federal spending at properties owned by the president, vice president or any Cabinet members.
Go deeper: Trump's flagship Doral resort has seen its net operating income plunge
Go deeper