Enthusiasm for Elizabeth Warren surges in new 2020 poll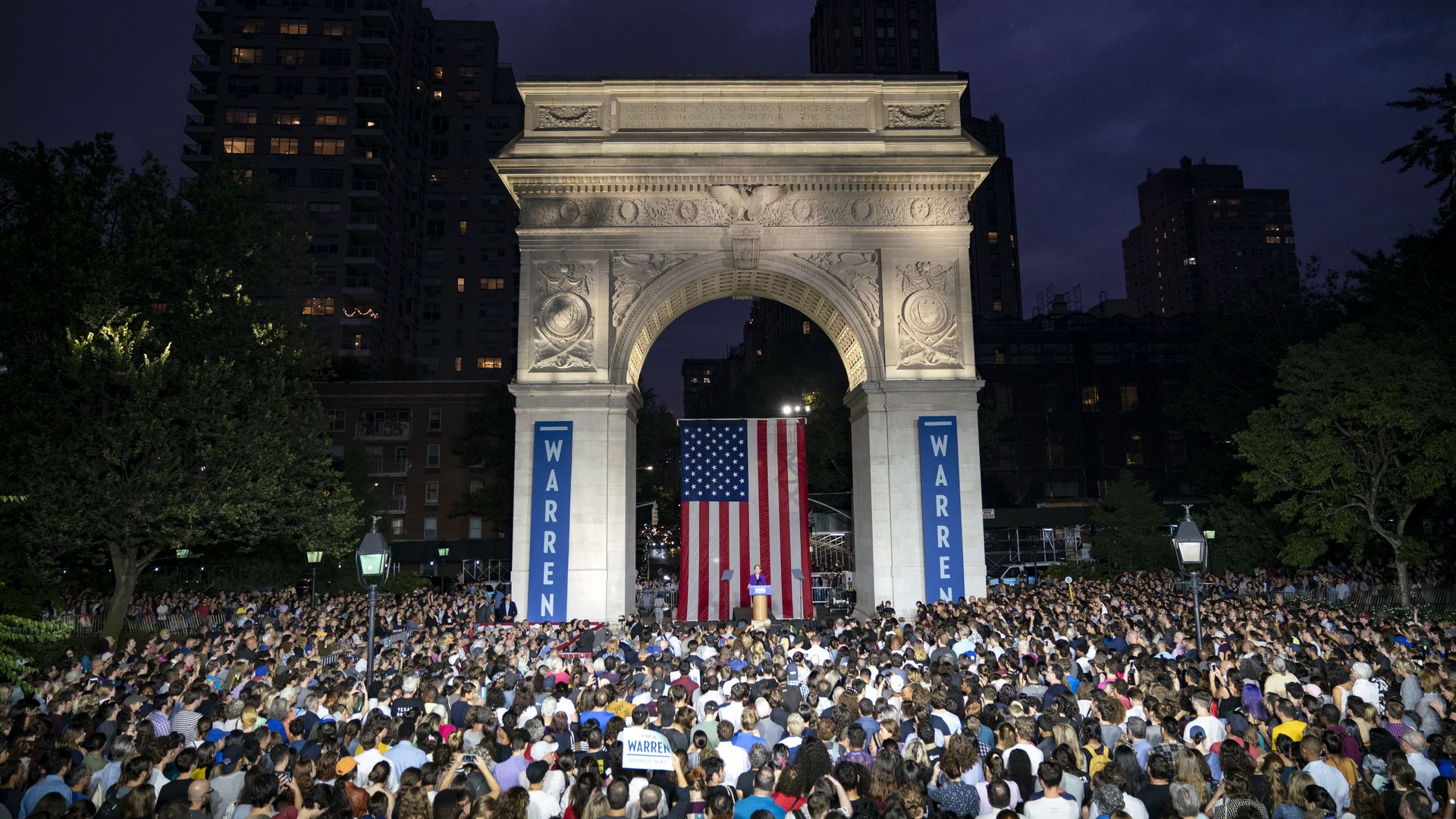 2020 candidate Sen. Elizabeth Warren has surged 6% since July in a new WSJ/NBC poll of 506 Democratic primary voters, breaking out from the rest of the field to secure her spot in 2nd place (25%) behind former Vice President Joe Biden (31%).
The big picture: Despite polling behind Biden in the overall horserace, Warren led the pack when voters were asked which candidates they feel "enthusiastic" about. The poll shows her enthusiasm figures have grown from 20% in March to 35% in September, while Biden has dropped from 33% to 23%. On Monday night, Warren drew her largest campaign rally crowd of the 2020 cycle when over 20,000 people came out to New York City's Washington Square Park.
Overall polling, per WSJ/NBC:
Joe Biden: 31% (+5%)
Sen. Elizabeth Warren: 25% (+6%)
Sen. Bernie Sanders: 14% (+1%)
Mayor Pete Buttigieg: 7% (0%)
Sen. Kamala Harris: 5% (-8%)
Entrepreneur Andrew Yang: 4% (+2%)
Sen. Amy Klobuchar: 2% (+1%)
Sen. Cory Booker: 2% (+1%)
Former Rep. Beto O'Rourke: 1% (-1%)
Rep. Tulsi Gabbard: 1% (+1%)
Former Rep. John Delaney: 1% (0%)
Billionaire Tom Steyer: 1% (N/A)
Sen. Michael Bennet: 1% (0%)
Mayor Bill de Blasio: 1% (+1%)
Former HUD Secretary Julián Castro: 1% (0%)
Methodology: The NBC/WSJ poll of 506 Democratic primary voters was conducted Sept. 13–16 — including more than half who were reached by cellphone — and has a margin of error of +/- 4.4 percentage points.
Go deeper: What you need to know about the 2020 candidates, in under 500 words
Go deeper