2020 Democrats demand Kavanaugh impeachment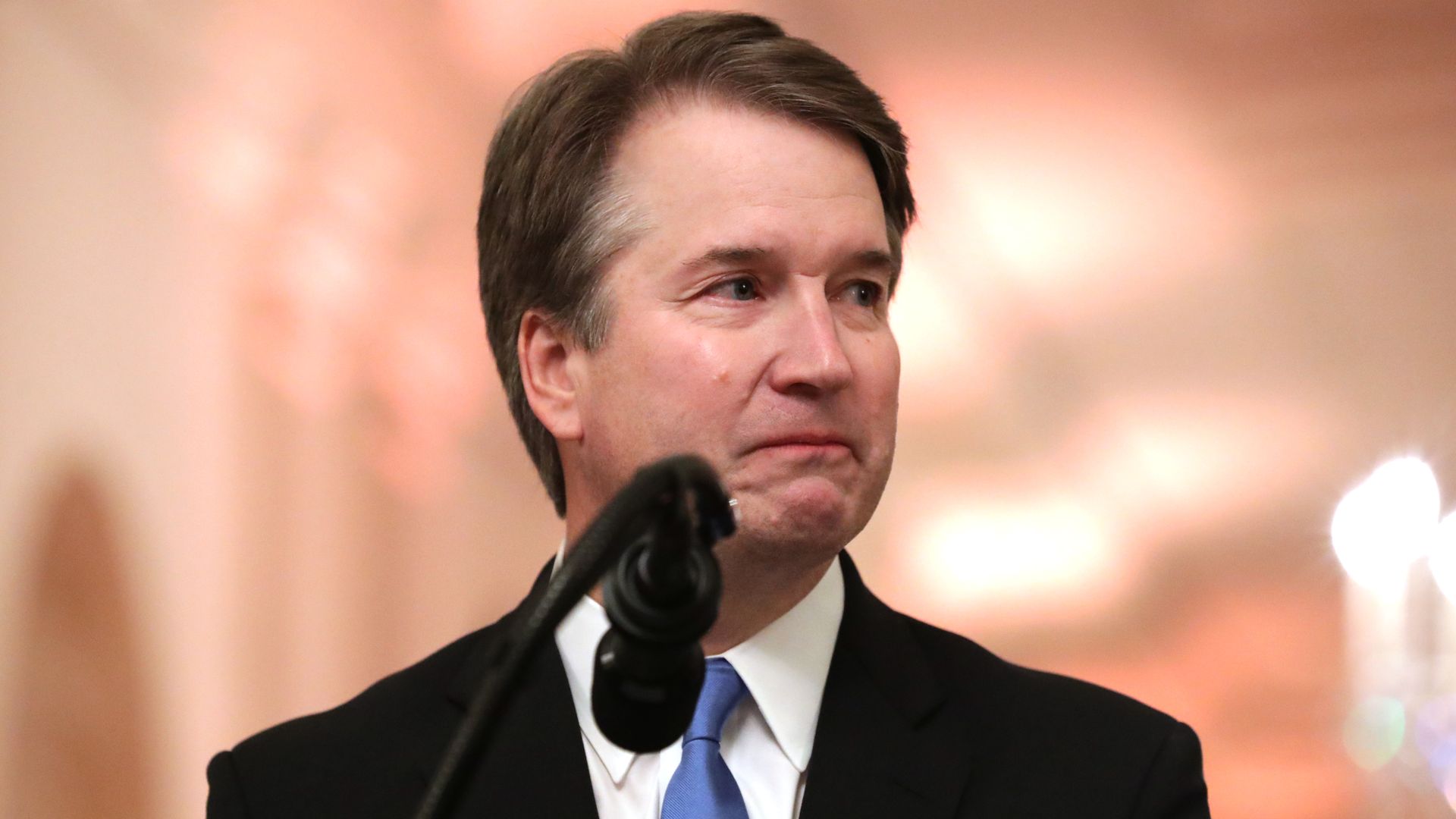 Democratic presidential front-runner Joe Biden became on Sunday the latest 2020 candidate to speak out on Supreme Court Justice Brett Kavanaugh after a report by the New York Times that included new allegations of sexual misconduct.
Details: Several 2020 contenders have called for Kavanaugh's impeachment over the latest claims, and Biden has demanded an investigation into the justice to get to "the truthfulness of his testimony to Senate," according to a statement obtained by CBS News.
"We need to get to the bottom of whether the Trump Administration and Senate Republicans pressured the FBI to ignore evidence or prevented them from following up on leads relating to Justice Kavanaugh's background investigation."
— Former Vice President Joe Biden statement to CBS News
The big picture: The Times reported Saturday that a Yale classmate of Kavanaugh's, Max Stier, told the FBI and Senators that he had seen Kavanaugh take his pants down at a party and that his friends thrusted his penis into a woman's hand. The FBI did not investigate the incident.
The report also outlined an account by Deborah Ramirez, who alleges Kavanaugh once swung his exposed penis at her, causing her to unwillingly touch it as she attempted to shoo him away. Ramirez was among Kavanaugh's public accusers during the confirmation process.
What they're saying:
Sen. Kamala Harris (Calif.) tweeted, "[Kavanaugh] was put on the Court through a sham process and his place on the Court is an insult to the pursuit of truth and justice. He must be impeached."
Former Congressman Beto O'Rourke tweeted, "Yesterday, we learned of another accusation against Brett Kavanaugh—one we didn't find out about before he was confirmed because the Senate forced the F.B.I. to rush its investigation to save his nomination. We know he lied under oath. He should be impeached," .
Sen. Elizabeth Warren (Mass.) tweeted, "Confirmation is not exoneration, and these newest revelations are disturbing. Like the man who appointed him, Kavanaugh should be impeached," .
Former HUD Secretary Julián Castro tweeted, "It's more clear than ever that Brett Kavanaugh lied under oath. He should be impeached."
Sen. Bernie Sanders (I-Vt.) tweeted, "The revelations today confirm what we already knew: During his hearing, Kavanaugh faced credible accusations and likely lied to Congress."
Sen. Cory Booker (D-N.J.) tweeted, "This new allegation and additional corroborating evidence adds to a long list of reasons why Brett Kavanaugh should not be a Supreme Court justice."
Sen. Amy Klobuchar (Minn.) told ABC's "This Week," "I strongly oppose him, based on his views on the executive power which will continue to haunt our country, as well as how he behaved, including the allegations that we are hearing more about today. My concern here is that the process was a sham. I don't think you can look at impeachment hearings without getting the documents ... and the attorney general is shielding documents."
The other side: President Trump tweeted, "Can't let Brett Kavanaugh give Radical Left Democrat (Liberal Plus) Opinions based on threats of Impeaching him over made up stories (sound familiar?), false allegations, and lies. This is the game they play. Fake and Corrupt News is working overtime."
Go deeper: First look: A new Brett Kavanaugh book "fills in the blanks"
Editor's note: This article has been updated to include comments by Booker, Sanders, Klobuchar and Biden.
Go deeper