Sackler family made $1B in wire transfers, NY attorney general finds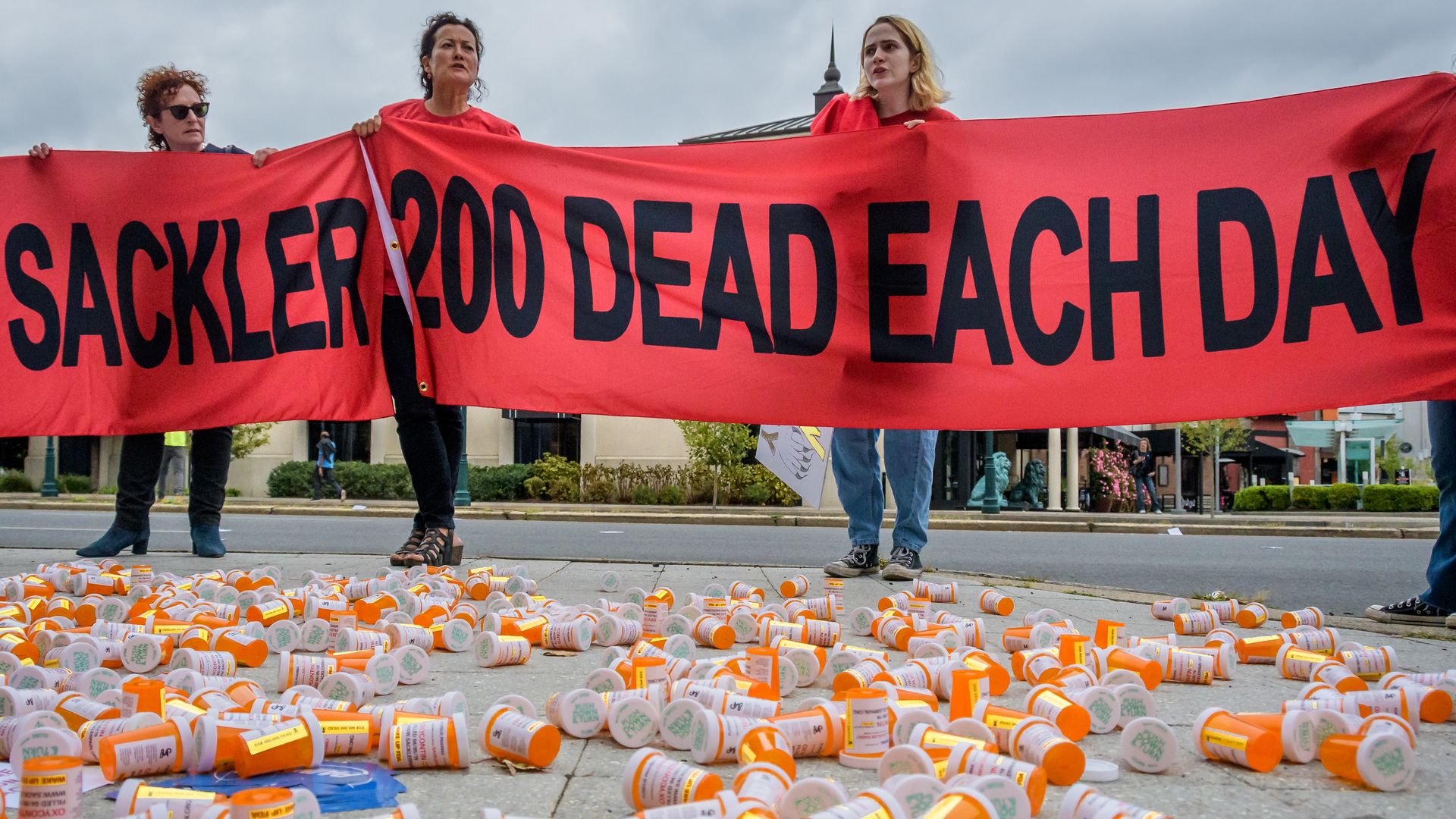 The Sackler family made roughly $1 billion in wire transfers between themselves and various financial institutions, the New York Times reports.
The big picture: The family's business, Purdue Pharma — which is currently facing thousands of lawsuits for its role in fueling the opioid epidemic — reached a tentative "global" settlement in the nationwide opioids lawsuit this week. That settlement would result in the maker of OxyContin entering bankruptcy.
What's new: New York Attorney General Letitia James' office found a series of transfers — among others — involving Mortimer Sackler, who received $64 million in 2009 from "a previously unknown trust ... through a Swiss bank account," per the Times.
These wire transfers are part of a lawsuit against individual Sackler family members living in New York as well as Purdue Pharma, the NYT reports.
The court documents filed Friday only presented initial findings "from a single unnamed financial institution," according to the Times. "Investigators believe that the initial records reviewed show that there is much more to be learned before a fair resolution can be reached."
What they're saying:
"Already, these records have allowed the state to identify previously unknown shell companies that one of the Sackler defendants used to shift Purdue money through accounts around the world and then conceal it in at least two separate multimillion-dollar real estate investments back here in New York, sanitized (until now) of any readily detectable connections to the Sackler family."
— David E. Nachman,
attorney in the New York AG's office
, in a letter to the court on Friday
"There is nothing newsworthy about these decade-old transfers, which were perfectly legal and appropriate in every respect. This is a cynical attempt by a hostile AG's office to generate defamatory headlines to try to torpedo a mutually beneficial settlement that is supported by so many other states and would result in billions of dollars going to communities and individuals across the country that need help."
— spokesperson for Mortimer Sackler, in a statement to Axios
What to watch: It is unclear if the New York attorney general's initial findings on Friday will influence parties that agreed to this week's settlement, per the Times. It is currently in dispute if individual Sackler family members are protected against further litigation by the "global" settlement's bankruptcy protections.
Go deeper