Bolton's chaotic White House departure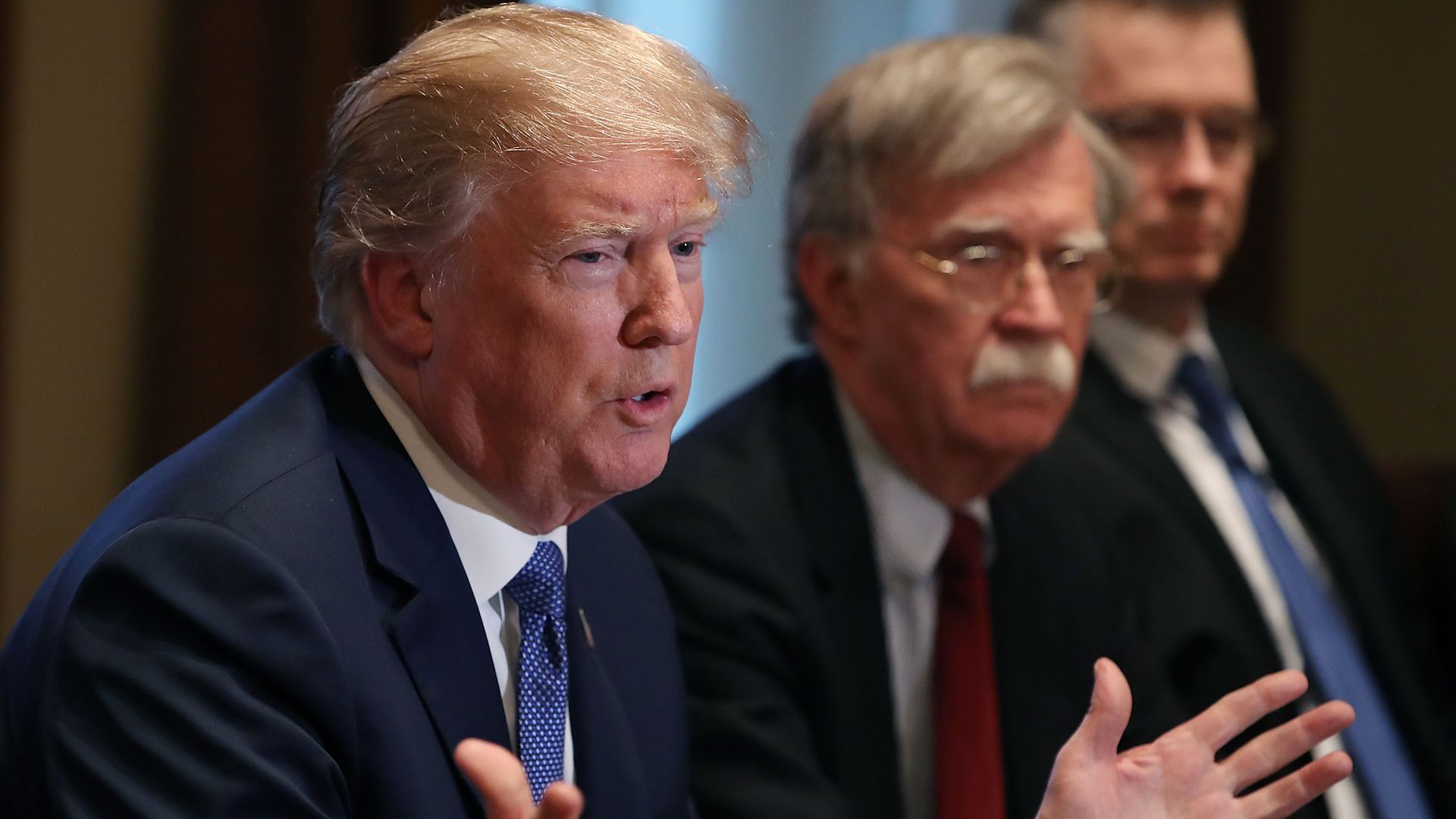 The last time National Security Adviser John Bolton spoke with President Donald Trump was Monday afternoon around 2 p.m. in the Oval Office — offering to resign — about 22 hours before the president's Tuesday tweet suggesting that he had fired Bolton, according to a person familiar with the situation. 
Why it matters: The timeline contradicts the president's account and speaks volumes about how Trump runs his administration.
It underscores Trump's pattern of adjusting facts to fit his narrative, a week after the "Sharpie" controversy involving the path of Hurricane Dorian.
It also serves to warn Bolton's successor — whom Trump says he'll name next week — what they're signing up for.
Here's how Tuesday's events played out:
At around 11:30 a.m., Bolton submitted a resignation letter to the president dated Sept. 10, and hand-delivered copies to others including the offices of Vice President Mike Pence and Chief of Staff Mick Mulvaney, the person said.
At 11:58 a.m., Trump tweeted that he had informed Bolton the night before that "his services are no longer needed at the White House."
A Bolton tweet countered that, saying that he had offered to resign Monday night and Trump said, "Let's talk about it tomorrow."
That nighttime reference was an oversight that does not reflect the actual timeline, the source said.
What's next:
Trump is seeking input from Vice President Mike Pence, Secretary of State Mike Pompeo, Republican lawmakers and others on who should replace Bolton, two people familiar with the deliberations tell Axios.
Contenders mentioned most often by people close to the White House include Maj. Gen. Ricky Waddell, a former Trump deputy national security adviser and assistant to the chairman of the Joint Chiefs of Staff; and Stephen Biegun, the U.S. special envoy for North Korea. CNN reported last month that he could be tapped as ambassador to Russia.  
Trump also has spoken favorably of the State Department's special representative for Iran, Brian Hook, and Pence's national security adviser Keith Kellogg, Sen. Lindsey Graham (R-S.C.) told Fox.
For now, Trump's deputy national security adviser Charlie Kupperman is serving as acting national security adviser.
White House Press Secretary Stephanie Grisham tells Axios that there are currently no frontrunners on who will replace Bolton. She adds that "of course" the president is consulting others on a big decision like this.
The backstory: Bolton's end at the White House follows his resistance to peace talks with Afghanistan that included Trump's desire to host the Taliban at Camp David. Even though Trump scrapped the secret plan after a suicide bombing in Afghanistan, he fumed over reports about internal resistance to the idea.
Trump made no mention of the one-on-one meeting with Bolton, which was not on his public schedule, when he emerged on the South Lawn at 2:36 p.m. on Monday and held court for 25 minutes with reporters before flying to a rally in North Carolina.
Asked then if his advisers had talked him out of meeting with the Taliban at Camp David, Trump said, "I took my own advice."
He likes the idea of meeting with bad people, he said, but it wasn't possible after the Taliban claimed credit for killing a U.S. soldier in Afghanistan. "It was my idea," he said of the meeting plan that Bolton opposed, "and it was my idea to terminate it."
The bottom line: Bolton is "the dog who caught the car," said one person close to the administration. He always wanted the job, but his differing views on North Korea, Syria military engagement and his strong will increasingly angered Trump.
Go deeper