California's college athletes are closer to getting endorsement money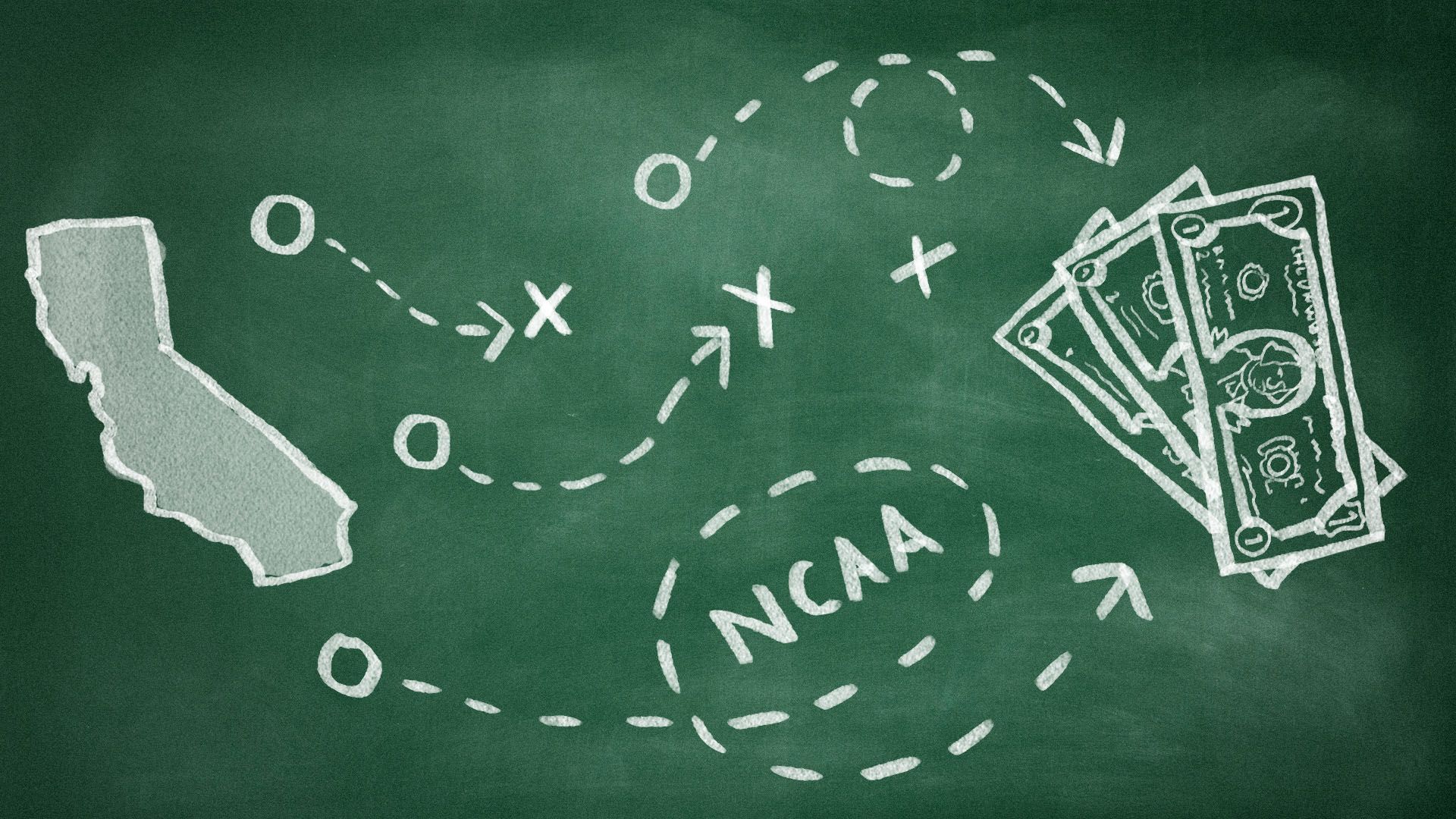 A California bill that would allow college athletes to accept endorsement money moved one step closer to becoming law last night when it cleared the State Assembly by a vote of 72-0.
What's next: Once the details are ironed out, the proposed law — known as the Fair Pay to Play Act — will head to Gov. Gavin Newsom, who will have 30 days to sign it. If it becomes law, it will go into effect in Jan. 2023.
Why it matters: This bill would allow college athletes in California to profit from their name, image and likeness — whether that's basketball stars signing shoe deals or golfers advertising swing lessons.
Similar bills are in their infancy in Washington state and Colorado, and Rep. Mark Walker (R-N.C.) introduced a federal bill in March that would have the same effect, making the Fair Pay to Play Act a "catalyst rather than an end unto itself," per NYT.
The support: The bill's high-profile backers include LeBron James and Draymond Green, both of whom tweeted their support.
Green: "California!!! Extremely excited about the bill that passed tonight allowing players to be paid. Finally, we are making some progress and getting this thing right. Kids going to sleep hungry, can't afford ANYTHING yet these Universities are profiting off those same kids. SIGN IT!!"
The opposition: Naturally, the NCAA has come out in strong opposition of the bill.
And so have many California schools, who NCAA president Mark Emmert said could be banned from competing for national championships because they'd have an unfair recruiting advantage.
The final word, via the bill's sponsor, Democratic Sen. Nancy Skinner:
"To me, this is fundamental fairness. California law basically gives each of us the right that no one can use my name, market my name or make money off of my name, or my photo, without my permission, or without sharing that revenue with me. The only people in the entire state of California for whom that is the case are student-athletes."
Go deeper