Netanyahu exposes what he claims to be a nuclear weapons site in Iran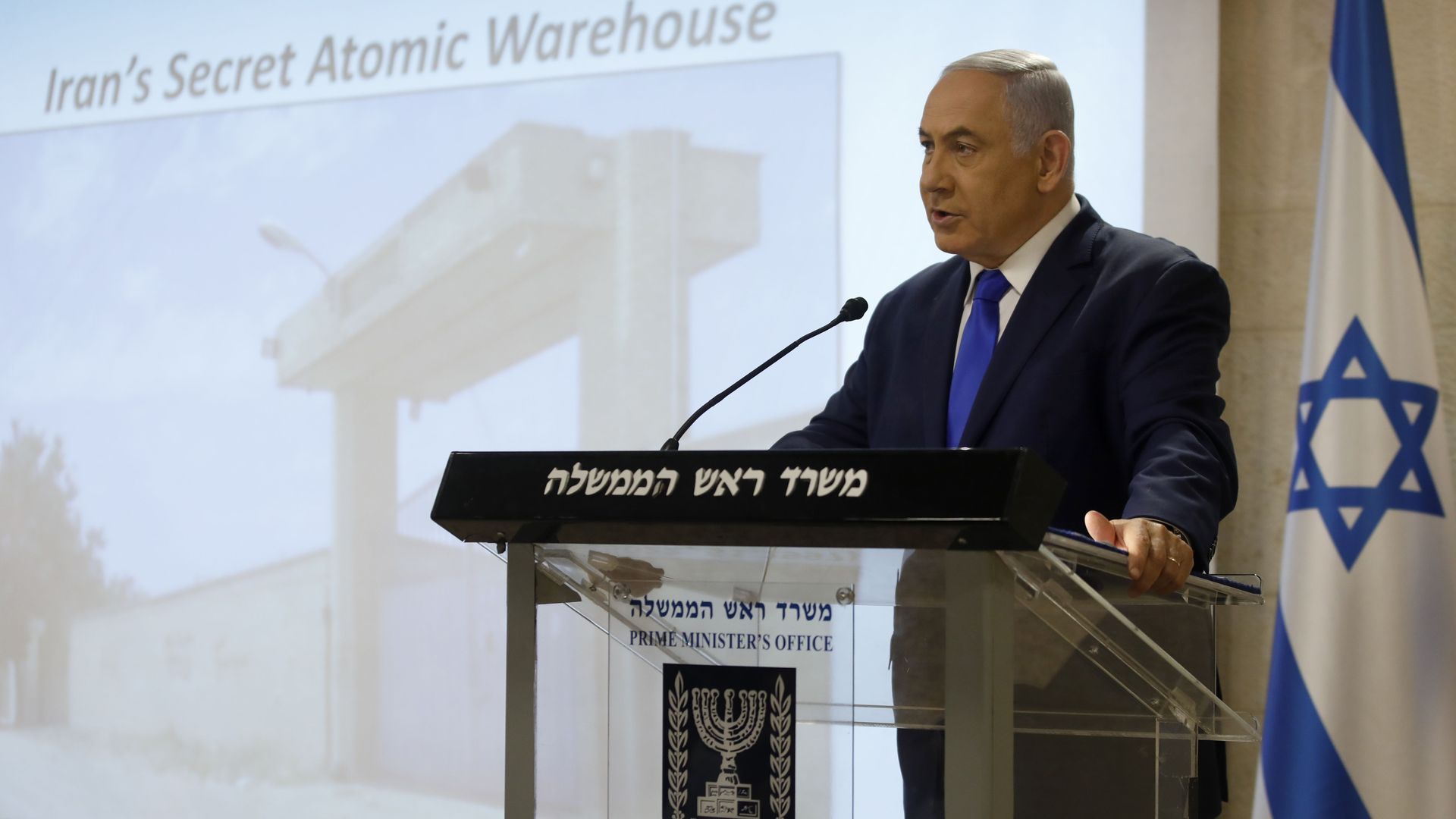 In a statement to the press Monday, Israeli Prime Minister Benjamin Netanyahu revealed what he claimed was a covert nuclear weapons development site near the city of Abadeh, Iran, that was demolished in July after the Iranians realized it was compromised.
Why it matters: Netanyahu made his statement the same day that the International Atomic Energy Agency (IAEA) Board of Governors convened in Vienna to discuss the Iranian nuclear program and Iran's attempts to block access and information from UN atomic inspectors. Netanyahu's statement also comes 8 days before the Israeli elections, allowing him to again highlight the threat posed by Iran and emphasize a message that has been core to his re-election campaign.
Details: During his remarks, Netanyahu showed satellite imagery of several buildings at the site in Abadeh, southeast of the city of Isfahan, from June. Then, Netanyahu showed a second image from July with all the buildings demolished.
Netanyahu also showed satellite imagery of the atomic warehouse in the Turquzabad neighborhood in Tehran, which he first exposed in a speech at the UN General Assembly meeting in September 2018.
In July, I reported that UN inspectors who visited that site afterward found traces of radioactive materials, raising concerns that Iran had been storing undeclared nuclear material.
The satellite images showed that the Iranians cleaned up the Tehran site before the IAEA inspection in an effort to erase any traces of nuclear material. Netanyahu said the Iranian efforts didn't work and traces of uranium were found by the UN inspectors.
"Iran holding undeclared nuclear material is a flagrant violation of the nuclear non-proliferation treaty. … What is needed is pressure, pressure and more pressure," Netanyahu added.
The big picture: Earlier today in Vienna, IAEA acting director general Cornel Feruta told delegates from 35 member states of the organization's board of governors that evaluations of possibly undeclared nuclear material and activities in Iran continue.
"I stressed to the Iranians the need for Iran to respond promptly to agency questions related to the completeness of Iran's safeguards declarations. … Time is of the essence," Feruta said.
What they're saying: Netanyahu's political opponents criticized his statement and blamed him for politicizing intelligence and national security.
Yair Lapid — one of the leaders of Blue and White, the main opposition party — said the Iranian nuclear issue "can't be used as an election campaign stunt."
Former Prime Minister Ehud Barak called Netanyahu's statement "an election spin."
Iranian Foreign Minister Mohammad Javad Zarif tweeted: "The possessor of REAL nukes cries wolf—on an ALLEGED "demolished" site in Iran. He and [White House national security adviser John Bolton and Saudi Crown Prince Mohammed bin Salman] just want a war, no matter innocent blood & another $7 TRILLION."
Editor's note: This post was updated to add comments from Iranian Foreign Minister Mohammad Javad Zarif.
Go deeper