President Trump tweeted a high-reso image of the aftermath of a mysterious explosion at an Iranian space center, "raising questions about whether he had plucked a classified image from his morning intelligence briefing to troll the Iranians," the N.Y. Times' David E. Sanger and Bill Broad write.
Why it matters, from the WashPost: "The image ... is almost certainly highly classified, experts said, and bears markings that resemble those made by intelligence analysts."
The photo "appears to show a camera flash and a person's shadow, leading to speculation that Trump or one of his aides may have snapped a picture of the image using a cellphone," the Post says.
Maybe a first for a photo credit in The New York Times: "President Trump, via Twitter."
Trump's text: "The United States of America was not involved in the catastrophic accident during final launch preparations for the Safir SLV Launch at Semnan Launch Site One in Iran. I wish Iran best wishes and good luck in determining what happened at Site One."
Asked about the photo by reporters on the South Lawn, Trump said: "I just wish Iran well. They had a big problem. And we had a photo. And I released it, which I have the absolute right to do."
Asked where it came from, he said: "You'll have to figure that one out yourself."
What Iran is saying: Iranian officials said the satellite is intact, and presented it to reporters in Tehran on Saturday, reports the Washington Post. Earlier, Iran's information and communications technology minister, Mohammad Javad Azari Jahromi, posted a picture of himself with the satellite on Twitter. 
For contrast with the U.S. spy shot, here's a commercial satellite view: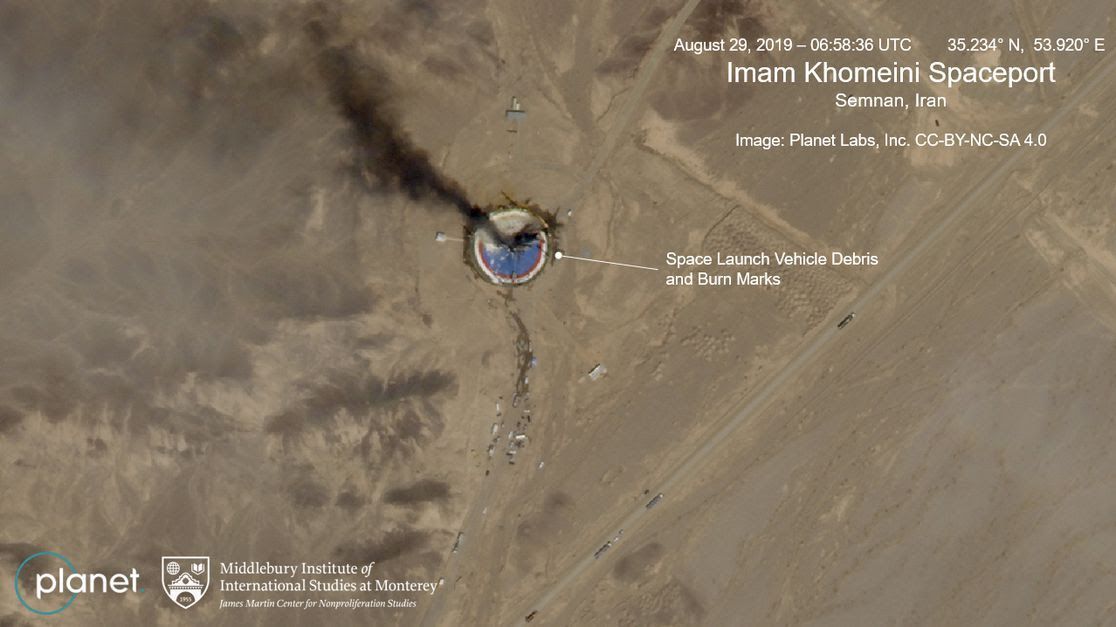 Go deeper