Nikki Haley will be Trump-Pence "special guest" at 2020 fundraiser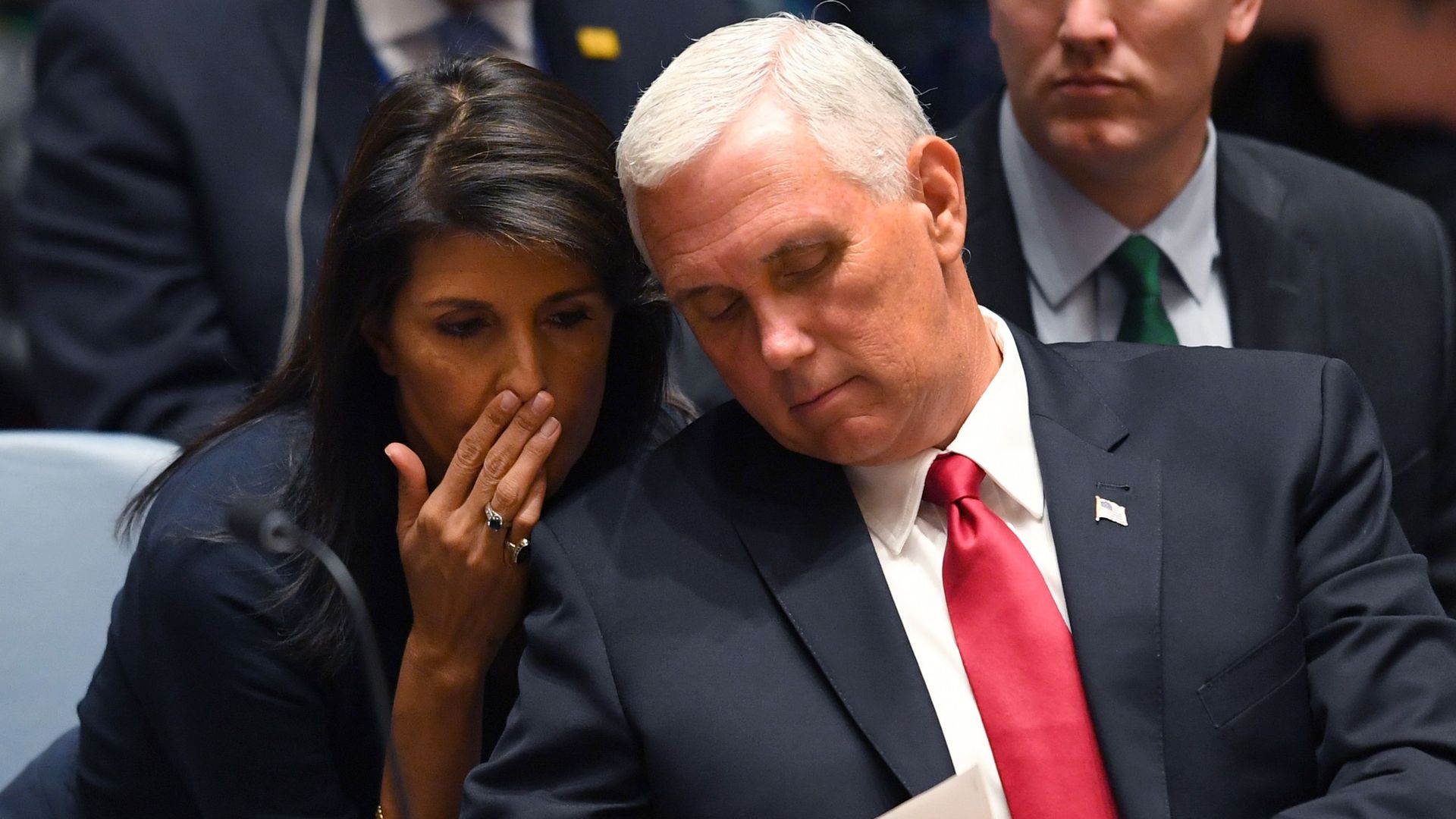 Nikki Haley is marked as a "special guest" at a Trump-Pence fundraising retreat in the fall, according to an invitation obtained by Axios.
Why it matters: The former UN ambassador and South Carolina governor is now publicly attached to President Trump's re-election campaign.
She is listed to appear along with Donald Trump Jr., Kimberly Guilfoyle, and Colorado Sen. Cory Gardner at the Fall Retreat for the Trump Victory Committee — a joint fundraising committee of the Trump campaign and the RNC.
The event will be held in New York from Oct. 4-6.
The state of play: Haley recently took to Twitter to squash rumors that she was angling to replace Vice President Pence on the 2020 ticket.
In recent months, some senior officials inside the White House grew wary of Haley's intentions, especially after Andrew Stein, a Democrat who is a former New York City Council president, wrote a provocative Wall Street Journal op-ed headlined: "Trump-Haley in 2020."
The crux of Stein's argument:
I mean no disrespect for Mr. Pence, who's loyally served the president and the nation. But he's given Mr. Trump all the help he can. He inspired his fellow evangelical Christians to take a chance in 2016. But in 2020 they'll already be repelled by the Democrats' embrace of infanticide. Mr. Trump's greater obstacle to re-election comes from politically moderate suburban women, many of whom see him as divisive.
Behind the scenes: For some in the Trump administration, Haley's recent public professions of loyalty don't quite cut it.
"Some of us look at it as too little, too late," a senior official said. "Why didn't she come out immediately waving her Trump-Pence 2020 flag the moment the rumors started circulating and the [Wall Street Journal] op-ed was published?"
But Haley enjoys strong support inside the White House from Ivanka Trump and Jared Kushner.
Looking ahead: A source with direct knowledge said Pence will be the keynote speaker at the Trump Victory Committee's winter retreat.
Go deeper: Nikki Haley calls Trump's tweet about Elijah Cummings robbery "so unnecessary"
Go deeper