Bolsonaro demands apology from Macron before accepting $20 million in Amazon aid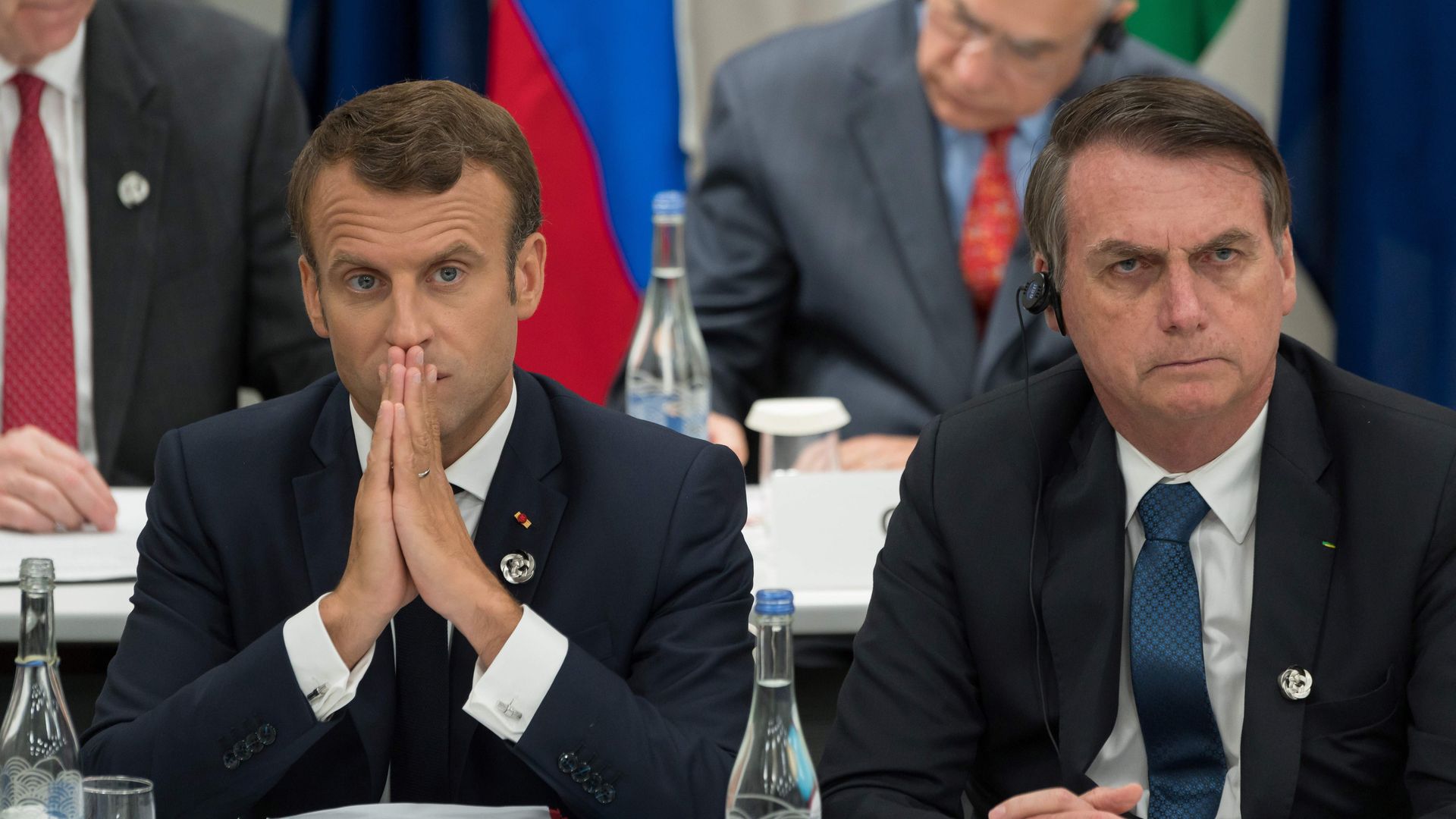 Brazil's President Jair Bolsonaro has said he will only accept a $20 million aid package from G7 nations to fight fires in the Amazon rainforest if French President Emmanuel Macron apologizes, according to the AP.
The big picture: Macron and Brazilian President Jair Bolsonaro have traded barbs on Twitter over the fate of the Amazon, which has seen an 84% increase in wildfires this year compared to 2018. Bolsonaro has described the offer of international help as a "colonialist mentality," while Macron has questioned the Brazilian president's commitment to environmentalism. Per the AP, Bolsonaro says Macron must take back some of his comments "and then we can speak."
The backdrop: Tension had been building between Macron and Bolsonaro over the Brazilian president's handling of the fires and his pursuit of economic growth at the expense of the Amazon, AP notes.
Macron said the Amazon, while mostly Brazilian, is a world issue because the rainforest represents "the lungs of the planet" and that his message to Brazil Bolsonaro is "we cannot allow you to destroy everything," per AP.
Macron also noted in a speech Tuesday that the money is aimed at nine countries in the greater Amazon, not just Brazil, the AP writes. France also has a vested interest in the area with French Guiana being just north of Brazil.
"We respect your sovereignty. It's your country. The Amazon forest is a subject for the whole planet. We can help you reforest. We can find the means for your economic development that respects the natural balance. But we cannot allow you to destroy everything."
— Macron
Onyx Lorenzoni, chief of staff to Bolsonaro, took a swipe at Macron over the fire at Notre Dame Cathedral this year, as he told the G1 news website that the government appreciated the offer "but maybe those resources are more relevant to reforest Europe."
Macron cannot even avoid a foreseeable fire in a church that is a world heritage site. What does he intend to teach our country?"
— Lorenzoni
Brazilian Environment Minister Ricardo Salles had earlier welcomed the G7 funding to fight the fires that have swept across 2.3 million acres, but after a meeting between Bolsonaro and his ministers, the Brazilian government changed course, according to AFP.
"Brazil is a democratic, free nation that never had colonialist and imperialist practices, as perhaps is the objective of the Frenchman Macron."
— Brazilian Environment Minister Ricardo Salles comments, translated by AFP
Editor's note: This article has been updated with new details throughout.
Go deeper:
Go deeper