Updated Aug 25, 2019 -

World
Trump promises "very big trade deal" with U.K. as Brexit deadline looms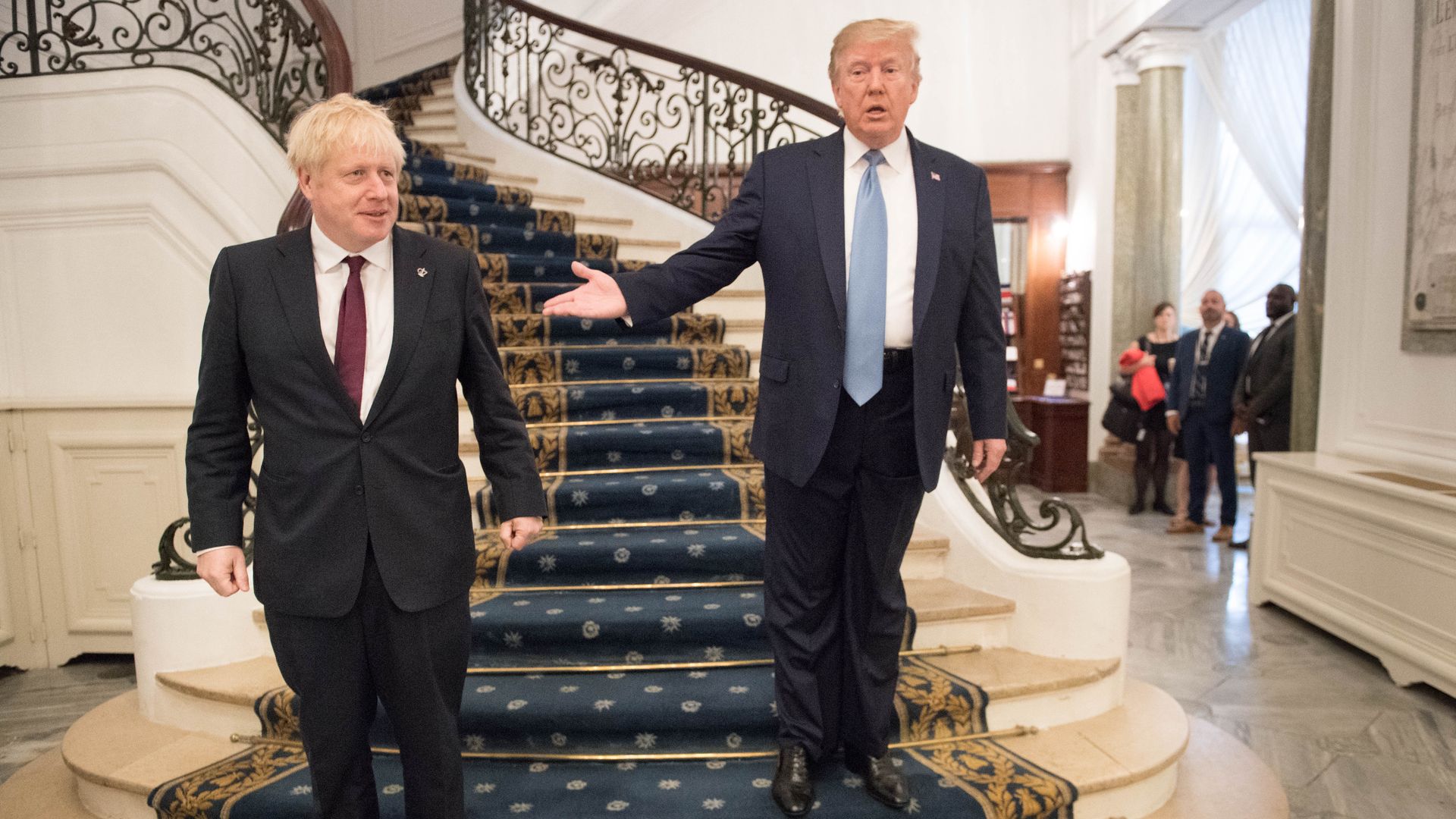 President Donald Trump promised Britain Sunday a "very big trade deal" with the U.S. — "bigger than we've ever had with the U.K." — and declared British Prime Minister Boris Johnson the "right man" to oversee Brexit, Reuters reports.
The big picture: Trump said Britain leaving the EU would be like losing "an anchor round the ankle," per the BBC. But as the Oct. 31 Brexit deadline looms, it is still unclear whether the United Kingdom can leave the European Union with an agreement in place or, indeed, whether the U.K. will leave the EU. Johnson has vowed it will happen "do or die," but experts warn that leaving without a deal could have catastrophic consequences.
The U.K. is seeking a comprehensive free trade deal with the U.S. post-Brexit, Reuters notes. U.S. officials including Trump's national security adviser John Bolton envision free-trade deals ahead of a comprehensive trade agreement.
Johnson was meeting with European Council President Donald Tusk Sunday. He's expected to tell Tusk the U.K. would only pay about £9 billion ($11 billion) of the £39 billion ($48 billion) liability agreed to by former U.K. Prime Minister Theresa May, according to Sky News.
Yes, but: House Speaker Nancy Pelosi (D-Calif.) and Senate Minority Leader Chuck Schumer (D-N.Y.) have ruled out a trade deal with the U.K. if Brexit creates a hard border with Ireland and violates the Good Friday Agreement, which helped bring peace to Northern Ireland in the 1990s. Congress must approve all U.S. trade deals.
Go deeper: Everything you need to know about Brexit
Go deeper