Hong Kong clashes: Police use water cannon and fire gun for first time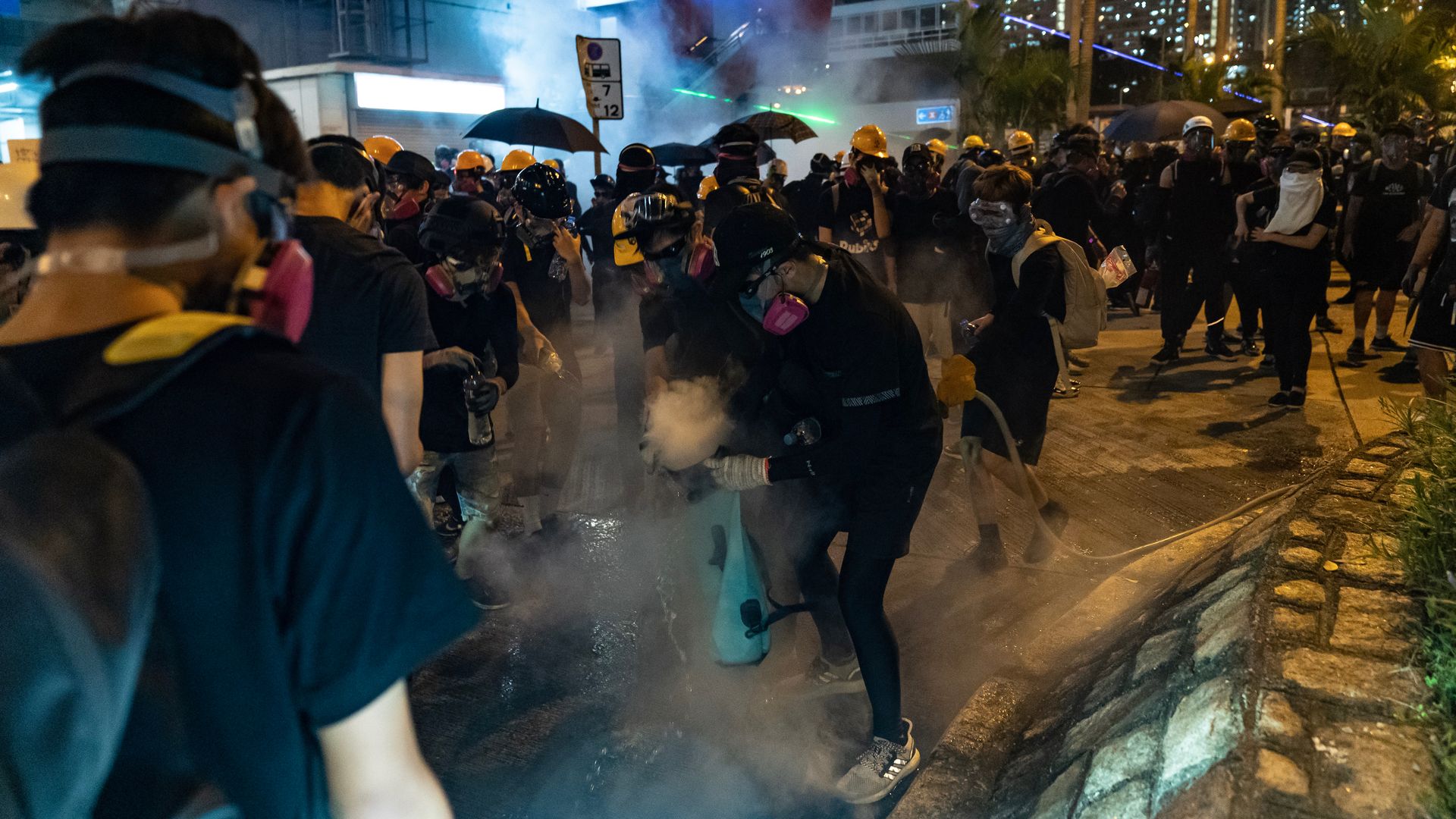 Hong Kong police said Monday a 12-year-old was among 36 people arrested after anti-government demonstrations erupted into street clashes with authorities, who used a water cannon, tear gas and fired a waring shot into the sky, Reuters reports.
Why it matters: What began 12 weeks ago as a rally against a bill proposing to extradite Hong Kongers to mainland China has become a massive anti-government demonstration, as protesters rally to defend the high degree of autonomy they've had since the former British colony was returned to China in 1997.
What's new: Following a relatively peaceful 2 weeks, the weekend was marked by violent clashes between police and protesters as thousands rallied in spite of warnings from authorities.
Sunday's clashes were the fieriest yet, with protesters throwing bricks and petrol bombs at security forces, according to Reuters. The warning shot police fired was the first time a gun has been used during the protests.
At one point, officers had pointed their guns at protesters and reporters, according to a video posted by South China Morning Post's Jeffie Lam. A shot was fired into the sky.
The water cannon had not been fired during anti-government protests for years, but police unleashed it briefly on Sunday to force protesters to disperse, per Reuters.
The big picture: Last weekend, about 1.7 million people peacefully marched in the center of the city. Hong Kong's top leader Carrie Lam then said she would begin working with the community to find a resolution to the crisis in the former British colony.
On Friday night, thousands of Hong Kongers formed a human chain, calling for peace and democracy, per AP reports. They responded to police firing tear gas by lobbing bottles, bricks, stones and gas bombs, per the New York Times.
Protesters used bamboo rods to barricade a police station, while some confronted officers directly, per the NYT. A small firebomb exploded, and protesters pulled down lampposts they claim are used for surveillance.
Go deeper: Hong Kong protests assert the freedoms China seeks to constrain
Editor's note: This article has been updated with the latest information on this weekend's protests.
Go deeper