Scoop: Inside Israel's sensitive preparations for visit of Omar and Tlaib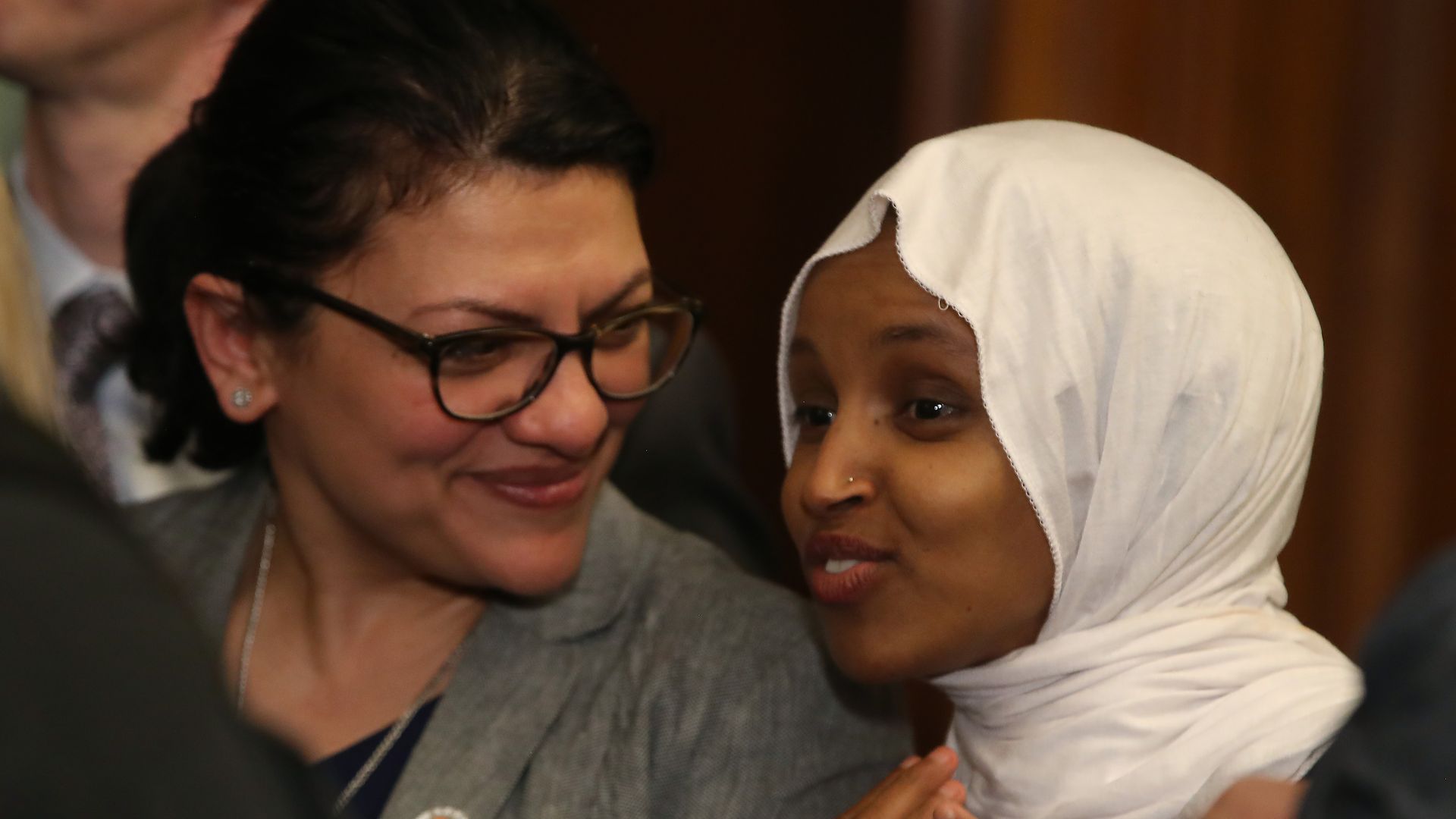 Israel is preparing for the possibility that Reps. Ilhan Omar and Rashida Tlaib, who are expected to arrive in the country on Friday, will want to visit the Temple Mount in Jerusalem together with representatives of the Palestinian Authority, Israeli officials tell me.
The big picture: Israel's ambassador to Washington, Ron Dermer, announced several weeks ago that out of respect for the U.S. Congress, Reps. Omar and Tlaib would be allowed to enter Israel despite their support for the BDS movement to boycott Israel. As Axios reported on Saturday, President Trump was disappointed in the decision to allow them to enter the country.
Among the scenarios Israeli officials are now preparing for is a visit to the Temple Mount, or Haram al-Sharif.
It's the most important holy site for Jews and third-most important for Muslims around the world. It is one of the most intensely contested sites in the Middle East, with Israel and the Palestinians both claiming sovereignty over it.
Last week, Israel's deputy national security adviser, Reuven Azar, held a classified interagency meeting to prepare for the congresswomen's visit.
The meeting was designated as highly sensitive due to the fact it took place while 41 House Democrats visited Israel.
Israeli officials briefed on the meeting said Azar asked the participants to keep the fact that the meeting had even taken place a secret.
When he concluded the meeting, Azar said "there is high probability" that Omar and Tlaib would want to visit the Temple Mount due to the fact both congresswomen are Muslim.
Azar instructed the Israeli police, who control access to the holy site, to ensure no Palestinian officials joined Omar and Tlaib on the visit.
According to Israeli officials, Azar stressed that "the preferred goal is that the congresswomen won't come to Israel at all" — and cancel the visit for their own reasons.
He added that if they do arrive in Israel, the goal is to "minimize as much as possible the damage to Israel in the U.S. political system and public opinion."
All representatives of all government agencies present at the meeting agreed that Omar and Tlaib should be allowed in the country in order to avoid harm to the U.S.-Israel relationship, the sources said.
But, but, but: That doesn't apply to Omar and Tlaib's staffers or other delegation members.
Azar said Israel would assess the members of the delegation and decide whether to allow them in on a case-by-case basis, depending on their support of the BDS movement.
Azar instructed the Israeli Foreign Ministry to seek from the U.S. Embassy an advance list of delegation members in order to vet them in advance and notify those who would not be allowed to enter Israel.
Editor's note: This story has been updated to reflect a change in the timing of the congresswomen's arrival.
Go deeper