Ebola researchers narrow trial after 2 of 4 treatments show early success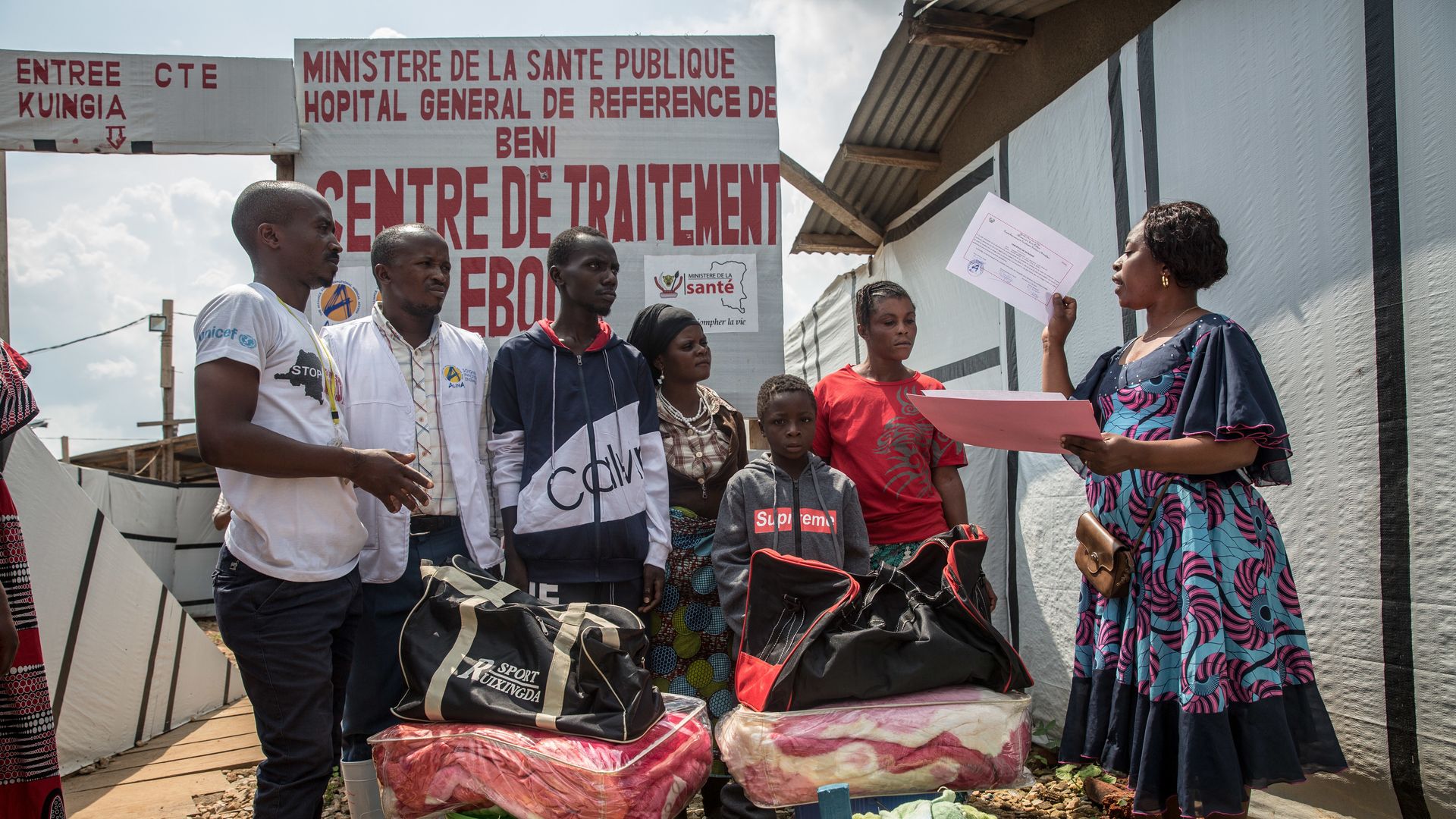 Public health officials announced Monday they had gathered enough preliminary data to determine that 2 of the 4 investigational treatments for Ebola performed better than the others. The current trial in the Democratic Republic of the Congo has been dropped to focus on a new extension trial for the 2 monoclonal antibodies.
Why it matters: There are currently no FDA-approved treatments for Ebola. Researchers testing drugs during the DRC's largest outbreak found a cocktail of 3 antibodies called REGN-EB3 was most effective, followed closely by monoclonal antibody 114.
"From now on, we will no longer have to say Ebola is untreatable [if caught early enough]."
— Jean-Jacques Muyembe-Tamfum, head of DRC's Ebola response, at press conference
Background: Four treatments — ZMapp, mAb114, remdesivir (GS-5734), and REGN-EB3 (REGN3470-3471-3479) — began undergoing randomized, controlled testing on Nov. 20 through an international research consortium arranged by the World Health Organization and co-led by the National Institute of Allergy and Infectious Disease.
What's new: NIAID director Anthony Fauci says the trial that ended Friday offered preliminary data showing mortality rates as follows: ZMapp at 49%, remdesivir at 53%, REGN-EB3 at 29%, and mAb114 was 34%. This compares with an estimated 67% overall mortality rate for untreated cases.
"The early stopping criteria [of the trial] was met by Regeneron [REGN-EB3]," Fauci said, when compared to the control, ZMapp.
Fauci warned that the numbers are still early: "More stringent data will be coming." For instance, roughly 15% of the participants in the study had received an experimental Ebola vaccine as well, and they aren't sure yet if that skewed the effect.
Both drugs block a particular component of the virus, Fauci added.
Regeneron Pharmaceuticals developed REGN-EB3 using mouse-generated antibodies that were then produced in specialized bioreactors. NIAID developed mAb114 from antibodies from an Ebola survivor, and granted a license to Ridgeback Biotherapeutics.
Meanwhile, as of Saturday, the WHO reported 2,816 cases (2,722 confirmed and 94 probable), including 1,888 deaths.
WHO's Mike Ryan, who was also at the press briefing, warned that although "the news today is fantastic," the complex scenario of insecurity and community distrust on the ground requires renewed efforts by the international security to offer help to the region.
"Too many people are not going to the Ebola Treatment Centers early enough," Ryan said, adding that he hopes the news will entice more people to come to ETCs earlier.
All ETCs will start offering both treatments.
Go deeper:
Editor's note: This piece was corrected to reflect the different ways the 2 treatments were developed (showing Regeneron did not use antibodies from an Ebola survivor).
Go deeper