Civil servants join unrest as tens of thousands protest in Hong Kong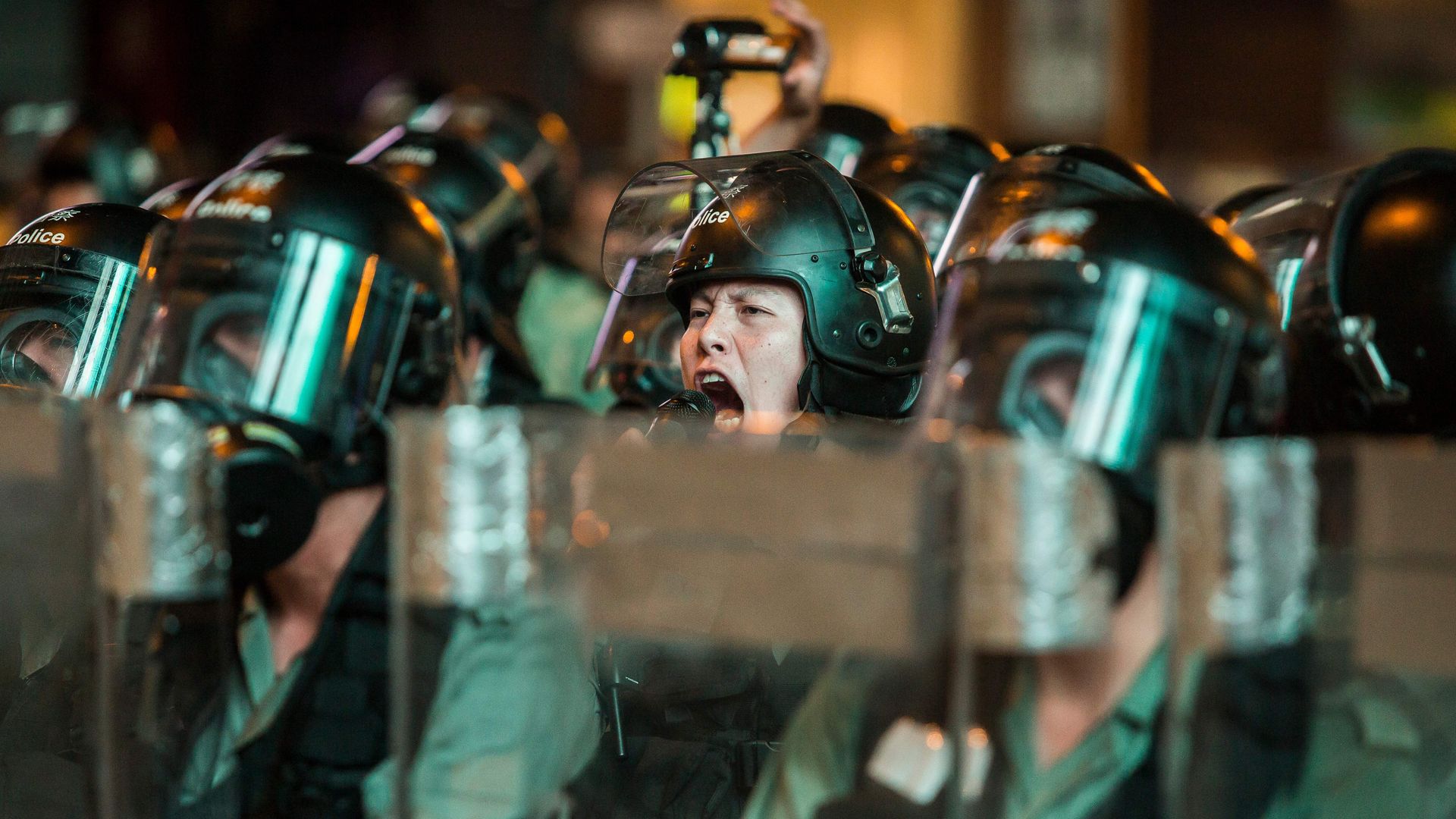 Tens of thousands of Hongkongers faced tear gas and police beatings on Saturday in the city's ninth consecutive weekend of pro-democracy protests.
What's changed: Thousands of Hong Kong civil servants joined more than 40,000 protestors — a number provided by organizers — to demonstrate against the government on Friday. They violated Hong Kong's Civil Service Code, which calls for "total loyalty" to the Chief Executive and the government, by demanding that Hong Kong leader Carrie Lam step down.
Protestors in Hong Kong are calling for:
The complete withdrawal of a bill that would allow extradition to mainland China, which has been suspended,
an independent investigation into police misconduct,
and waiving charges of those arrested. 44 people were arrested on rioting charges earlier this week.
The big picture: These protests are likely the first real test of whether China's military will take a more active role in the city and intervene. The nation's troops restationed in Hong Kong after the former British colony was returned to China in 1997.
The Chinese army's Hong Kong garrison released a 3-minute video on Thursday of troops firing military rifles at civilians during a riot drill as a warning against ongoing protests.
Hong Kong officials have repeatedly said they have no plans to take China's open invitation to bring in its military to quell protests.
What's next: A citywide strike is planned for Monday, per the NYT. Many government workers plan to call in sick to attend.
What they're saying:
Joseph Wong, Hong Kong's former civil service leader:
"The civil service code is not just about political neutrality. ... The first line, which I wrote, is to safeguard the rule of law. Rule of law is higher than our loyalty to any official, any chief executive. No one is above it."
Anson Chan, former Hong Kong chief secretary:
"Despite of the government's statement, which sounds intimidating, you still take your courage out to stand with the citizens along with your conscience."
Go deeper: Beijing and Moscow stare down pro-democracy protests
Go deeper