Trump set to decide whether to release peace plan before Israel votes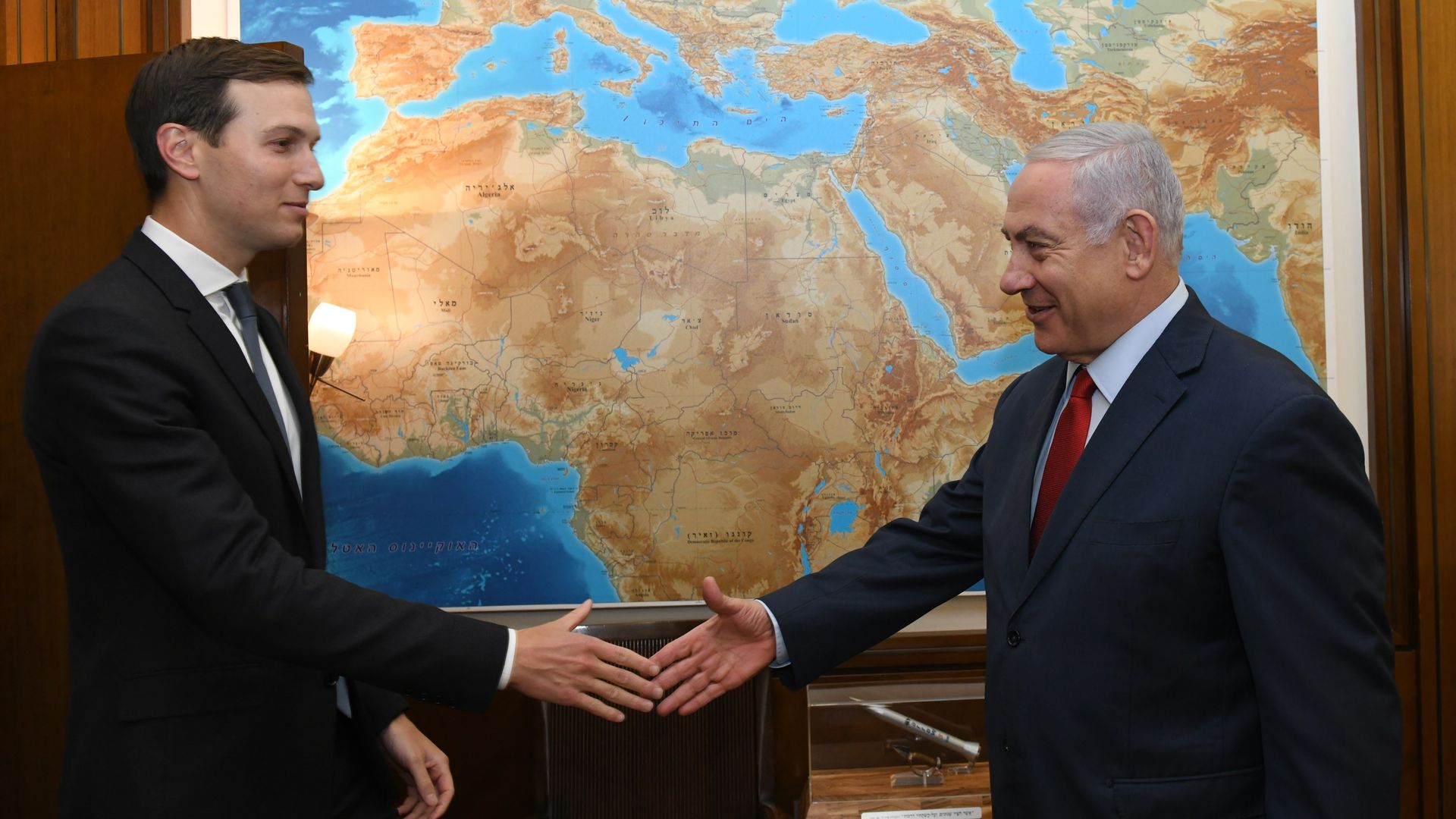 President Trump is expected to decide by the end of August whether to release the political part of his Middle East peace plan before Israel's elections on Sept. 17, sources briefed on the matter tell me.
Why it matters: There's a lot of skepticism in Washington and the Middle East about the plan's likelihood of success — but the release of its political elements could have significant influence on the Israeli elections and the formation of a governing coalition.
September's elections are a rerun of April's vote, which Prime Minister Benjamin Netanyahu won before failing to form a coalition. Before that election, Netanyahu publicly opposed the plan's release.
Jared Kushner, Trump's point person on Middle East peace, is visiting the region this week to follow up on June's conference in Bahrain on the economic part of the peace plan.
One goal of Kushner's trip is to take the temperature in Arab capitals about the plan's possible release.
The White House hopes Arab countries will support the plan, or at least not publicly reject it.
Kushner visited Saudi Arabia on Tuesday and met with Crown Prince Mohammed bin Salman.
On Wednesday, he met with King Abdullah of Jordan, who said in a subsequent statement that he had emphasized to Kushner that any peace plan must include a Palestinian state based on the 1967 lines with East Jerusalem as its capital.

The U.S. peace plan is likely to fall short of those parameters — a source of anxiety for Jordan.
On Wednesday evening, Kushner arrived in Jerusalem and met with Netanyahu.
On Thursday, he will travel to Egypt for a meeting with President Abdel Fattah el-Sisi, and from there to Morocco for a meeting with King Mohammed VI.
Kushner is then expected to spend a few weeks in Bedminster, New Jersey, where Trump will spend his summer vacation.
What to watch: A White House official told me that Kushner and his team will be reporting back to Trump about their trip and that consultations with Trump, Vice President Mike Pence, Secretary of State Mike Pompeo and national security adviser John Bolton will inform the next steps of the peace plan.
Go deeper