Newly uncovered super-Earth 31 light-years away may be habitable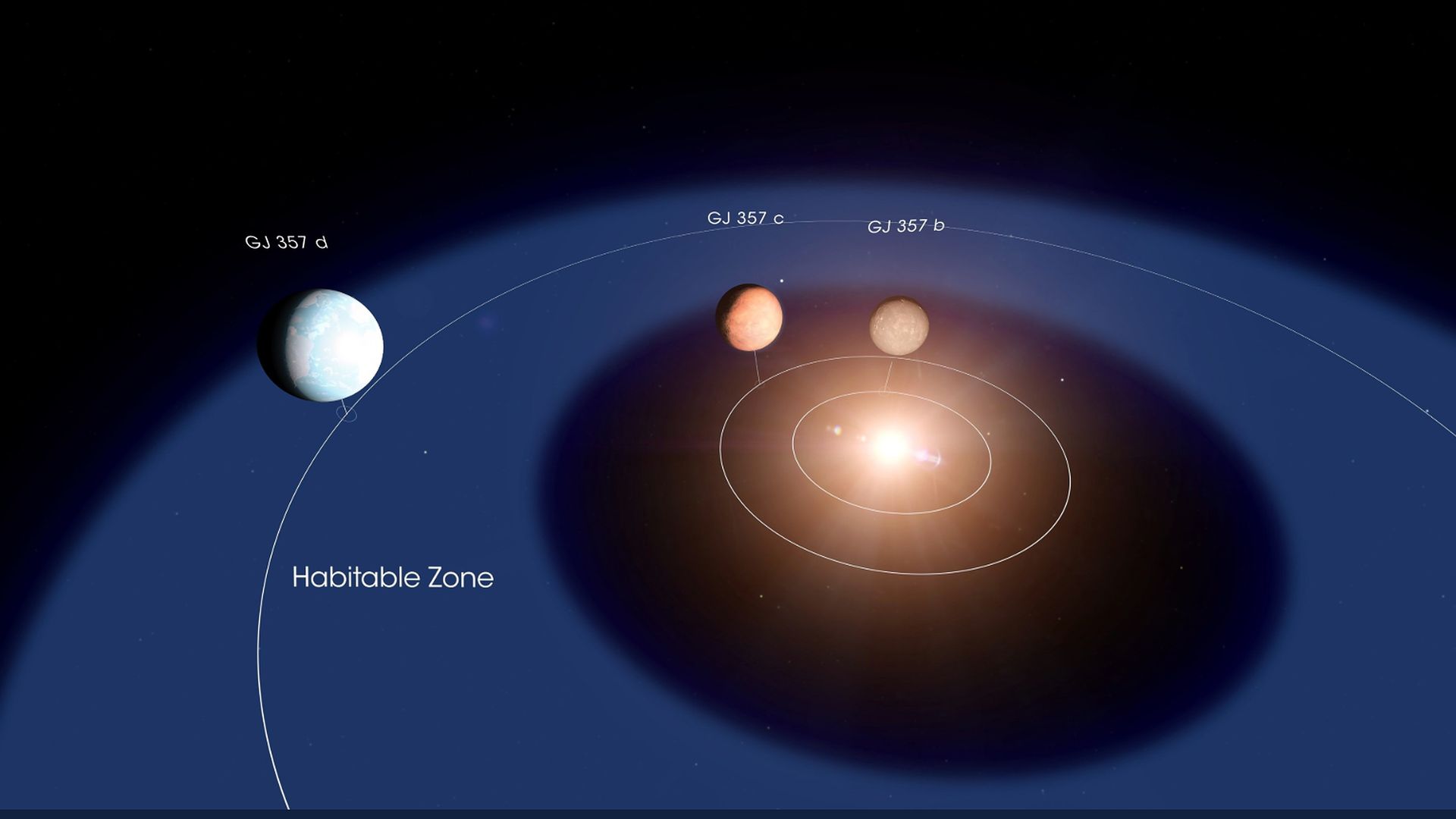 NASA announced Wednesday that its Transiting Exoplanet Survey Satellite (TESS) has uncovered a potentially habitable planet just 31 light-years away from our solar system.
Why it matters: TESS member and associate professor of astronomy Lisa Kaltenegger, who led the international team and who is also director of Cornell's Carl Sagan Institute, said in a statement the discovery of the exoplanet, named GJ 357 d, "is humanity's first nearby super-Earth that could harbor life."
The big picture: Astronomers from the Institute of Astrophysics of the Canary Islands and the University of La Laguna, Spain, published the findings on the GJ 357 system in the journal Astronomy & Astrophysics, and they were presented at an exoplanet conference in Cambridge, Massachusetts, on Wednesday.
The astronomers detected via TESS another planet orbiting the same star, named GJ 357, and deeper research by Spanish astronomers led to the discovery of 2 more planets in the system — including the super-Earth, GJ 357 d, which takes almost 56 days to orbit its host star at a distance roughly one-fifth of that between Earth and the sun.
The other 2 known planets in the star system, GJ 357 b and GJ 357 c, are believed to be far too hot to be habitable, according to Kaltenegger.
What's next? Kaltenegger said a pair of next-generation telescopes in Chile should reveal more details once operating in 2025 about the super-Earth, including whether it is rocky or has oceans, per NBC News.
Go deeper: What scientists look for to tell if an exoplanet is habitable
Go deeper