Trump says U.S. will hit remaining $300 billion of Chinese imports with 10% tariffs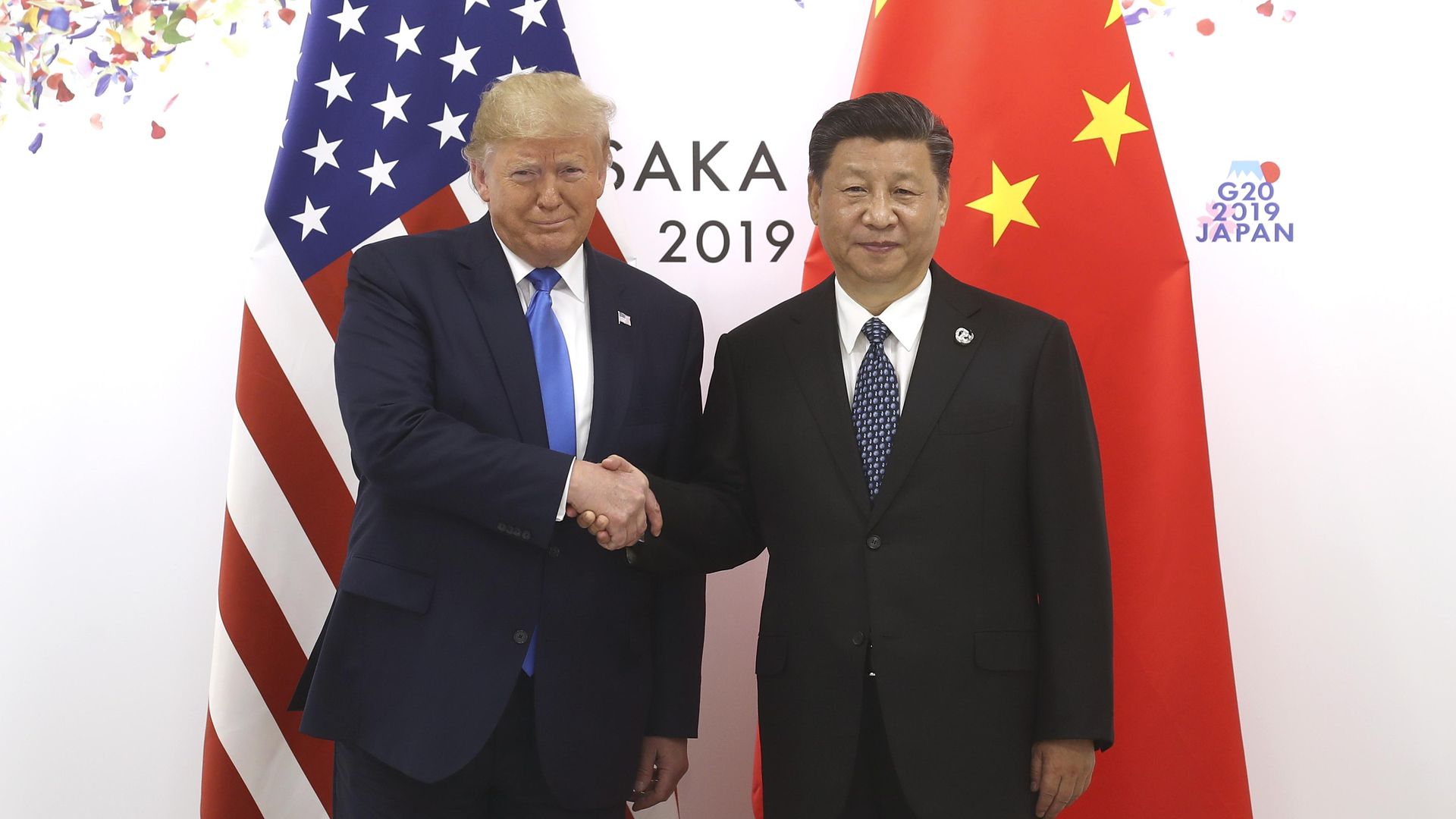 President Trump said in a series of Thursday tweets that 10% tariffs on the remaining $300 billion of U.S. imports from China will begin September 1, accusing Beijing of reneging on a series of promises in this year's ongoing trade talks.
Why it matters: Trump had called a trade truce after meeting with Chinese President Xi Jinping at the G20 summit in June. He said that his administration elected to take the step announced today despite "constructive" trade talks this week in Shanghai led by Treasury Secretary Steven Mnuchin and Trade Representative Robert Lighthizer.
What he's saying, via Twitter:
"Our representatives have just returned from China where they had constructive talks having to do with a future Trade Deal. We thought we had a deal with China three months ago, but sadly, China decided to re-negotiate the deal prior to signing.
More recently, China agreed to buy agricultural product from the U.S. in large quantities, but did not do so. Additionally, my friend President Xi said that he would stop the sale of Fentanyl to the United States – this never happened, and many Americans continue to die!
Trade talks are continuing, and during the talks the U.S. will start, on September 1st, putting a small additional Tariff of 10% on the remaining 300 Billion Dollars of goods and products coming from China into our Country. This does not include the 250 Billion Dollars already Tariffed at 25%.
We look forward to continuing our positive dialogue with China on a comprehensive Trade Deal, and feel that the future between our two countries will be a very bright one!"
What to watch: The decision has already hit the markets, Axios' Courtenay Brown notes. The Dow quickly gave up its nearly 300-point gain on the news, while the S&P 500 also turned negative.
There is still time for another truce to be reached before the tariffs take effect, though Bill Bishop of Sinocism notes that China is unlikely to cave to his demands over the next month.
The move comes a day after Federal Reserve Chairman Jerome Powell cut interest rates and described the trade war as among the biggest threats to the U.S. economy.
Go deeper