FEC considers making "valuable information" a campaign contribution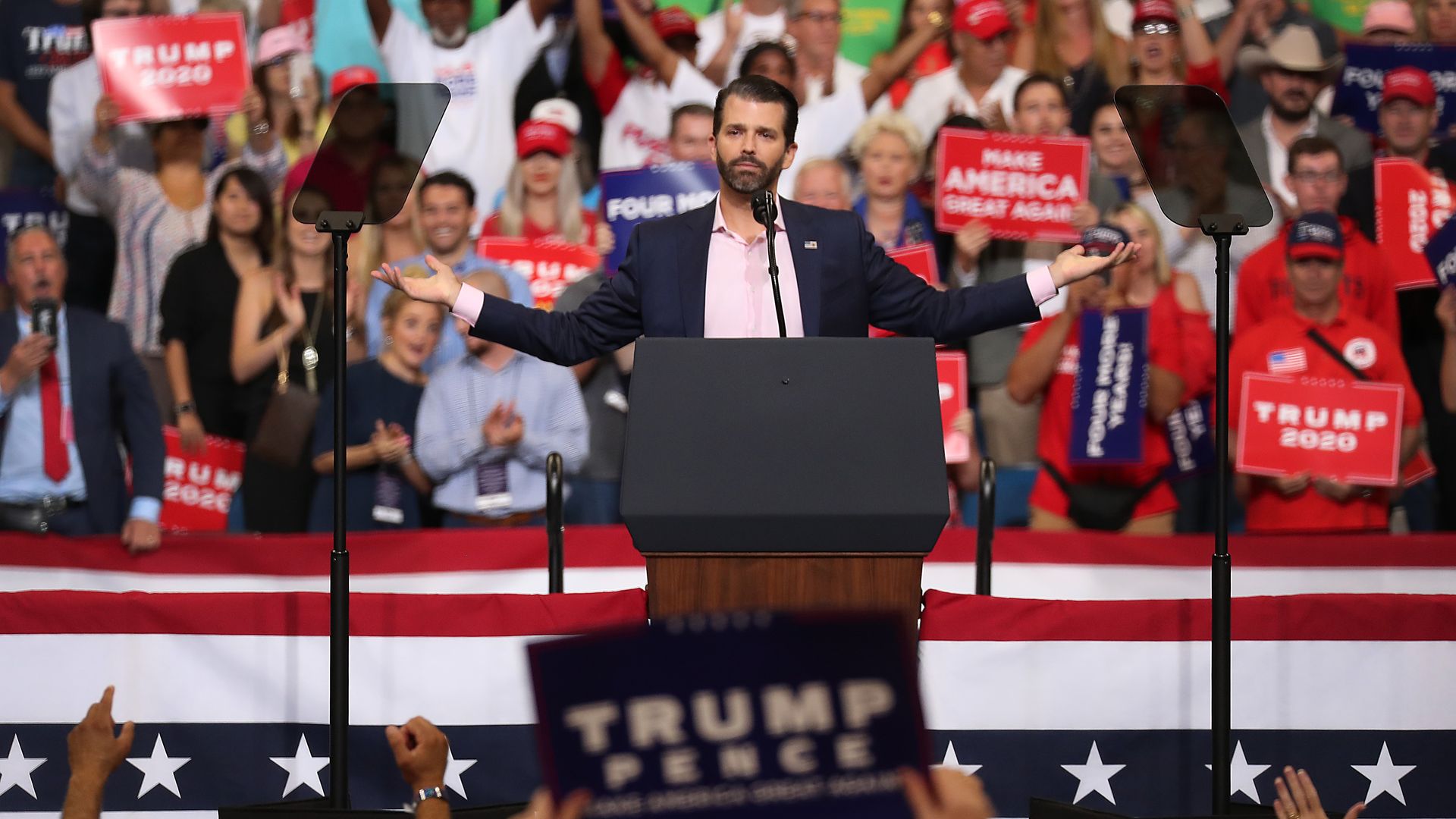 The Federal Election Commission (FEC) announced Wednesday that it is seeking public comments on a rule-making petition that would define "valuable information" as an official campaign contribution that must be regulated.
Why it matters: It is already illegal for campaigns to accept foreign contributions, so if passed, this rule would institute an outright ban on campaigns accepting unregulated "foreign" and "compromising" information, according to the proposed guidelines. President Trump told ABC's George Stephanopoulos last month that if a foreign government offered dirt on a political opponent, "I think I'd take it."
"If somebody called from a country, Norway, [and said] 'we have information on your opponent' — oh, I think I'd want to hear it," Trump said.
Worth noting: FEC Chairwoman Ellen Weintraub has made it a priority to prevent candidates from receiving assistance from foreign governments.
Flashback: In weighing whether to charge Donald Trump Jr. with campaign finance violations for accepting a meeting with a Russian lawyer offering dirt on Hillary Clinton in 2016, former special counsel Robert Mueller found that it would be too difficult to determine whether the information constituted a "thing of value" above the $2,000 legal threshold.
Details ... The rule would define "valuable information" as information that:
Is not freely available to the public.
Is provided to a person regulated by the Federal Election Campaign Act at a cost less than the market rate, or by a person not hired by the recipient to generate such information.
Would cost a substantial amount for the recipient to obtain at their own expense.
Is information that would likely influence any federal election or that parties or candidate committees have traditionally expended money to obtain.
The rule would also require that any person who receives "foreign information" and "compromising information" to notify the FEC in writing within three days, after which the FEC would be required to take the following steps "automatically and without a vote":
Initiate an investigation.
Provide a report to the FBI.
And, in the case of "compromising information," provide a report to "every reasonably identifiable person against whom such information could be used, or whose private information is disclosed by such information."
The other side: "The Commission is not considering defining 'valuable information' as an official campaign contribution that must be regulated.  What the Commission announced today was that it has received a petition from a member of the public proposing new rules on the subject," Republican FEC Commissioner Caroline Hunter said in a statement to Axios.
"The Commission is required to accept public comments on rulemaking petitions – this is a purely administrative act.  The Commission has not decided to accept the petition and has certainly not decided to change its regulations.  In fact, elements of this proposal appear to me to be clearly unconstitutional and contrary to our statute."
State of play: The FEC published a notice of availability in the Federal Register Wednesday that seeks public comment on this petition. Public comments on the petition are due by September 30, 2019, after which the FEC will determine how to proceed.
Go deeper: Republican blocks bill requiring campaigns to alert FBI to foreign assistance
Editor's note: This story has been updated to add a quote from FEC Commissioner Caroline Hunter.
Go deeper