The NCAA's "Decade of Realignment," revisited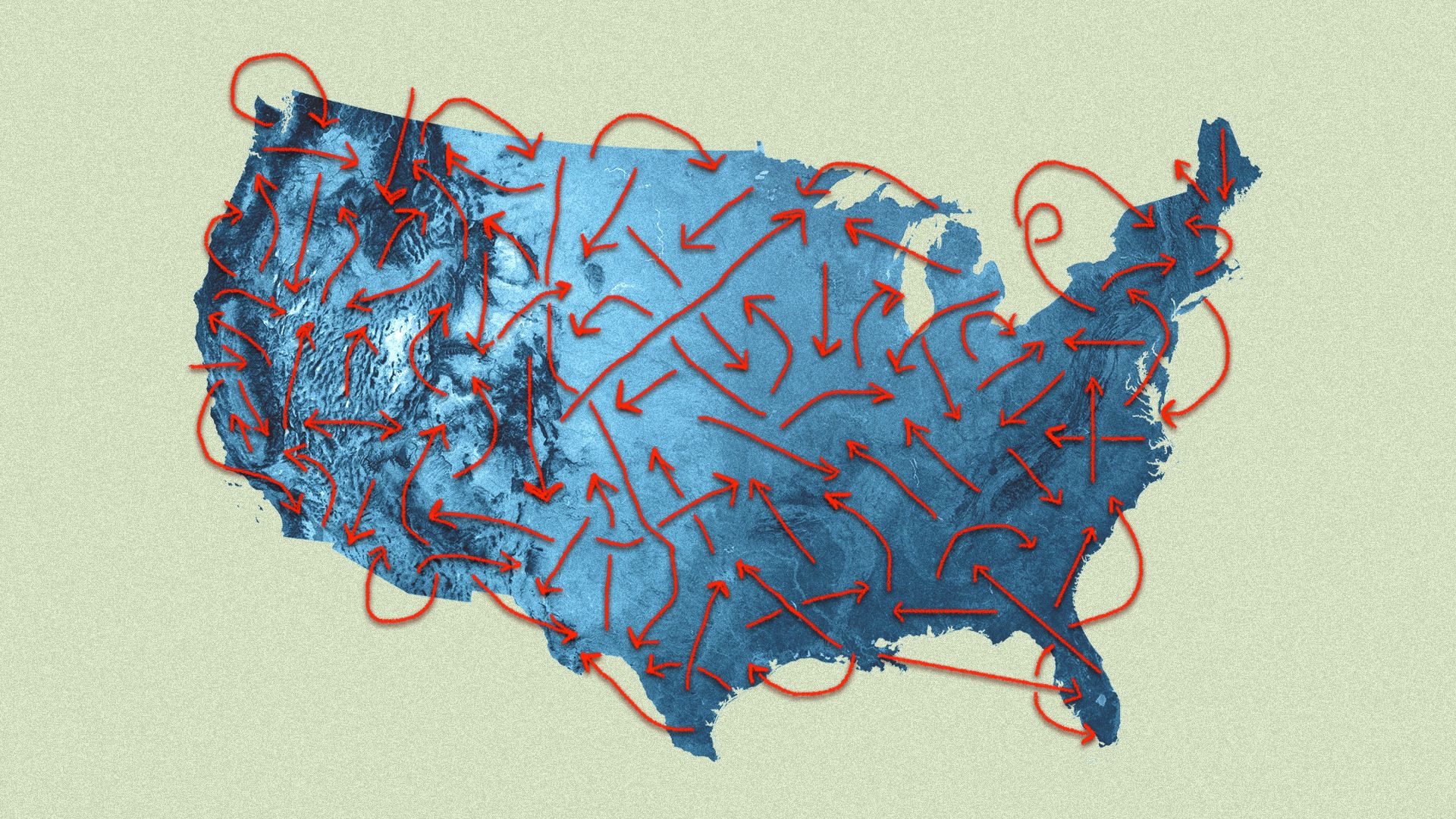 UConn recently announced that it's leaving the American Athletic Conference to rejoin the Big East (in all sports besides football) — a fitting full-circle moment to what was a "Decade of Realignment" in college sports.
Rewind: In 2010, TV money was exploding, and universities were suddenly willing to abandon traditions and extinguish rivalries in the name of revenue.
The first wave (2010):
That summer, Pac-10 commissioner Larry Scott was on a mission to steal Texas, Oklahoma, Texas A&M, Oklahoma State, Texas Tech and Colorado from the Big 12 and build a super conference called the Pac-16.
Scott's grand plan hinged on Texas, so when the Longhorns decided to stay in the Big 12, everything fell apart. Colorado was the only Big 12 school to accept the offer, and Utah joined from the Mountain West a few days later, forming what is now the Pac-12.
Meanwhile, the Big Ten was also looking to expand and chose Nebraska as its 12th member.
The second wave (2011–14):
Musical chairs: The Big 12 lost Texas A&M and Missouri to the SEC and replaced them with TCU and West Virginia ... the Big Ten added Rutgers and Maryland .... and the ACC raided the Big East, adding Pittsburgh, Syracuse, Louisville and Notre Dame (not football or hockey).
Musical chairs (cont'd): The Big East's "Catholic seven" responded by separating from the football-playing schools, and the remaining members of the Big East (Cincinnati, South Florida, and UConn) left to form the American Athletic Conference.
The big picture: Nine years later, every conference in America is still feeling the ripples of realignment. Which begs the question: Who won and who lost? The list is long but here are a few...
Biggest winners:
Big East: "A conference built on basketball found itself abandoned by football, then regrouped and went back to what made it great to begin with. … And now UConn comes back," writes Yahoo Sports' Pat Forde. Kudos to the Big East for emerging from the realignment grinder with its soul intact.
TCU: From 2000 to 2011, the Horned Frogs spent time in the WAC (1996–2000), Conference USA (2001–2004) and the Mountain West (2005–2011). Now, they're a football powerhouse in the Big 12. They win.
Biggest losers:
Texas: The Longhorns' football and basketball programs have been far worse this decade than last decade and Texas A&M's move to the SEC has hurt them in recruiting.
Big Ten additions: Nebraska has struggled mightily in football (23-27 in past four years); Rutgers is a dumpster fire; and while Maryland has been competitive, sacrificing their Tobacco Road rivalries to play Iowa and Minnesota every other year doesn't feel worth it.
Go deeper