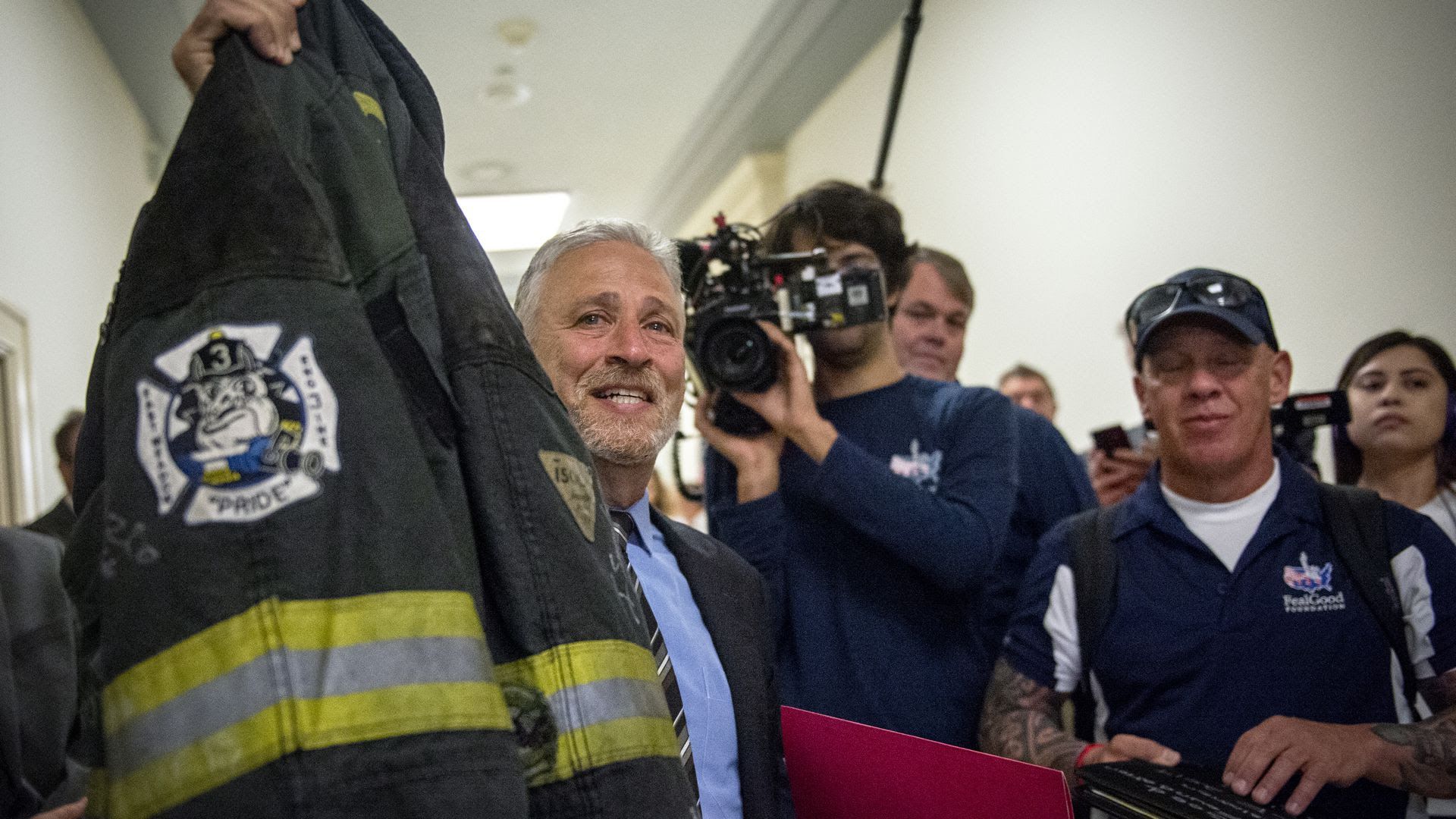 The 9/11 first responders will no longer need to swarm Congress every 5 years to extend their benefits, and it's thanks largely to the much-publicized work of Jon Stewart and the lesser-known role of John Feal.
Why it matters: There are 95,320 members enrolled in the World Trade Center Health Program, which was set up to help those with medical conditions linked to the attacks.
While funding was supposed to last into 2020, the program had already been running dry with some victims getting reduced checks earlier this year, The Daily Beast reported.
The extension will fund payments through the 2092 fiscal year.
The big picture: It's very hard to move Congress to do anything fast these days. The success of Stewart, Feal and others wasn't just a feel good example of going viral for the right reasons — it conveyed a smart strategy to get the right message to the right people, including lots of outreach on Fox News.
2001: Stewart memorably talked about the attacks on "The Daily Show."
2010: Stewart hosted first responders on "The Daily Show" to successfully push for a formal extension to the 9/11 victims fund. It narrowly passed.
2015: Stewart and Feal were interviewed by Fox News' Shepard Smith. Feal told Smith: "Leadership on the Republican Party has always been against this."
Fast forward to 2019, via Axios' Rashaan Ayesh:
June 11: Stewart rebukes congressional members for their absence during a hearing about the importance of the fund. He called their absences "an embarrassment to the country, and it is a stain on this institution."
June 20: Retired NYPD detective Luis Alvarez appeared on Smith's program from hospice care: "9/11 happened, we got called down. It's my job as an NYPD detective to respond to emergencies. ... I'm no one special, and I did what all the other guys did. Now we are paying the price for it."
Several weeks later: Feal met with Senate Majority Leader Mitch McConnell, who promised to pass the bill before the August recess. "He got watery-eyed. His eyes filled with water. I don't know if there is a soul in there, but he's made up of water just like everybody else," Feal told The Daily Beast.
July 17: Stewart went on Fox News' "Special Report with Bret Baier" to call out Sen. Rand Paul (R-Ky.) for voting against the victims fund, but supporting Trump's $1.5 trillion tax cuts that added billions to the national deficit.
July 23: The Senate passes the bill, sending it to Trump's desk.
July 23: Feal thanks Fox News for all the airtime to get the message out: "Thank you for having me. Thank you to Fox, everybody at Fox News. You guys have been amazing. I can't thank you enough. And you guys truly helped us get here."
"Fox News is pleased to have played a small part in amplifying the voices of the 9/11 heroes. We all owe those first responders an incalculable and unpayable debt, and we are grateful Washington has acted in a bipartisan way to alleviate some of their pain, by permanently authorizing the Victim Compensation Fund."
— Jay Wallace, President and Executive Editor of FOX News and FOX Business Network
Go deeper: First responders to Orlando's Pulse nightclub shooting suffer from PTSD
Go deeper